Sarah Hudson Co-Writes The Hits "Dark Horse" For Katy Perry And "Black Widow" For Iggy Azalea; Readies Her Own EP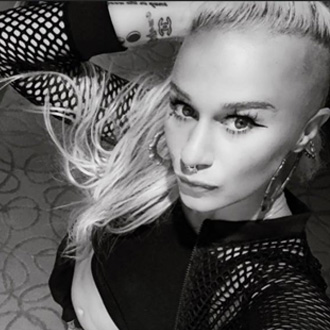 The opening line to Sarah Hudson's official bio identifies her as a multi-talented songwriter, vocal producer, poet, muse and mermaid. Her obsession with the mythical aquatic creatures extends to her calling one of the songs on her upcoming EP "Mermaid"—and she sees them as a metaphor for her career as a singer/songwriter. "They're beautiful, magical and free in the sea, but cannot walk on the sand," she says. "Making music is sometimes the most liberating experience, but there are always struggles when following your passion." Hudson, who has a publishing deal with Dr. Luke's Prescription Songs, has been swimming powerfully upstream these past few years, scoring major hit singles for Katy Perry and Iggy Azalea, and cuts on the latest hit albums by Justin Bieber and Nicki Minaj.
"Dark Horse," the #1 hit single for Katy Perry (which she wrote with Perry, Max Martin, Dr. Luke, Cirkut & Juicy J) was the third single from Perry's Prism album and topped the Billboard Hot 100 for four weeks. With over six million in U.S. sales and over 7.9 million worldwide, it is one of the top selling digital singles of all time and Perry's biggest selling track to date.
Hudson's friendship with Perry extends back to the mid 2000s, when Hudson was charting and performing throughout the U.S. and U.K. as part of the popular club pop duo, Ultraviolet Sound. The two met through the music scene and became good friends later when Hudson was co-writing with singer/songwriter Ferras, who is now signed to Perry's Capitol-affiliated label Metamorphosis. One day, Hudson received a text from the pop superstar asking her to come to Santa Barbara to write. Hudson, who felt adrift regarding her future musical ambitions after the split of UVS, jumped at the opportunity.
"Every song comes together differently depending on who is in the session, the vibe of the room and everyone's particular strengths," she says. "Katy, Max Martin, Cirkut and Dr. Luke already had part of the track started when I joined them. The vibe was there and it was all really a collaborative effort, with the majority of the concept and lyrics coming from Katy and I. I'm really into crystals, candles, sage and creating a setting for every writing session, so naturally that kind of set the mood for 'Dark Horse.' We wanted to create something a little mysterious and dark but still empowering, because she had nothing on the album like it. Our goal was to write a song about being a strong, fierce woman holding her own power in a relationship. I feel like I bring a good vibe into the songwriting sessions I am involved in. I'm a positive person, very much into good energy and I like to bring that into the room. I would say my strengths in a session are melodies, lyrics and an overall vibe of radness."
Hudson's collaborative relationship with Perry also resulted in "Black Widow," a #3 Billboard Hot 100 hit for Iggy Azalea (featuring Rita Ora). The song was a co-write with Benny Blanco, the production duo Stargate, Perry and Azalea. Hudson started the song with Perry and Stargate in New York. Perry knew that Azalea was looking for material for her debut album (The New Classic) and suggested they give the Australian rapper (who was already working with Stargate) the song. "Iggy took off our original verses and wrote and performed her raps on it," Hudson says. "She came up with a colorful lyric that took the song beyond what we could have imagined."
Hudson's ever-expanding resume as a songwriter includes "Get On Your Knees" by Nicki Minaj (featuring Ariana Grande), whose writing crew includes Perry, Dr. Luke and Cirkut; "San Francisco," a song on 5 Seconds of Summer's hit album Sounds Good Feels Good; "Banshee," which will appear on Santigold's 2016 album 99 Cents; and "The Feeling," by Justin Bieber (featuring Halsey) from his #1 album The Purpose. Hudson wrote "The Feeling" with Ian Kirkpatrick, Julia Michaels and Clarence Coffee, Jr., Skrillex and Bieber. "The Feeling" took shape at a songwriting camp the composers attended in Aspen.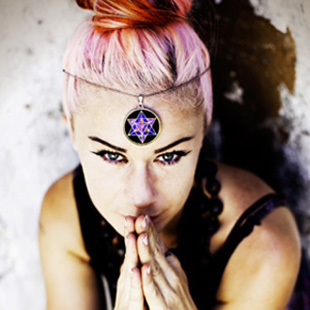 "It was such a beautiful environment to work in," says Hudson. "Every day, different groups got together to develop new ideas. One of the writers in our group was going through a breakup, and I remember one of us asked, 'Are you really in love with that person or just in love with the feeling?' We all looked at each other, like 'Wait, that's cool, there's our concept!' That song came together so symbiotically. One of us would sing a melody and another would alter it or come up with a twist to the idea, then the next part would just flow so easily. Those are the sessions that in my opinion, we are just channels; the ideas are flowing so steadily and the song is just born."
Hudson is the daughter of '70s TV personality and pop singer Mark Hudson, and cousin of actress Kate Hudson whose godfather is Steven Tyler and whose godmother is Goldie Hawn. She launched her career as a teenager doing background vocals for pop artists. She landed her first record deal in 2003 with S-Curve/EMI and began collaborating on her own material with her father, Tyler, Desmond Child, Eric Bazilian, Billy Mann and Ozzy Osbourne. In 2005, she was dropped from the label and ventured on to form her own independent band Ultraviolet Sound, who were together for five electrifying years. After UVS broke up, she began focusing on her songwriting, working with Ferras and co-writing with EDM artists Brillz and Kill The Noise. Hudson describes the vibe of her upcoming solo EP as "Enya meets (Canadian electronic duo) Purity Ring. She counts one of her influences as Sia, who has been successful as a solo artist and songwriter for many others. "It's very fulfilling to write with others, yet also have your own art," she says. "Katy does that, too. I feel that it's all art, whether I am writing for myself or another artist."
Hudson believes that aspiring songwriters should always write from a place of authenticity, even if they're penning what seems like a fun pop song. "A song should come from an actual feeling and story going on in your life or in the life of someone you connect with," she says. "If you're writing for yourself, use your own experiences and emotions. If you're working with outside artists, try to dig into what they're going through so that they can connect to the song and it feels authentic to them. A great song is one that connects, so you have to start from a place that's real to you.
"Becoming a good songwriter is a process," Hudson adds. "You may start out writing a million bad songs before you get to a good one. You never really know what your strengths are unless you fail a million times. I always say, 99 failures for your one success! Like any creative business, there's a lot of rejection. It can wear on your spirit and you may start to question yourself, your art and your skills. As hard as it might be at times, you have to always have faith in yourself, ask yourself why you started writing in the first place. Return to that passionate mindset, then get back in there, determined to write a great song and express yourself in the moment and all the fear based bulls**t just goes away once you start to connect."
Jonathan Widran is a free-lance music/entertainment journalist who contributes regularly to Music Connection, Jazziz and All Music Guide. He can be reached at [email protected]. He is also on Google+