Sammy Hakim's "Tuck Me In" Named June "Best Song Of The Month"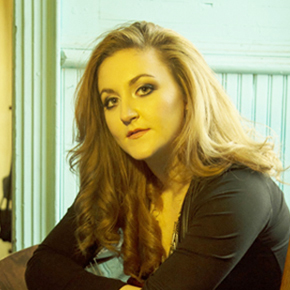 Sammy Hakim, a young pop singer/songwriter based in Fairfax County, VA, has won the SongwriterUniverse "Best Song Of The Month" Contest for June, for her song "Tuck Me In." This song was recently released independently as a single, and it's one of 11 new songs that she recently wrote & recorded in Nashville. Notably, she has been selected as the winner this month of our other site's SingerUniverse "Best Vocalist Of The Month" Competition, for her vocal performance of "Tuck Me In."
"Tuck Me In" is a heartfelt, dramatic pop ballad which starts softly, and gradually builds momentum and intensity. The song's title and lyric theme is about trying to stay safe and protected in a world where there is abuse and bullying. The recording provides an excellent showcase for Hakim's strong, soulful vocals. "Tuck Me In" was expertly produced by William Gawley, a Nashville-based songwriter & producer who has produced and worked with several artists who have been signed to major labels. The song was mixed by Sarah Emily Parish.
Hakim  (who is 18) grew up in Fairfax County, which is near Washington, DC. She learned to play guitar and piano at a young age, and she also plays violin, ukulele and other instruments. Hakim has been inspired by listening to such favorite artists as Bruce Springsteen, Ed Sheeran and Taylor Swift. "I also like listening to the radio a lot," she said.
Hakim started to write songs in the 7th grade, and she recorded her first CD during her freshman year of high school. When she was 15, she entered her song "Fearless" in the International Songwriting Competition, and it was selected as a finalist. Hakim has also had two songs which made the New Music Weekly indie chart, "Get A Little Closer" and "Mark Me."
For "Tuck Me In" and her latest recording sessions, Hakim went to Nashville to work with producer William Gawley of FaceSpace Music, which develops artists and has the label contacts to place artists for record deals. "They contacted me in February (2014)—they heard and liked my music, and invited me to work with them in Nashville," explained Hakim. I recorded 11 songs with them, and William also produced the video for 'Tuck Me In'."
Admirably, Hakim is donating a percentage of the proceeds from "Tuck Me In" to national charities which support anti-bullying and anti-abuse causes.
Currently, Hakim is forming a band, and plans to play full band shows in addition to her solo, acoustic gigs. She is also looking forward to attending the prestigious Berklee College of Music in Boston, starting next January.
Top Five Songs Of The Month
Here are the Top Five Songs which were submitted for this month's contest, with the songwriter credits, plus their e-mail and website links. You can listen to the winning songs by clicking the music players below.
"Best Song Of The Month" Winner
Song Title:
Tuck Me In.
Written by:
Sammy Hakim of Fairfax County, Virginia. Performed by Sammy Hakim.
More Best Songs Of The Month
To enter the next "Best Song Of The Month" Contest (the deadline is the last day of each month), please
Click Here