Sam Martin Co-Writes Hits For Jason Derulo, Maroon 5 and David Guetta, And Signs Artist Deal With Atlantic Records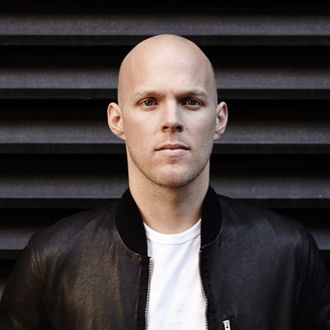 During the past four years, Sam Martin has become a successful hit songwriter who has co-written hit singles for Jason Derulo, Maroon 5, David Guetta, Nick Jonas and Prince Royce. He has also been a featured vocalist on hit singles for David Guetta and other artists. And now, he's emerging as a promising artist who has signed with Atlantic Records.
Born in New York City and raised in Lake Oswego, Oregon, Martin is now based in Los Angeles. He has been signed with Artist Publishing Group (APG) for several years, working with Mike Caren (Head of APG & Creative Officer at Warner Music Group) and his creative team.
In 2013, Martin co-wrote his first hit song, "Daylight" by Maroon 5. Then in 2014, he had a flurry of hits as a songwriter and as a featured vocalist. He co-wrote the singles "It Was Always You" for Maroon 5, "Levels" for Nick Jonas and "Stuck on a Feeling" for Prince Royce (feat. Snoop Dogg). Also in 2014, Martin co-wrote and was the featured vocalist on two singles by David Guetta that were international hits: "Lovers On The Sun" and "Dangerous" for David Guetta.
It was in 2015 that Martin co-wrote the hit, "Want to Want Me," for Jason Derulo. This song is perhaps Martin's biggest hit to date—it went Top 5 in the U.S. was number one in the United Kingdom and other countries. It was also in 2015 that Martin won a Grammy Award, for co-writing a song on Ziggy Marley's album, Fly Rasta, which won the Grammy for Best Reggae Album.
As an artist on Atlantic Records, Martin has been releasing songs and videos—his two latest releases are "It's Gonna Get Better" and "Bring Me Home." He is currently working on his debut album, which will be released in 2018. In addition, Martin is a featured vocalist on recent songs by electronic artists Galantis ("Call Me Home") and Robin Schulz ("Naked").
We are pleased to do this new Q&A interview with Sam Martin. He tells how he got started, and how he co-wrote hits for Maroon 5 and Jason Derulo. He also discusses his upcoming album project.
DK: How did you get started as a songwriter and artist?
Sam Martin: Basically, I got started the moment that I saw A Hard Day's Night by the Beatles—my parents were watching it when I was 5 or 6. I just flipped out and I started learning the piano and singing Beatles songs. And because the Beatles had written their songs, it just felt very possible to write songs. My early songs sounded exactly like the Beatles or whatever I was listening to.
DK: Were you living in Oregon at the time?
Martin: Yes, I was in Oregon when I was growing up. I was born in New York, but I was 3 when we came to Oregon. Then what happened was, my dad managed a company that did corporate videos and stuff. So they had some gear and he brought home a reel-to-reel tape player that they weren't using. He figured out how to use it in front of me, and I learned to work it. It had four tracks, so I could record keyboards and I could sing, and I could record another keyboard and a guitar. And maybe that was the moment that I thought…Oh My God [I love doing this]. I didn't leave my room…I had this reel-to-reel tape player and that was the moment. Then later on, the digital age came and I ended up with digital recording gear…all the early Pro Tools.

Here's the video of Sam Martin's new song, "It's Gonna Get Better."
DK: When did you move to Los Angeles, and start writing songs for other artists?
Martin: Early on, I didn't know you could write for other artists. I didn't know there was an option—I was an artist and that's what I did. And I just did that in high school and college…I went to Berklee College of Music for two years. But I learned that you couldn't teach what was important…that was the big lesson I left with. I learned that basically, you've either got it or you don't. You can learn some tricks of the trade, but for the most part you have to have your own inner creativity, your own inspiration.
It was very interesting…I actually had advice from a teacher to leave [college], and I left. He said, "You've just gotta go make records now." So I went and did that, but I struggled…nothing happened for me. And then my brother, who is a funny guy, had this online personality. We started doing goofy skits, which is something we did as kids. Anyway, he made a goofy parody song and it went viral! And I was like, "What happened?" I'd worked at music for 15 years and I didn't have success. So I said, "I'm gonna write you a song." [At the time] I was very inspired by arena-type anthems like "We Will Rock You" and "Welcome To The Jungle." And so I wrote my version of that, which was a song called "Arena," which was an arena song (laughs). In the song, there was a soccer chant.
The song did well for my brother's project, and then Mike Caren (Head of APG Music) heard the song and liked the chant. Then he sampled the chant and sent it to a producer who turned it into a hip-hop sample with a huge chant. And then he sent it to Dr. Dre, who was working on his Detox album project, and Dre apparently loved it. Soon after, I was signed to APG.
DK: In 2012, you had the hit "Daylight" with Maroon 5. How did you co-write this song?
Martin: It was a miracle…I woke up from a dream with this verse melody in my head, which ended up being the verse melody of "Daylight." It was 2 a.m. and I went to my piano—I put it down into a digital tape machine, and then I went back to bed. When I woke up and I listened to it, I thought…Hey, there's something to it. And from that moment, I sat down at the piano. At first, all I had was this melody and I had the word "Daylight." And then I started to put together the story about a guy who's about to leave and doesn't want to go, but has to go, and he's being very realistic about it, saying "this is our last night…this will soon be a memory." But I also made sure it could be interpreted as a high school kid going off to college, like a couple who's breaking up and they have to go. Like "Tomorrow morning's my flight to college, and I won't be seeing you anymore." And then I also thought it could have been a song for soldiers, like "I don't want to go, but tomorrow I'm going off to war." So it's a very deep song to me.

Here's the video of Jason Derulo's hit "Want to Want Me," which was
co-written by Sam Martin.
DK: You co-wrote with David Guetta and you were a featured vocalist on two of his singles, "Dangerous" and "Lovers On The Sun." How did you connect with him?
Martin: Mike Caren (of APG) had made a deal with David Guetta, and someone from APG said, "You know, you can really get on this project, you can do this." And then I connected with my friend, (writer/producer) Jason Evigan. We had a writing session, and we wrote "Dangerous" over a track. We stripped the track down to guitar, and then we added some big keyboard stabs and we started writing. We added a cool, Phil Collins' '80s sound to it. Then we brought in Lindy Robbins to help with the lyrics. I then sang the demo which had a big range, with very high and low notes. It was hard for many singers to sing.
Some pretty big artists were then brought in to sing this song but it wasn't working. Finally, David said, "It's just not happening, Sam. We're just gonna leave [your vocals] on this." And it wasn't until the last day that they confirmed it. I got the call from one of my buddies in the Guetta camp, who said, "Sam, I'm very happy to say that we're leaving you on the record and it's going to be David's next single."
"Lovers On The Sun" was written that same week, and when I sang the demo, the same thing happened. The range was really low and really high, so they kept my vocals on the record. And it became a big European hit, going to #1 in the U.K. and Germany.
DK: You also had a big hit, co-writing "Want to Want Me" for Jason Derulo.
Martin: "Want to Want Me" was written about a year later. We would go to these writing camps, which would include Lindy Robbins, Mitch Allan, Ian Kirkpatrick, myself and other writers. I started working on a song with Ian Kirkpatrick. I literally had this idea sitting out on the porch, that we needed a galloping beat and some big '80s stab chords (he sings it). And Ian said, "Sure, why not." Then Ian cooked up that beat right in front of my eyes, in just a few minutes. It was so crazy…the core elements were there. Then I remember starting the verse off [with an ad-lib]—and I didn't really say anything. But the other writers were saying, "Did you just say 'it's too hot to sleep'?" And I was like, "I…yeah…Sure!" (laughs). And so the whole story was about it being so hot, like in New York City, and you just wanna go hang out with your girl that you just met.
For the title, we originally had a different line for the chorus that we didn't like, but then we got together a few weeks later. I was going through titles and ideas, and asked, "Why don't we do something really dumb and simple, like I want you to want me or something like that? And Lindy (Robbins) goes, "Why don't we just do that"? And I said, "Go ahead. Let's make it a wedding song…like you're singing to a girl and you're saying what you would say while you're dancing." And I remember getting up and going like, "That's what this song is." And then we went and did it.

Here is Sam Martin performing his acoustic version of "Dangerous," which
was originally a hit for David Guetta featuring Sam Martin.
DK: As an artist, you've signed with Atlantic Records and released some songs. Are you working on an EP or album?
Martin: Yes, I'm working on an album. I realized that my favorite thing in the world has always been like Sgt. Pepper's, or Dark Side of the Moon or The Wall—a concept album that has a theme and a storyline throughout. I think a concept album is the coolest thing that you could ever do in pop music. So I've been working on my album, which is about 60% or 70% done. I'm starting to put every little piece together, and I hope to be done soon. It's been really fun mapping it all out on a huge Pro Tools session and bringing in producers and stuff to help. I'm really excited about it, and it will be coming out next year (2018).