Ricky Reed Releases New Single, Co-Writes Hits With Meghan Trainor, Produces Twenty One Pilots, And Launches New Label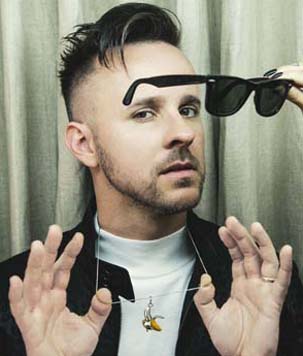 Los Angeles-based writer/producer & artist Ricky Reed is currently one of the top hitmakers in the music industry. Impressively, he's having an impact in four different ways: as a hit songwriter, producer, artist and record label owner. Reed is working with a wide range of artists, from pop stars Meghan Trainor and Jason Derulo, to the platinum duo Twenty One Pilots, to rapper Pitbull, and to the Russian punk band, Pussy Riot.
As a writer/producer, Reed has closely worked with Meghan Trainor, co-writing & producing 10 songs on her latest album Thank You, including the hits "No" and "Me Too." He also co-wrote & produced two Top 10 hits for Jason Derulo ("Talk Dirty" and "Wiggle"), plus the hit "Fireball" for Pitbull featuring John Ryan. In addition, he's had singles with Fitz and The Tantrums ("Handclap"), Fifth Harmony, 5 Seconds of Summer, Mary Lambert and Lunchmoney Lewis.
As a record producer, Reed has played a key role in the mega-success of the duo Twenty One Pilots. He produced their big hit "Ride" and eight songs on their platinum album, Blurryface.
As an artist, Reed is signed to Epic Records, and he's just released his single, "Express Myself." Reed originally signed with Epic via his hip-hop/pop group Wallpaper, which released their album Ricky Reed is Real in 2013. He is currently working on his new album for Epic.
On top of this, Reed has launched his new record label called Nice Life Recording Company, which is a joint venture with Atlantic Records. He has signed the political, Russian punk band Pussy Riot, which has just released their EP called xxx. Reed has also signed singer/rapper Lizzo, and pop singer Imad Royal.
We are pleased to do this new Q&A interview with Ricky Reed. He discusses his current projects, from his new single "Express Myself," to his work with Meghan Trainor and Twenty One Pilots, and his new label.
DK: I like your new single, "Express Myself." Can you tell me about this song?
Ricky Reed: "Express Myself" was a song that I actually wrote a good year ago. It was one where I was starting to emerge from a place…of a kind of fear and insecurity about what I was doing as an artist. And the fact that I was helping so many other artists tell their story, [my own story] had gotten lost in the shuffle. I was honestly almost afraid to put my voice out, and afraid to really share some vulnerability and perspective. So for me, this song was one challenge to write it, and then it was another challenge just to put it out. I'm thrilled that people like it so far.
DK: Are you working on a full album?
Reed: Yeah, I'm deep in the middle of that now. We have some really great songs, and it's really different from anything I've done before.

You can listen to Ricky Reed's new single, "Express Myself."
DK: When will you be releasing your new album?
Reed: I can't say yet. But I can say that we're focused on releasing new material in small amounts over the next few months or so. We want to properly reintroduce me, and tell my story, almost in a chronological sense.
DK: I like the hit "No" which you co-wrote with Meghan Trainor. I also read that you wrote with Meghan 10 of the songs on her album. How did you get together with Meghan, and write so many songs with her?
Reed: Meghan had actually been a fan of my band Wallpaper from way back in the day, before she wrote "All About That Bass." We were labelmates—we were both signed to Epic Records. So at some point when she was doing the follow-up to her first album, it seemed obvious to everyone around us that we needed to get in a room and write.
So we did get together, and we made a couple songs before "No" happened. It was after we wrote "No," that it opened up the floodgates to get really creative and challenge ourselves, and carve out a new sound for her.
DK: I read that when Meghan was recording her Thank You album, she had a meeting to play songs for L.A. Reid (CEO at Epic Records), and she was disappointed that Reid said she didn't have a hit yet (for her album). Was that the backstory to you and her writing "No'?
Reed: Yes. Essentially, I remember that my session for the day had been canceled at the last minute, and Meghan sent me a text, saying "I just got out of a meeting with L.A. Reid, and I'm upset that he said [my new album] doesn't have any singles. Can I come over right now (to write a song)?"
I said sure, and I called (hit songwriter) JKash, and we all met up, sort of last minute. I didn't plan on [writing a great song] right away. I said to her, "You're all out of sorts—let's not worry about writing the big single. Let's just channel this energy and make something that is cool and fun. We have the next couple weeks together…we'll write the single soon enough. So today, let's just have fun." And then we wrote "No" that day! It took about seven hours.
DK: As a producer, you've had amazing success with Twenty One Pilots, producing their big hit, "Ride." How did you hook up with the band and become their producer?

Here's the video of Meghan Trainor's hit "No," which was co-written
by Ricky Reed.
Reed: That was an interesting one. [My band] Wallpaper and Twenty One Pilots were sort of existing in similar universes, playing a lot of the same events, and we had a couple mutual friends. So Tyler (Joseph) and I hooked up for lunch at a Mediteranean restaurant. We had lunch and talked about music, basketball, and a lot of stuff. We decided it would be fun to try a song together. So a few months after that, when they had some downtime, I flew out to Columbus, Ohio where they're from. The first song that I produced for them was "Ride"—we did it in their hometown. And after we did that, we were listening back to it and (thinking), "I don't even know what this is or what this means, but it sounds good and we're gonna have to do more together."
DK: When you're working in the studio with an artist, do you often end up playing most of the tracks yourself?
Reed: Yeah, that seems to be the case.
DK: What instruments do you play?
Reed: I play piano, keyboards, synthesizer on things, as well as guitar and bass. I enjoy putting live instruments on pop tracks. I think that it helps bring the music to life—I think it makes the song sound more emotive. My studio is just full of crazy equipment and toys—vintage things, rare things. That's one of my little addictions, acquiring strange new musical equipment, and I take it out on the poor artists that come through (laughs).
DK: It's great that you can help create the sound for them by playing all these different instruments.
Reed: Yeah, and it also gives them something unique. Anyone can pull up a computer software/synth patch, and I often do too. But when you're dealing with instruments that have their own idiosyncrasies, their own strange little problems—broken instruments, broken keyboards—you can get some sounds that nobody will be able to replicate ever again.
DK: I read that you've launched a new record label, called Nice Life Recording Company. Can you tell me about this new label, and some of the artists you've signed?
Reed: Sure. I wanted to start the record label in honor of my late manager, Steve Brodsky, who passed away. He was an incredible person, the kind of guy that everybody loved and everybody wanted to be friends with. His taste in music was much like mine, really eclectic—everything from punk rock to rap to soul music. I wanted to start a label, that no matter what the genre of music was, as long as there was some real soul, some real uniqueness at the core of it…we could put it out. So we've released everything from soul singer/rapper Lizzo to sort of outsider pop singer Imad Royal, to the Russian punk band Pussy Riot. We just put out an EP for them last week. So we have a lot of different artists on the label. I think the music that we're releasing, is helping push the envelope and challenge what's happening in pop music.

Here's the video of Twenty One Pilot's hit "Ride," which was produced
by Ricky Reed.
DK: The band Pussy Riot is about as cutting edge as it gets. Even though they may be political and controversial, do you see the vision of what they're trying to do, and you want to help them?
Reed: Yes. For me, it's giving (lead singer) Nadya a musical soundtrack to support her messaging. Nadya is an incredible musician…she's a brilliant classical pianist. Her ability as a lyricist was also shocking to me, when we got [into the studio] together. As a creative artist, she's a force of nature. So even taking the politics out of the conversation, she's incredible to work with, and we've made some amazing music that we're really excited to release.
DK: Beside the artists we've discussed, are there any other projects you're excited about?
Reed: Yes. Another artist that I'm excited to be working with, is Kevin Abstract. He's a young singer/rapper who's originally from Corpus Christi (Texas). He has an album coming out on November 18. It's a fully independent project. I produced (and co-wrote) a couple songs on it. Kevin's album is called American Boyfriend, and I think it's going to change the conversation in the music industry this year. I think it's going to be a landmark album. He's put out a video for the first single which is called "Empty," and now there are two more songs available, "Yellow" and "Miserable America." "Miserable America" is the one that I produced.