Rick Springfield Talks About His Album Rocket Science, And Writing His Hit "Jessie's Girl" And Other Songs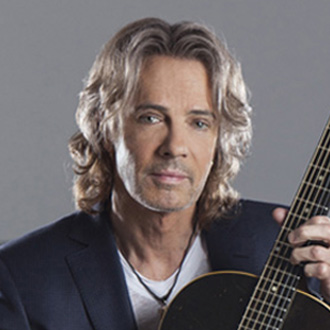 Rick Springfield has been a popular, acclaimed rock singer/songwriter for the past four decades. A Grammy award winner, Springfield is best known for writing and performing a string of worldwide hit singles in the 1980s, most notably the #1 smash "Jessie's Girl," plus the Top 10 Billboard pop hits "Don't Talk To Strangers," "Affair Of The Heart," "Love Somebody" and "I've Done Everything For You." Springfield is also well known for his acting roles in movies & TV, and he's an author.
Springfield has just released his latest album, Rocket Science, on the Frontiers Music label. The album shows that Springfield is in fine form, both in terms of his strong vocals and guitar playing, as well as his songwriting. Rocket Science mixes hooky, radio-friendly rock songs (like the opening cut "Light This Party Up") with an unique mix of blues/rock ("Miss Mayhem"), ballads ("Let Me In"), plus Americana and folk. Another highlight is the modern pop/rock song, "(I Wish I Had A) Concrete Heart."
We are pleased to do a new interview with Springfield, about his new album, his songwriting and his other projects. But before we start the interview, here is additional information about Springfield's multi-faceted career as an artist, actor and author.
As a recording artist, Springfield has released over 15 studio albums, plus compilations and live albums. Starting with the hit "Speak to the Sky" in 1971, he has had an impressive 17 Top 40 U.S. hit singles, plus multiple platinum and gold albums, including Working Class Dog (1981), Success Hasn't Spoiled Me Yet (1982), Living in Oz (1983) and Hard to Hold (1984).
As an actor, Springfield became a TV star in the early 1980s, playing the role of Dr. Noah Drake on the phenomenally successful daytime series, General Hospital. Then in 1984, he starred in the full-length movie, Hard to Hold. Springfield went on to play roles in additional movies and TV series, and he was also an original cast member of the hit Broadway show, Smokey Joe's Cafe, which featured the songs of the legendary songwriting duo, Jerry Leiber & Mike Stoller.
More recently, Springfield starred in several episodes of the Showtime series Californication, in the 2015 HBO crime series True Detective, and he starred opposite Meryl Streep in the 2015 movie, Ricki and the Flash.
In addition, Springfield has written his autobiography Late, Late at Night, which was released in 2010. It became a best-selling book, and was named by Rolling Stone magazine as one of "The 25 Greatest Rock Memoirs of All Time."
Here is the Q&A interview with Rick Springfield:
DK: I really like the opening song of your new album, "Light This Party Up." What inspired you to write such an upbeat, high energy song?

Here's the video of Rick Springfield's new song, "Light This Party Up."
Springfield: Red wine on a beach in Tahiti. Its hard to be depressed there. I had originally written it for Meryl Streep's character in Ricki and the Flash. They were looking for an ending song and I wrote "Light This Party Up" with that in mind. It didn't really fit the character as far as what type of song her character would write, but I liked the song so I kept it for this CD.
DK: Your new album sounds fresh, with a renewed energy. What are your favorite songs on the album?
Springfield: ALL of them. I think they all have great new energy and are so much fun to play live. "Miss Mayhem" is especially great to play because I don't get to play slide guitar much.
DK: When you start writing a song, what's your writing process? Do you usually create the music first, or do you come up with a title or lyric first?
Springfield: Usually a title that gets things moving and then I focus on the music. The lyrics usually are last and I like to spend time on them honing and rewriting. The music side of it either appears or it doesn't. There's not much you can do about that, but the lyrics are more of a thought exercise.
DK: "Jessie's Girl" still sounds great after all these years. How did you originally create this song?
Springfield: With a guitar and a room. That's all you need. I don't really know where songs come from. Songwriting is a pretty nebulous art form. The only criteria is if the writer likes the song. If he/she does, they finish it. If they don't, they drop it. That's basically it.
DK: Besides "Jessie's Girl," what are your favorite songs that you've written?
Springfield: It's always the newer stuff because I haven't already played it 30,000 times. New music is what makes our live show a blast for me. Keeps it from sinking into retro-land.
DK: You've written many of your hit songs by yourself. Do you like writing by yourself, or do you equally enjoy co-writing?

Here's the video trailer for Rick Springfield's new album, Rocket Science.
Springfield: The last three albums I co-wrote with my friend Matt Bissonette. I like that because we challenge each other and I think come up with better songs because of that. I still write by myself and always will, its just a cool hobby, but writing with someone that you connect with can be exciting in a different way.
DK: You've been busy acting, with key roles in the HBO series True Detective and the movie Ricki and the Flash. How do you balance your music and touring, with your acting career?
Springfield: There's really nothing to balance. I work on them when the work shows up and rearrange stuff when we need to but it really is just one career. I don't feel like they're split in anyway. Same with writing.
DK: You have written your autobiography, Late, Late at Night. What was it like to write your life story, and what are a few things people will learn when they read your book?
Springfield: It was a journey that I enjoyed. Even the dark moments. I talk about how I've dealt with depression but still manage to have a life in a field I love. I list my awesome dogs and what they meant to me and how I dealt with their loss. My bad side, my good side. My life in Vietnam in '68 and '69. There's everything in that book. AND I mean EVERYTHING. 🙂