Special Interview: Rock Legend Richie Sambora Talks About His Band RSO With Orianthi, And How He Co-Wrote Bon Jovi's Classic Hits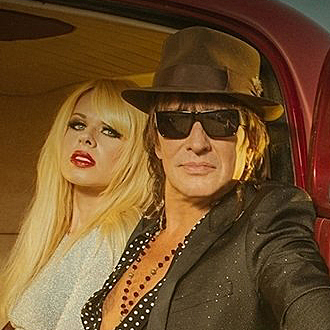 Richie Sambora has long been known as the lead guitarist and one of the main songwriters for the multi-platinum rock band, Bon Jovi, which was recently inducted into the Rock & Roll Hall of Fame. He has now teamed up with talented guitarist, singer & songwriter Orianthi, who is known for her success as a solo artist and for being the lead guitarist for Michael Jackson's band (before he passed away).
Sambora & Orianthi have launched their duo called RSO, and last year they released two EPs: Rise and Making History. Now in 2018, they'll be releasing (on May 11) their debut album, Radio Free America, on BMG Records. This album was produced by Bob Rock, who is known for producing Bon Jovi, Aerosmith and Metallica.
Radio Free America is an impressive collection of songs that display Sambora & Orianthi's skills as songwriters, vocalists and guitarists. The album presents a wide range of music genres, from high energy rock cuts to acoustic ballads, plus forays into country and blues. Key songs include the uptempo rock/pop tunes "Making History' and "We Are Magic," plus the ballads "Walk With Me," "Truth" and "Forever All The Way." Sambora & Orianthi also do a fresh cover version of the '60s hit, "I Got You Babe."
SPECIAL FEATURE: STREAMING AUDIO

Here's an excerpt of our interview with Richie Sambora, who tells how he co-wrote Bon Jovi's classic hit songs, "You Give Love a Bad Name" and "Livin' On A Prayer."
We are pleased to do this new Q&A interview with Sambora & Orianthi. They tell how they formed RSO, and discuss their new album and their songwriting. Sambora also recalls how he co-wrote Bon Jovi's classic hits, "You Give Love a Bad Name" and "Livin' On A Prayer." But before we get started, here's a rundown of their main credits.
Sambora has been inducted into both the Rock & Roll Hall of Fame and the Songwriters Hall of Fame. He co-wrote many hits for Bon Jovi, including "Livin' On a Prayer," "You Give Love A Bad Name," "Wanted Dead or Alive," "Bad Medicine," "Born to Be My Baby," "I'll Be There For You," "Lay Your Hands on Me," "It's My Life," "Keep The Faith," "This Ain't A Love Song," "In These Arms" and "Who Says You Can't Go Home" (which was a #1 country hit featuring Jennifer Nettles of Sugarland).
Orianthi is originally from Australia, and she's known for her exceptional guitar playing. She has played with Michael Jackson, Alice Cooper, Carrie Underwood, Carlos Santana, Michael Bolton, Steve Vai and Dave Stewart. She was featured in the hit documentary movie, Michael Jackson's This Is It, which filmed Jackson and his band rehearsing for the 2009 arena shows in London (before he died). As a solo artist, Orianthi has recorded three albums, and she had a worldwide hit with "According to You" in 2009.
Here is our interview with Richie Sambora & Orianthi:
DK: How did the two of you connect and decide to form RSO?
Orianthi: I had connected with Richie through Alice Cooper. I was playing with Alice at a charity event, and he introduced us and we just hit it off. When I got to L.A, Richie called me and said, "Come around," and we ended up hangin' out and just talking about music and guitars and our love for the blues. We had so much stuff in common, and we just started jamming and writing.
Richie Sambora: It's the six degrees of separation. I happened to be in Hawaii, and Alice Cooper, Steven Tyler, Sammy Hagar and other artists were doing a show for kids there. Ori (Orianthi) was playing with Alice, and I asked him, "Who's that?" And he said, "Oh, that's Orianthi—she's played with Michael Jackson and she's been working with me for a little while." And I go, "Not for long" (laughs).

Here's the audio of RSO's new song, "Making History."
What happened was, after I left [Bon Jovi in 2013], I went right back to my agents and said, "Look, I don't want people to think this is a retirement or anything like that. So book me on some festivals." So they did, and my rhythm guitar player's mom got ill, so he split. I was going to do it by myself but then I thought, "Let me call Ori." And she said "Yeah, let's do it." It just kind of went from there. And the songwriting just went out of control. We just hit such a prolific nerve, it's crazy.
DK: How did the two of you click with your songwriting?
Sambora: We have a good chemistry. You know, the first time we were onstage together it was magic. It was just one of those things, like lightning (laughs). It just worked.
The other thing, when you're in a huge band like Bon Jovi, it's structured in a way where you're on the road so many months, and the last tour I finished with them was 18 months. I mean, you miss a lot of life; you miss a lot of stuff. You also miss a lot of personal growth, because you're in this bubble…you've got to play for 75,000 people in every city and you've got to be healthy. I've never really created that much on the road until Ori and I were out there. We were always just jamming and always playing. I mean, that's the way we wake up—we've got a studio in the kitchen and it's like a session every day.
DK: When you're writing together, what's your songwriting process?
Orianthi: The way that we write songs is always very different. Whether we come in with a title, or I come in with a guitar riff or Richie does, or I could be on the piano and we're sitting around. We've done some experimenting, because we wanted to come out with a new sound that we haven't done before, because that's important to us. And (producer) Bob Rock really helped with the production side of things, having our voices come together, and come up with something that was really interesting.
Sambora: I think we created a sound here, and something that is [unique and different]. We really surfed the genres, put it that way. There's obviously a lot of different genres of music, and we wanted to own them. And I think we did; we had to create a sonic pallet for people to listen to, where it was all cohesive throughout that journey to the genres. So we had a great time on this record, and Bob Rock…people don't know that he's writes his ass off too. We wrote a lot of stuff together on this record.
We've also been writing songs for other artists, producing other artists, and playing with other people. It's been a really great time. [This is] because you're able to go and work out your songwriting chops, so I was able to play a lot more piano, which led into more writing on the piano.
DK: There's a good variety of songs on your album, from uptempo rockers to ballads, plus country and blues. What are some of your favorite songs on the album?

Here's the audio of RSO's new song, "Walk With Me."
Orianthi: "Walk With Me' (a ballad) is definitely one of my favorites. That has a really strong message especially right now with the world, and it was written that way because people need to come together and really work together. I just wish that one day [all of us] will just get along and stand by each other as human beings on this planet and stop violence, and that equality is everything. And I think that song really sums it all up. Also, "Truth" is another one of my favorites. It's basically a male and female perspective on love.
Sambora: I'm diggin' [all the songs] because we went out there and played for a bunch of years and we tried this stuff out with audiences. I tell you, by the time the second chorus came around, they were already singing it, and it's a brand new song they've never heard before. So I knew that we were on the horse in the right direction. And a country band has covered "Walk With Me" already, so that's a good sign.
We tried to write songs that are pretty human. On this record, listen to the lyrics—"Truth" and "Take Me" are some of my best stuff.
DK: Your album is called Radio Free America. How did you decide on this title?
Orianthi: Well, we were talking about different titles, and a long time ago there was pirate radio. People would be on a ship and they would [broadcast] rock & roll or whatever they wanted to play, and people would listen. And we had this concept [that related to this], with this pirate radio being so diverse and out of the box. It's like Radio Free America—it doesn't matter what format it is, it is what it is.
Sambora: Basically, Radio Free America is about having the opportunity and the freedom to create what you want to create. You can have a reggae song, a blues song, a ballad, or a rock & roll or pop song.
DK: I'd like to ask Richie about how he wrote some of Bon Jovi's hits. But before we do that, what would you like to say about RSO and where you're at with this band?
Sambora: This is a serious foray into a man and woman that at this point in our careers…we've been through a lot, both as pretty good songwriters and pretty good singers. And we've got a great band, and I think that people will be really happy to listen to this record and the craftsmanship of the songwriting. We feel that the songwriting is very important.
Orianthi: RSO is basically male and female coming together—we're both guitar players and we're both singer/songwriters. It's showing quality and it's showing respect for the relationship, and we write songs that are about relationships, and it's also about the world and our views on things, about empowerment and to stop the divide. It's bringing people together. And when you come to our show, it's honest, like a party. It's like bringing people to church. We always bring the gospel, bluesy vibe to things. And we put in a few covers here and there.

Here's the video of Bon Jovi's classic hit "Livin' On a Prayer," which was
co-written by Richie Sambora.
DK: Richie, you wrote many classic songs for Bon Jovi. Can you talk about how you co-wrote "You Give Love A Bad Name" and "Livin' On a Prayer"?
Sambora: Well, "Bad Name" was written in my mom's basement. I was still living at home at the time (laughs) because we were broke. If I wasn't on the road, I was living at my mom's. So I just made everybody come over there. And it was the first time we met (hit songwriter) Desmond Child. It just kind of clicked automatically. Desmond was making his way back into the business because for a little while he was doing spiritual work or something. Jon (Bon Jovi) and I already had a bunch of great songs that we'd written like "Wanted Dead Or Alive" and "Never Say Goodbye." So we were on our way to the best record that we were ever going to make. If you look at our first two albums compared to Slippery When Wet, there's a huge jump in everything. That's when I thought…the band became a band. Slippery When Wet was almost like our first record, really.
DK: How did you co-write "Livin' On a Prayer"?
Sambora: This time, I was going to Desmond's apartment in New York City and I was late, because I did a session the night before that ran late. It was raining, and I got stuck in the Lincoln Tunnel. I was drenched and I walked in, and I kind of said, "I need something…I need a prayer." And Desmond went, "Livin' On A Prayer," and basically we got the first verse and the first chorus. And then later, Jon and I were in a cab going back to where we were going, and he says to me, "Oh I think that will be in a movie soundtrack." And I said, "I think that's the biggest song we ever wrote in our lives" (laughs). Jon would tell that story onstage many times during my tenure in the band, and it's a really funny story. It was actually true (writing the first verse and chorus), and then we had to finish up the second verse and the bridge.
"Livin On a Prayer" is really a story about a bunch of Jersey kids and we all went through the same thing. My father was factory worker and he got laid off, and my uncle Sal got laid off. So we were actually making a social commentary for the first time using characters (Tommy and Gina) instead of being "us", which was a monumental thing. And I think that it took the spotlight off of whatever image we had, and made that everybody's song. That's the trick…to relate to humanity into the places where we've all been and the human circumstance where we've all been there. That's what a big song is, man.
DK: Richie, you recently reunited with Bon Jovi for the Rock & Roll Hall of Fame induction ceremony. What was it like to reunite with the band for this night?
Sambora: Yeah it was tremendous, man. Everybody got a chance to see each other's families, and obviously it was a wonderful honor to be recognized by the Rock & Roll Hall of Fame. That was great, but I tell you, the Songwriter's Hall of Fame was pretty bitchen too. You know, Bernie Taupin (who's in the Songwriters Hall of Fame) and I have written some songs together. Bernie's such a literary guy but he's also this blues/roots guy. I called the Hall of Fame and said, "Hey man, let's get some blues guys in the Hall of Fame, so Bernie and I inducted (blues legend) Willie Dixon into the Songwriters Hall of Fame (in 2015).