Ratham Stone's "Bang Bang" Named August "Best Song Of The Month"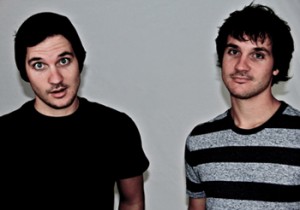 Andrew Lipinski & Adam Lipinski, who are twin brothers and leaders of the pop/rock band Ratham Stone from Orlando, FL, have won the SongwriterUniverse 'Best Song Of The Month' Contest for August, for their song 'Bang Bang'. This song is featured on their EP titled Nashville, which they released independently earlier this year (2013).
'Bang Bang' is a very appealing, upbeat pop/rock song which sounds ready for radio airplay. The song has a catchy melody and arrangement, and the chorus is hooky and easy to sing along to. This recording features clear, expressive lead vocals by Andrew Lipinski, with harmony vocals by Adam Lipinski. "Bang Bang" was expertly produced by Dustin Kirkendall at his Pop Gun Studio in Nashville. Kirkendall is a producer/musician who has worked with several label artists, and with top producers Dann Huff and Bob Ezrin.
The Lipinski brothers (who are 23) grew up first in Pittsburgh, PA, and then moved to Columbus, OH in 2003. They both sing, play guitar, and play piano. Andrew was inspired by listening to Bob Dylan, and Adam's favorite was Tom Petty. After they graduated from high school, Adam moved to Orlando where he worked as a stunt man at Hollywood Studios at Walt Disney World Resort. Andrew took several Berklee School of Music classes online, and then joined Adam in Orlando in 2010.
Andrew recalls, "It was in 2010 that I started collaborating with Adam, and we formed Ratham Stone. We recorded & released three EPs prior to this year, and we've been able to develop a good following in Florida. Last year we played the Sunset Festival (in West Palm Beach) where we played onstage right after Pitbull, and before The Fray. We've also headlined shows at the Hard Rock Cafe and House of Blues (in Orlando)." Ratham Stone has also played shows at the Whisky A Go Go in Los Angeles, and in several other states.
The brothers usually produce their own EPs, but they decided to work with producer Dustin Kirkendall for their EP called Nashville. "We met Dustin when we played a showcase in Nashville and he was a judge," said Andrew. "He liked us, so he asked if he could help us by producing an EP. So last October (2012) we recorded three songs with him including 'Bang Bang'."
Notably, Ratham Stone has produced a very unique, creative video of "Bang Bang" which was directed by Brice Miller, who has directed videos for many hit artists. Miller also directed the band's video for their song, "Grab The Gold."
Currently, in addition to promoting "Bang Bang" and their Nashville EP, Ratham Stone will soon be releasing two more EPs. The group has also formed a music publishing company, Blind Magic Publishing, and they're focused on placing songs in film & TV. The band has already placed songs on several TV shows, including two MTV series
Top Five Songs Of The Month
Here are the Top Five Songs which were submitted for this month's contest, with the songwriter credits, plus their e-mail and website links. You can listen to the winning songs by clicking the music players below.
"Best Song Of The Month" Winner
Song Title:
"Bang Bang."
Written by:
Ratham Stone (Andrew Lipinski & Adam Lipinski) of Orlando, FL. Performed by Ratham Stone.
More Best Songs Of The Month
To enter the next "Best Song Of The Month" Contest (the deadline is the last day of each month), please
Click Here