Talented Indie Duo Overcoats (JJ Mitchell & Hana Eliot) Move In A Pop Direction With Their Impressive New Album, Winner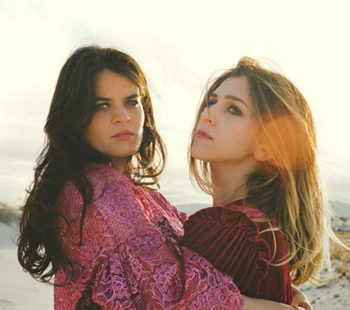 Overcoats, an indie pop duo from New York that consists of JJ Mitchell and Hana Elion, has built a solid reputation as a talented group that creates melodic, appealing songs that feature distinctive lead vocals and harmonies. The duo are also skilled songwriters who come up with fresh ideas and unique sounds, and their lyrics are thoughtful and interesting.
With their two previous albums—YOUNG (in 2017) and The Fight (2020), Overcoats has explored different music styles to blend with their trademark melodies and harmonies. They've effectively added elements of punk rock and electronics to their music. But notwithstanding the notable songs on their first two albums, the duo has truly hit their stride with their new album, Winner, which finds the group moving in a more pop direction. This album will be released this Friday, April 7.
SPECIAL FEATURE: STREAMING AUDIO

Here's an excerpt of our interview with the duo Overcoats, where JJ Mitchell tells how she and Hana Elion wrote their songs, "Never Let You Go" and "New Suede Shoes."
Winner is full of warm, engaging songs that have catchy melodies, hooky choruses and upbeat lyrics. Two of the leadoff tracks—"Never Let You Go" and "New Suede Shoes"—are good examples of their vibrant new sound. Other song highlights include the title cut "Winner," "Vagabond," "Horsegirl" and "Want You Back."
For the new album, Overcoats teamed up with Daniel Tashian, who is a Grammy-winning producer & songwriter based in Nashville. Tashian is known for his excellent work with Kacey Musgraves (on her Golden Hour and Star-Crossed albums), and he's also worked with Tenille Townes and Birdy. Tashian collaborated with Overcoats on almost all the songs on the Winner album.
Mitchell and Elion first met in Connecticut, where they were attending college at Wesleyan University. They became friends and connected musically, and found that they loved singing together. Soon after, they began performing live and writing songs.

Here's the video of Overcoats' new song, "Never Let You Go."
In 2015, while they were still in college, they released their first EP, called Overcoats. Then after college, they wrote the songs for their first full-length album, YOUNG, which was released in 2017. This was followed by their second album, The Fight, in 2020.
Now with the release of their third album, Winners, Overcoats is looking forward to launching their first tour in years. They will start their tour in late April in the Northeast with shows in Boston, Philadelphia, New York City and other cities, and then play Toronto, Chicago and Pittsburgh, followed by shows on the West Coast in Seattle, San Francisco and Los Angeles.
Overcoats Interview
We are pleased to do this new Q&A interview with JJ Mitchell and Hana Elion of Overcoats. They tell how they got started as a duo, and discuss the making of their new album, Winner.
DK: I read that you're from New York City. How did the two of you meet and decide to form a group?
JJ Mitchell: We met at Wesleyan University in Connecticut, on the first day of our freshman year. We were sitting next to each other in an anthropology class, and Hana was wearing a hippie headband and I was wearing a hippie headband, so we became friends.
We loved singing together. We did a capella in college, and we found that the combination of our voices, and the way we were able to write songs together, felt very special to both of us. We had a lot of fun with music, so we pursued it.
DK: In your early years together, you released your first EP and then your debut album, YOUNG. Can you talk about the early years of the band?
Hana Elion: We released our first EP while we were still in college. We recorded it at college, and in Brooklyn at our friend's bedroom studio. Then once we left college, we started writing for an album, and we met the people at Arts & Crafts who were our first label and put out our record.

Here's the video of Overcoats' new song, "New Suede Shoes."
DK: Your second album, The Fight, included more electronic sounds, and I like your songs, "Fire & Fury" and "The Fight." Can you talk about the making of your second album?
Mitchell: Yeah, I think of our second record as more punk rock than anything. It's definitely electronic too, but I felt like we became inspired by artists that leaned into walls of guitar and getting out a certain angst by banging on instruments in a nice way. So that fueled the way we created the second record. Obviously, the name of the album (The Fight) indicated where we were at in our careers and in our lives. We had experienced a weird year of loss and tragedy…friends and family. And it felt like we needed to make this kind of album to even give ourselves hope. A lot of what we were feeling was a little more anger, and that came through in the musical instruments that we were wanting to play. So I feel like all of that led to The Fight being what it was.
DK: I like your new album, Winner, which seems to be more pop and radio-friendly. Was that a conscious decision to go in a more pop direction?
Elion: Yeah it was. After we saw the reception that "Fire & Fury" had, we realized that there was a need for music that was bringing hope. So we wanted to write something that would contribute to the joy and lightness that people were needing after a global pandemic. Also after our second album, I think we had some turmoil with our label. We really wanted to write a more indie record, and they wanted us to go more pop. So when things ended with them, we were like, "You know what? Now we're gonna write that pop album." So there was a bit of a revenge element to it which was really fun.
DK: With your new album, have you signed to another label, or are you releasing it on your own?
Mitchell: It's a bit of both. We created our own label—it's called Never Fall Back Records. And the album is being distributed by Thirty Tigers out of Nashville.
DK: With your new album, would you describe it as more pop, with a more joyful and positive theme?

Here's the video of Overcoats' new song, "Winner."
Mitchell: I think so. And even if not exactly joyful, I think with this record we wanted to create a body of work that would be inspiring in the face of rejection, or feeling like you've been beaten down by life (laughs) and decisions. And so even if some of the songs are a little angrier or not necessarily all positive, the overall message is one of getting back on a horse after you've fallen off.
DK: For your new album, you worked with top producer & songwriter Daniel Tashian, who's known for his work with Kacey Musgraves. How did you decide to work with him for your album?
Elion: We had a writing session with him. We were going around and meeting a bunch of people to see who we wanted to work with, and we've had such a fun time with him. "New Suede Shoes" was the first song we wrote the day we met Daniel, which inspired us to do the rest of the project with him.
DK: I like your new songs "Never Let You Go' and "New Suede Shoes," which are upbeat and catchy. Can you talk about writing these songs?
Mitchell: With "Never Let You Go," we definitely went into the studio with the intention of writing something upbeat. We had been in Nashville writing with people for a while, and we were like, "You know what? We've gotta go into this session and get the energy levels going." And so Mikey Reaves, who did some coproduction for that one, was in that session and we were like, "Would you make us a fun beat?" And that's where it started, and using that song in that session as a way to unpack some complicated feelings about the ending of relationships, but doing it in a way where you can still dance and have fun while processing.
And then "New Suede Shoes," which was the one that we started with Daniel on our first day meeting him, was based on a true story. Hana did in fact show up to the studio with her new suede shoes, and she did spill something on her shoes, and things went from there. We wanted to write something, not taking ourselves too seriously, but at the same time…spilling coffee on your new suede shoes is really annoying. It makes you feel like a klutz…it makes you feel like you don't have your life together. And we started to explore that feeling and where that sentiment could take us, and figure out what was going on for each of us, with the push and pull of New York City and the desire to escape and go across the country. All of these things came up, even from starting this annoying thing, where Hana's new suede shoes got ice coffee all over them. And that was a special experience writing that one.

Here's the video of Overcoats' new song, "Horsegirl."
DK: Another song I like is "Horsegirl," which has a unique title and theme. What inspired you to write this song?
Elion: We wrote "Horsegirl" in L.A., but we had been working a lot in Nashville because that's where Daniel's studio was. We wrote that one with a writer/producer named Day Wave. I think it came easily; we channeled the feeling that we've all experienced, and it was a pretty effortless process to write it.
DK: Besides the songs we've discussed, what are your favorite songs on your album?
Mitchell: "Vagabond" is one we're really excited to put out there. I think it's got this resolve to it, but the resolve is not necessarily that the path forward is clear. It's that this path forward is never clear, and you have to take things as they come and figure it out as you go. I'm excited for people to hear that one. Hana and I've been talking about another song, "Want You Back," which we're excited to put out into the world, because that one is like a very poppy bop. But at the same time, it's got these lyrics that I think are very special to the album in terms of tying it to a specific place, and that place being New York, which is where we've spent the last seven years together, and where we were during the pandemic.
DK: I read that you'll be launching a new tour that starts in late April. Can you talk about your live shows? Do you tour with a full band, or just the two of you?
Mitchell: We can do a number of different setups. It will be a four-piece this tour, so it will be us, a drummer and then a multi-instrumentalist who plays guitars, keys and bass. And we love touring. It's always been a fun part of what we get to do as a band. And I think this tour feels especially exciting because we had to cancel our 2020 tour (due to Covid), so it's been so long since we've gotten to do this. We'll play songs from The Fight, from Winner, and throw in a few old ones from the first record. It will be the same harmonies, same focus on our vocals. But this time we've got some new dance moves (laughs) that we're excited to do.
DK: In closing, what's one thing that you'd like people to know about where you are as a band, and what the new album is about?
Mitchell: I think where we're at as a band, is that we persevered. Everybody has obviously gone through the whole pandemic and that hasn't been easy for anyone. I think we've had a difficult few years, and with this album we wanted to create something that feels inspirational in the face of adversity, whatever that adversity might be. So we hope that's what the listeners get from it.