Olivia O'Brien Co-Writes Her Duet Hit With Gnash, "i hate u, i love u," And Signs With Island Records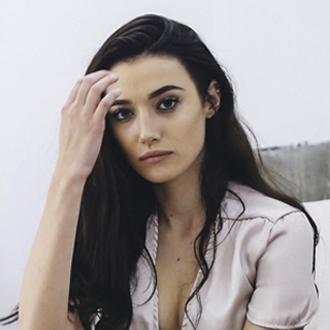 2016 has been quite a year for singer/songwriter Olivia O'Brien. Following the release in March (2016) of her duet single "i hate u, i love u" with singer/rapper Gnash, O'Brien has gone from being an unknown teenager to a rising pop artist who is now signed to Island Records. She co-wrote "i hate u, i love u" with Gnash, and the song has become a Top 10 hit in the U.S. and in many other countries, including the United Kingdom, Australia, Portugal, Israel, Indonesia and Austria. Impressively, the song's video has received over 147 million views so far on YouTube.
O'Brien, who turns 17 on November 26, grew up in Napa Valley, California, and she wasn't expecting to have a hit song so early in her music career. She recorded demos of her songs, plus cover recordings of other artists' songs, and posted these on her SoundCloud page. Gnash heard and liked a cover version she sang of one of his songs, and he subsequently heard O'Brien's original, rough demo of "i hate u, i love u." Gnash recognized the potential of this song, so he invited O'Brien to further develop the song in Los Angeles. The duo rewrote the song (adding verses), and then they recorded their duet version. The final version was produced by Gnash.
Since signing with Island Records a few months ago, O'Brien has released two new songs which she wrote: "Trust Issues" and "Root Beer Float" (which features a rap by Blackbear). She is currently writing and rocording new material for her first EP or album release on Island.
We are pleased to do this new Q&A interview with Olivia O'Brien. She tells how she co-wrote "i hate u, i love u" and describes how her life has changed since this single has become a worldwide hit.
DK: How did you get started with music? I read that you play both piano and guitar.
Olivia O'Brien: I took a few guitar lessons when I was really little but I never stuck with it. I ended up picking it back up again in middle school and taught myself how to play a few chords. I was the same way with piano, but I definitely have written more songs on my keyboard than I have on guitar. I wouldn't consider myself great at either instrument, but knowing the basics is all I really need for now.
DK: What inspired you to write the original version of "i hate u i love u"?
O'Brien: The song was about a boy from back home that I honestly haven't thought about since before it was released. It's crazy how you can have so many feelings for someone, and then very quickly those feelings can simply disappear. The demo version was originally all I thought the song would be. Garrett (Gnash) heard it before I even posted it; I looked up to him a lot and asked him for his opinion before I did anything with it. He helped me perfect the structure of the song and helped me have the courage to put it up for everyone to hear. I used to be so afraid to share my music with people because it was so personal, but after the success of "i hate u i love u" that has definitely changed.
DK: After Gnash heard your song on Soundcloud, how did the song evolve into the final version?

Here's the video of Gnash & Olivia O'Brien's hit single, "i hate u, i love u,"
which was co-written by Olivia O'Brien.
O'Brien: The first time I ever met him was when he opened for blackbear and mod sun on tour. He had heard my cover of his song and asked if I had any original stuff I was working on, so I sent him the beginning of "i hate u i love u". He helped me make sure it was finished, and actually made a lyric change that we ended up changing back when I came down to L.A. to record in our duet version. We both put so much of ourselves into the song and I think that's what made it take off so organically.
DK: Now that "i hate u, i love u" has become a big hit, how has that changed your life and music career?
O'Brien: Before "i hate u i love u" I didn't even have a music career. I made SoundCloud covers in my room that I recorded on my phone thinking no one but my friends would ever hear them. Now my life has changed in almost every way. It honestly feels so crazy when I think about the way my life was before and how it is now. I am so much happier being in L.A. making music than I ever was back home, and I am so grateful I have this opportunity.
DK: Congratulations on signing with Island Records. Can you tell me about the two new songs you've released, "Trust Issues" and "Root Beer Float"?
O'Brien: "Trust Issues" and "Root Beer Float" are two songs that are definitely more upbeat and show a different side of me than "i hate u i love u". I thought it was important for my first releases to express not only how much I have changed in the almost two years since I wrote "i hate u i love u," but also how much variety my music has.
DK: What's your next step as an artist? Will you be releasing an EP or an album soon?
O'Brien: Yes, I'm planning on releasing a new project very soon. I'm not sure if it'll be an EP or an album yet, but I definitely have more than enough content for a full album and I can't wait to get all of this new material out into the world!