Country Group Old Dominion Has Debut Hit "Break Up With Him," Co-Writes Hit For Kenny Chesney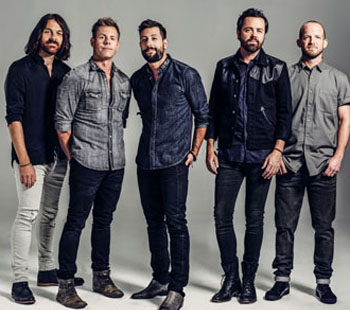 "It all begins with a song" is a ragged old cliché in music circles, but the truth to that adage has taken a different spin for the new country act, Old Dominion.
Two of the band members—Brad Tursi and Matthew Ramsey—had written "Save It For A Rainy Day," a song that Kenny Chesney loved and became his current hit single. That catchy number also served as Chesney's introduction to the country quintet's music, so when Chesney and his team were looking for acts to open his stadium tour, Old Dominion's name was thrown in the hat.
"We didn't even have a record deal when he invited us to be on that tour," said Ramsey, Old Dominion's frontman and singer. "It was a big deal for us to be an unsigned band to be invited on a stadium tour. It has never happened before. We thought it was a joke when we got that call. There's just no way this is happening. It actually was one of those things that helped us get our record deal. [Record label execs] were looking at us going, 'Man, here's an unsigned band and Kenny is tapping them for a stadium tour. There's got to be something here'."
Unknown to the mass country music market, Old Dominion began warming up for one of country music's biggest stars.
"It was an interesting mix this summer for sure," Ramsey explained. "All summer long we would play these teeny little bars and county fairs at one in the afternoon. Then every Saturday we would play a stadium."
"We were the first of five bands," he remembers. "We went on at 4:30 in the afternoon, so that the stadium wasn't always full. Sometimes it seemed empty, but it might be the biggest crowd we ever played for. Then, at some of them, there would be 25,000 people there, and we had 20 minutes to prove to these people that we were worth checking out. It was our job to start this whole day off with a party. We just went out there and bang, bang, bang, tried to make as big a noise as we possibly could for those 20 minutes in hopes that after they leave that night, they'd go check us out and go 'man, that first band was really good'."
At one of those tour stops, singer/songwriters Ramsey and Tursi had the surreal experience of stepping out on stage with Chesney to perform his Top 5 hit "Save It For A Rainy Day" at a stadium full of people in Boston. "Every time I watch a video of that, I get chills," admits Ramsey, who received the first few drops of inspiration for that song just before a 9:00 a.m. writing session.
"I was in the shower getting ready, and that title popped into my head, and I just sang kind of the first verse and first chorus in my head and had it in my head when I walked into that [writing] room," he recalls. "I said, 'Guys, check this out', and I sang it to them. They said, 'Man, let's finish it.' It took 45 minutes. It was easy and fun. It was in the air that day. I don't know why. Sometimes they work, and sometimes they don't. That one was natural and easy."
Old Dominion's recent national exposure might make it appear that the group is an overnight success, but it took close to a decade of hard work before the five guys saw a breakthrough.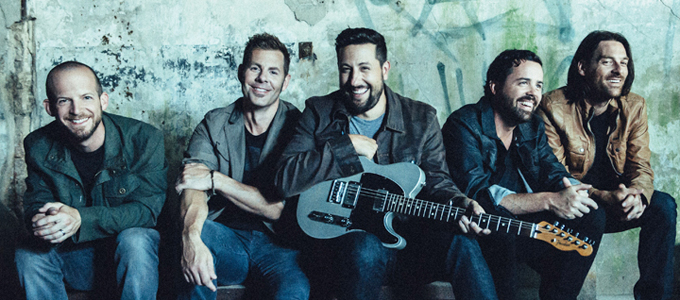 "We're just now crossing that threshold where people know our name, but we've been a band for around 10 years," Ramsey says. "We enjoy playing with each other so much. That's how it started. We were playing songs in a little bar around Nashville because of our love of playing. We were excited about the songs we were writing and wanting to get out there and play them. It became this grassroots thing where we started getting out of town because we could make a little extra money. We really built a fanbase by incessant touring around the country."
During that same time members of the group, which also consists of Trevor Rosen (acoustic guitar, keys, background vocals), Geoff Sprung (bass/background vocals), and Whit Sellers (drums), were building their songwriting chops. They wrote material for their band and collectively penned songs for other performers. Besides Chesney, other artists who have cut their songs are The Band Perry, Keith Urban, Jake Owen, Chris Young, Dierks Bentley and Craig Morgan. Ramsey, who came to Nashville 13 years ago to pursue songwriting, co-wrote Morgan's "Wake Up Loving You."
"You have these songs that you can kind of mark your career by," Ramsey said. "You can see where something happens and something changes, something clicked that takes you to that next level. "Wake Up Loving You" was definitely a huge song for me as a songwriter. That song opened so many doors for me personally and for the band. For a long time, that was sort of our flag-in-the-ground song that said this is Old Dominion. We still play it every night, and we still feel like it's our song, so that was a hard one to let go of. That one got me a publishing deal—it opened so many doors for me as a writer. I was broke as could be when we wrote that song. It came along at the right time and pretty much changed my life."
While he's certainly grateful when another artist chooses to record his song, it doesn't give him the same artistic high as singing his own creation.
"It's so impossible to get someone to record your song in the first place," Ramsey said. "When someone does and you hear it on the radio, there's no feeling like it. As a songwriter, for me, it's the ultimate validation to be the artist on stage singing the music that you created. You can see how it's connecting with the audience. You can feel that energy, and you don't always get that as a songwriter [only]. You write that song, and you set it free and someone else takes it to the next level. It's nice to be able to be that person to take it to the stage and connect with the audience night after night."

Here's the video of Old Dominion's hit single, "Break Up With Him."
The entire band knows that feeling all too well. Old Dominion's first official release from RCA Records is "Break Up With Him," the first song that every member had a hand in writing. Their debut has broken through the Top 5 of Billboard's Hot Country Songs chart.
"We've been combing through all of our computers, and we found all the little work tapes of how that song progressed," says Ramsey. "We started at a little soundcheck at one of those smaller gigs that we talked about before. We recorded it (the groove) on our phone."
Later, around 2 a.m. when most band mates were asleep, Ramsey began toying with the idea for a one-sided song conversation. He and Rosen went into the back of the bus to flesh out the song.
"I was whispering, 'Hey girl, what's up? I know it's late, but I knew you'd pick it up', and that kind of set the tone for that song," Ramsey remembers. "From that point on, I think we were just trying to make each other laugh and see what we could come up with. Then, we all got back together in a rehearsal space in Texas, and we finished it up together. It was kind of a three part writing session that included the entire band. It was a lot of fun."
While the band has started to write as a group on a few other songs, different configurations of the band have penned several other tunes for Old Dominion's first full-length album, Meat and Candy.
"The name comes from the whole collection of songs," Ramsey said. "When we were trying to figure out what we wanted to record, the first list of songs that we had was more of the lighter side of us, ear candy kind of stuff, which we love and is a big part of us. We said we need some meat. We're capable of meat and candy. That kind of stuck. We immediately said that's the name of the album."
Renowned Nashville songwriter Shane McAnally produced the group's album. "Shane is another person that we've been blessed with for a really long time since before any of us including him had any success in Nashville," Ramsey said. "We've been friends with him, and we've been writing with him for years and years. Obviously, he's got his finger on the pulse. He knows what is working, and he knows how to create something that will work. He knows us as a band—it's a natural fit. He's really good at getting the best performance out of us that he possibly can."

Here's the video of Kenny Chesney's hit "Save It For A Rainy Day,"
co-written by Brad Tursi & Matthew Ramsey of Old Dominion.
"They're all musicians, and they're all songwriters, and they already know what they want," McAnally said. "I'm more of a voice so that not everybody's talking at once. They kind of go through me. It's kind of baffling to me that they put that sort of faith in me. We made a really great record together, and I'm so excited about it. It's hard for me to take credit because they really did it. They just needed me there for confidence, I guess, or somebody to say yeah, you've got it right."
From an unknown act to an 'overnight success', the last 10 months have been a whirlwind for the once struggling musicians."It's unbelievable, man," Ramsey said. "We're still kind of in this weird stage where we'll show up to a venue to play, and we'll think nobody's going to be here tonight. Then, it's packed. Where did all these people come from? We're still kind of in a state of shock right now that this is actually happening.  For the longest time, our band motto was 'It's never going to work.' Here we are. It's working."
Bill Conger is a freelance writer for various publications including Bluegrass Unlimited, GACTV.com, Bluegrass Music Profiles and ParentLife. He can be reached at [email protected].He is also on Google+