Nashville Songwriter Nicolle Galyon Talks About Her Hit Songs With Miranda Lambert, Keith Urban, Kenny Chesney and Florida Georgia Line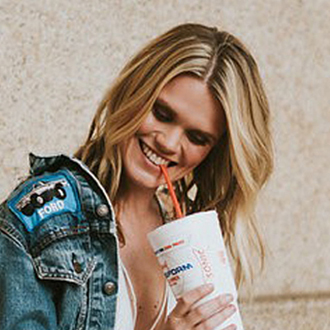 Nicolle Galyon, who is known for co-writing the hits "Automatic" for Miranda Lambert and "We Were Us" for Keith Urban featuring Miranda Lambert, is on the verge of being one of the hottest songwriters on the country charts. She co-wrote two singles that are currently moving up Billboard's Hot Country Songs chart: "All The Pretty Girls" by Kenny Chesney and "Smooth" by Florida Georgia Line.
On top of this, Galyon has three more singles in the works. She co-wrote & produced Jana Kramer's new single, "I've Done Love," and she co-wrote Lady Antebellum's next single, "Heart Break" (the title track of the trio's latest album). She also co-wrote rising artist RaeLynn's new single, "Lonely Call."
Galyon has become an in-demand Nashville songwriter who has co-written multiple songs for some artists. For Lambert's 2014 album, Platinum (which won the Grammy Award for Best Country Album), Galyon co-wrote five songs: "Automatic," the title cut "Platinum," "Girls," "Priscilla" and "Babies Makin' Babies." For RaeLynn's recent album, WildHorse, she co-wrote seven songs, including the first single, "Love Triangle." She's also had cuts with Thomas Rhett, Dan + Shay, Lee Brice, Eli Young Band, Ryan Hurd and other artists.
Galyon grew up in Sterling, Kansas, which is a small, rural town. She learned to play piano, and for college, she attended Belmont University in Nashville to pursue a career in the music business. She eventually decided to focus on songwriting, and she signed a publishing deal with Warner/Chappell Music in 2006. It took her several years before she landed some major song placements, but she broke through in 2013 when she co-wrote the #1 hit "We Were Us" for Urban & Lambert, and in 2014 she had the hit "Automatic" with Lambert.
We are pleased to do this new Q&A interview with Nicolle Galyon. She tells how she got started in the music business, how she co-wrote the hits "We Were Us" and "Automatic," and she discusses her latest singles.
DK: How did you get started as a songwriter? I read that you attended Belmont University in Nashville.
Nicolle Galyon: I think most songwriters [have the goal of being] songwriters and they don't have a Plan B. I actually moved to Nashville to be an artist manager. I had never written a song, and songwriting turned out to be my Plan B. It wasn't my original goal when I moved to Nashville. I'd never written and I'd never really sung, but I was just so obsessed with music and the business.
I'm from a small rural town (Sterling, Kansas), and I grew up playing classical piano very seriously. I started when I was 3 or 4 years old, and I couldn't wait to take piano lessons. Once I started, no one ever had to tell me to practice—I just couldn't stop playing piano. I played seriously all through junior high and high school, and I did competitions. But it wasn't country music. I didn't know how to connect the dots between what I was really skilled at and what I was really passionate about.
DK: Why did you originally want to be a manager, rather than a songwriter?

Here's the video of Miranda Lambert's hit "Automatic," which was
co-written by Nicolle Galyon.
Galyon: I'm a creative at heart, but I also have a passion for marketing and promotion—all the things that make the machine run. When I was growing up, I loved reading all the liner notes. I enjoyed reading who the manager was and who the agent was, things like that. I was fascinated with how it all came to be this product that I grew up loving. So I thought, maybe I'll be a manager. That's what got me to Nashville.
DK: When did you decide to focus on songwriting?
Galyon: I went to Belmont thinking I was going to be a manager. [But then] I just met some songwriters. I remember looking at these writers singing the songs they wrote, and I thought…Oh my gosh, I think I can do that. And I don't know why I thought I could do that, because I'd never done it. But I just started, and I spent three or four years kind of being a closeted songwriter before I publicly admitted that I was a songwriter, and that was what I wanted to do with my life.
DK: You signed a publishing deal with Warner/Chappell Music. How did you impress them to land a publishing deal?
Galyon: It's kind of funny—everyone's story is so unique. I was a personal assistant for Greg Oswald at William Morris (Agency) when I was in college. He would have a lot of parties at his house, and I would work at those parties. But he would also put me on the spot. At the end of the night when everyone had migrated to the music room, he would [ask me to] sit down at the grand piano and play songs that I had written. I was always scared to do it, because I don't love performing and I felt out of my league in that environment, because I was around a lot of very successful people and I was just a college student writing songs by herself.
One of the guys who heard me play songs at parties, was (hit producer & music exec) Paul Worley, who at the time was running Warner Bros. Records in Nashville. He ended up making a phone call to Warner/Chappell. At the time, I was meeting with a lot of different people, but he was the one that kind of got my foot in the door at Warner/Chappell. And then I signed with (creative exec) BJ Hill, who was my point person. So that's how I got connected with Warner/Chappell.
DK: As a songwriter, is your strength writing topline and lyrics, or do you play piano and compose the music?
Galyon: For the first five years that I had a publishing deal, I was the girl that sat down at the piano every day and wrote a song that way. It almost got to the point where I couldn't turn on my brain, without sitting at a piano and just having my hands on the keys (laughs). But then, with the recent wave of track guys and people who make these incredible beds of music, I started going into those rooms where I wasn't playing piano. That was really when I found my place as a writer, because when I didn't have to think about music and I could just think of ideas and words, I felt like I was best serving the writing room and that's when I started having some success as a writer. I could focus on the idea, the melody and delivering the message, and not worry about chords or production or things like that.

Here's the video of Kenny Chesney's hit "All The Pretty Girls," which
was co-written by Nicolle Galyon.
DK: You eventually had a big hit with "We Were Us" by Keith Urban featuring Miranda Lambert. How did this song come together?
Galyon: I had just flown back from my 10-year class reunion in rural Kansas. I walked into the session with (hit songwriters) Jon Nite and Jimmy Robbins, and they had written with Thomas Rhett the night before. They said, "We should play her that idea that we didn't end up doing with Thomas." And I said, "Oh cool, what's that?" Then they played me the beginning of the chorus, and there were a few words, but there wasn't an idea yet. And I was fresh off of being in my hometown, so I just started throwing out these nostalgic images of me and my [classmates] after we'd spent that weekend together. So then that song just honestly wrote itself. Then Keith Urban, who was a partner in Jimmy Robbins' publishing deal, heard the song and liked it, and wanted to cut it.
DK: So with Keith & Miranda having a hit with your song, did that lead to you co-writing with Miranda for her Platinum album?
Galyon: Actually, no. I got to know Miranda because I did a season of (the TV series) The Voice (as a contestant). It was through the show that I got involved with RaeLynn and wrote with her a lot, helping the development of what she was doing as an artist. And Miranda was so invested in her as well. She was such a big believer, that she was hearing all the things that I was writing with Rae, and she would ask Rae, "Who are you writing these songs with?" And that's how she became aware of me, and how I got with her. It's funny how things work…it was a reality show that got me in with Miranda.
DK: You wrote several songs on the Platinum album with Miranda and Natalie Hemby. So how did the three of you write together?
Galyon: Well, Natalie and Miranda have this incredible rapport with each other—they've created such an incredible line of songs over so many records now. They're so locked in. Around that time, Natalie and I were already friends, although we hadn't written together in a long time. So we got together and something special happened…it was like having lightning in a bottle. We wrote five songs together, and all five songs ended up on Miranda's record. It was just unreal…it was so special for us.
DK: How did you, Natalie and Miranda write "Automatic"?
Galyon: Well, sometimes a word will just jump out at a writer, and you don't exactly know what it is, but it catches your ear. I'd had the title Automatic, but I didn't know what it was. And then that day, Natalie, Miranda and me…the three of us girls were talking about how so many young girls move to Nashville and they get frustrated, because they don't have a record deal or publishing deal right away. And with the three of us, it took us a long time to get to our sweet spot, to find our place, to establish a lane for ourselves. I remember Miranda saying, "I played X amount of dates with a bunch of smelly guys for years before anything happened. I had to put out three or four records before I ever had a number one (hit) on the radio, and nothing ever came automatically for any of us." And so then we knew how to write "Automatic."

Here's the video of Florida Georgia Line's hit "Smooth," which was
co-written by Nicolle Galyon.
There's a cool story, in the course of us talking, that Miranda told us about. Miranda said that Patty Loveless had told her, about how artists in the '90s used to carry bags of quarters with them on their tour bus, because they would always have to pull their tour bus over to the side of the road and do their all their radio interviews from a pay phone. This is something that we all take for granted now that artists are doing this stuff via satellite. We take for granted that artists talk to radio on their cell phones. So that's where "quarter in a pay phone" came from, which is the first line of the song.
DK: Although it wasn't a single, I really liked the song "Platinum," which is such a funny and unique song. How did the three of you write that song?
Galyon: We actually wrote "Automatic" and "Platinum" on the same day. Writing with Miranda was a huge opportunity for me, and I was relieved and happy when we wrote "Automatic," which we all felt good about. So it was like, "Okay the pressure's off, we wrote a really good song today, now what do you want to do?" And we all said, "Let just have fun." I did have the line, "What doesn't kill you only makes you blonder," but we didn't have the title Platinum…we just rolled into it. And then I remember after we wrote it, we were joking with Miranda and we were like, "I dare you to name your album Platinum." It's so ballsy to declare your record platinum, and she did it. So that was just a really cool day.
DK: Currently, you have two singles moving up the country chart, "All The Pretty Girls" (Kenny Chesney) and "Smooth" (Florida Georgia Line). First, how did you co-write "All The Pretty Girls"?
Galyon: We just had a title for the song, and it was actually "All The Pretty Girls Said." The title sounded like something that could be kind of artsy. But then we were like, "Man, what if we just wrote it exactly like it sounds, like what do all the pretty girls say? Of all the songs I've been a part of that have gone on to be singles, that was the most [smooth, quick process]. It was, "Oh my gosh"—we wrote it, (co-writer) Josh Osborne sent it to Kenny Chesney, it got cut immediately, the record came out, and it became a single. In the past, I've always had to wait so long, from the conception of the song to when it actually sees the light of day. But with "All The Pretty Girls," it was really fun…it was like a fast-track song. We wrote it right before Kenny finished his record, and we got in there in the nick of time.
DK: You wrote "Smooth" with Tyler Hubbard & Brian Kelley of Florida Georgia Line, and with (writer/producer) Jordan Schmidt. How did this song come together?

Here's the video of the hit "We Were Us" by Keith Urban featuring
Miranda Lambert, which was co-written by Nicolle Galyon.
Galyon: We wrote that song on a Saturday out at Tyler's farm. It was just a really fun day. I remember them saying, "I love (the song) "Fishin' In The Dark" (by Nitty Gritty Dirt Band)…I want to feel like that." They were just talking about that song, and somehow I think Jordan put the crickets in the track, and off we went. I had the title Smooth in my iPhone notes, and it was just waiting for that day. They were so fun to write with that day, because they creatively wanted to do some cool, unique, quirky, fun lines. And that's one of my favorite parts of writing, seeing how creative you can get on images, and they definitely went for it.
DK: I read that you're married to Rodney Clawson, the hit songwriter. Do you write much with him?
Galyon: Well no, and yes. This year, we've been married 10 years. When we got married, we made a joint commitment to not write with each other, because Rodney had a little bit of success—he had a single or two before we got married. And when we got married he was like, "I don't want anyone to think that you need me (to have success as a writer), because I got a little bit of a head-start on you. I don't want anyone to give me the credit if we wrote a song together…I don't want to get credit that I shouldn't get."
For the first nine years that we were married, we never wrote together. Then about a year ago, we started writing together. We wrote with Tom Douglas one time, and then the next song that we wrote together was with (writer/producer) Ross Copperman, and that song got cut by an artist that I can't say yet. But it got cut and the song is really special, and it would be special for our kids to know the content of the song, that mom and dad wrote it together. So we're hoping that song sees the light of day.
DK: Thank you Nicolle for doing this interview. Is there anything else you'd like to mention for this article?
Galyon: Yes, I'm excited to have the next single, called "Heart Break," by Lady Antebellum. They've announced that it will be their next single. Also, I just wrote and produced the new single, "I've Done Love," for Jana Kramer. It's special that it's my second time this year to get to co-produce an artist, and to get to produce a female artist, which has been really fulfilling for me. I wrote the song with Josh Osborne and Shane McAnally, so that's one thing I'm really excited and proud about.