Alanis Morissette Talks About Writing Songs For Her Album, So-Called Chaos And Her Songwriting Process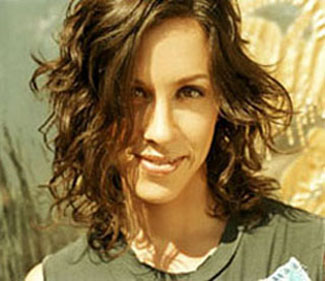 2005 will be another busy year for multi-Grammy winning artist, Alanis Morissette. This year marks the 10th anniversary of the release of her monumental album, Jagged Little Pill, and in March, she will be recording acoustic, unplugged versions of the album's classic songs for a new album release. Morissette is also producing and starring in a new TV series called We're With The Band, which will air on the Comedy Central channel. Then in the Spring, she will perform live with her band, touring in both Europe and the U.S. Lastly, in November, she will be releasing her first, greatest hits album, which will include several, new songs.
Morissette took time out from her schedule, to talk about her creative process, from coming up with her initial inspiration and song ideas, to recording demos, to producing and completing the masters for her album. She also elaborated on all of her new projects for this year.
For her songwriting process, Morissette writes many of her initial ideas in journals. 'In the year or two between albums, I will have filled up two or three journals,' she explained. 'When I've written something in my journal that might be an idea for a song, I put a star next to it. Then when I'm writing, I would flip through the pages in the journal, and find the passages with stars. Or, I will go into the studio with a new song idea, regardless of what's in my journal.'
Morissette prefers to do most of her writing in a recording studio environment. 'I like to write in a studio, so I can capture the first vocal and guitar tracks as I write the song,' she said. 'There's something about capturing that initial creativity and emotion in a studio, and on tape. I will sit there in my 'pod', which is my small area in the studio, where I have a keyboard, acoustic guitar and electric guitar. In the writing and demo stage, I like working with (engineer/musician) Tim Thorney, who I've worked with for many years. He's great for his creative support, and for being an all-around musician in the studio.'
When she's in the studio writing, Morissette can be very prolific in creating a song, and then recording the demo. 'I will usually write a song within 40 minutes. The lyrics will be about 50% complete, then I will fill in the blanks later on. Then with the music, I will lay down a few instruments to record the demo. For [her] So-Called Chaos album, I wrote about 15 songs. I would come into the studio around 1:00 pm each day, and I would write and record until about 8:00 pm.'
Once the songs were demoed, then Morissette would start the second stage of the process, which was to bring in her bandmates and other musicians to record tracks for the actual album. 'With So-Called Chaos, I recorded a large share of the tracks with Tim (Thorney), which took about two months,' recalled Morissette. 'Then I called (producer) John Shanks, and he came in to co-produce the album, tweaking the tracks, adding more instruments, and providing his creative touch with the production.'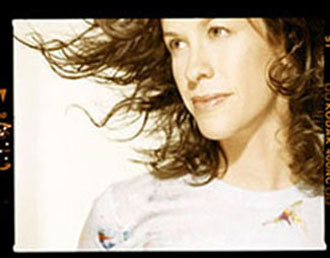 Morissette added a couple of other insights about her songwriting process. 'I make sure that I don't overwrite,' she said. 'I really believe that 'writer's block' is when you're trying to write, when you really don't want to. Also, I believe structure is very valuable (in the writing process), but I'm not a taskmaster when it comes to structure. I don't have this discipline to try to sit down and write every day.'
Additional Projects
In addition to her writing and recording, Morissette discussed her wide range of projects for this coming year. A key project is her new TV series, We're With The Band. 'We will be shooting the pilot soon. The show is an ensemble piece, with subtle comedy like the Larry Sanders Show, about being on the road with a band. There will be structured scenes, and improvisation.' Morissette is the executive producer of the series, along with Tom Hanks and Gary Goetzman.
In March, Morisette will return to the recording studio, cutting all new, acoustic versions of the songs from Jagged Little Pill, to mark the 10th anniversary of its release. Jagged Little Pill has now sold over 30 million units worldwide, won four Grammy Awards, and was named 'Album Of The Decade' by Billboard magazine.
Come April, Morissette will resume her live performing, first touring Europe with her band, performing electric shows. Then in May, she will launch a major acoustic, unplugged tour with her band, across America. The unplugged, U.S. tour will coincide with the new, acoustic release of Jagged Little Pill.
Following her concert touring, Morissette will again focus on writing and recording, creating the new songs for her greatest hits album. 'I would love to work with a great new collaborator on the new songs for the 'hits' album,' she added. 'Hopefully, if the collaboration works well, we can continue working together on my next, full album project.'
Dale Kawashima is on Google+