Miranda Lambert Talks About Her Crazy Ex-Girlfriend Album, Her Hits "Gunpowder & Lead" And "Famous In A Small Town," And Writing Her Songs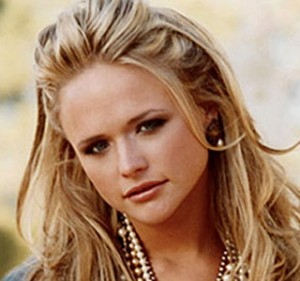 Grammy-nominated singer/songwriter Miranda Lambert, whose platinum-selling first album, Kerosene, entered the country charts at #1 in 2005, is poised to release her follow-up record, Crazy Ex-Girlfriend on Sony Nashville Records on May 1. As the title song suggests, this album contains some of the same sassy, don't-mess-with-Texas attitude that took country music by storm during the Nashville Star competition of 2005, but also demonstrates a more vulnerable side that Lambert feels compelled to share with her fans this time around.
Going along with the premise, 'if it ain't broke, don't fix it,' Lambert again wrote or co-wrote most of the songs, and again tapped Frank Liddell and Mike Wrucke to produce the album. But the feisty blonde says she has definitely learned a thing or two since her first rodeo. 'I learned a lot about the business side of the music business this time around,' she says. 'There's a lot of politics and a lot of things you don't think about as a musician.'
The album's first single, 'Famous in a Small Town,' is doing well so far, she reports. 'I feel like this was a perfect song for the first single off this album. There's no controversy around it,' she laughs. Other songs on the album, like 'Crazy Ex-Girlfriend' and 'Gunpowder and Lead,' in the tradition of the Grammy-nominated title cut 'Kerosene,' deal with the drinkin' and fightin' side of country music where this little girl makes it clear that she can hold her own in love and war.
Other cuts from the record, such as 'Love Letters' (her grandmother's favorite), 'Desperation' and 'More Like Her,' are her own compositions and demonstrate this Texas artist's more vulnerable side, which she admits, scared her a little.
Since the release of her first album, Lambert's life has been a whirlwind of touring and performing. She has opened for the likes of Keith Urban, George Strait, Dierks Bentley and Toby Keith. She appeared on numerous television and music award shows, receiving many nominations such as ACM's Best Female Vocalist; CMT's Female Video of the Year, and a Grammy nomination for Best Female Country Vocal Performance for 'Kerosene.' She also received awards such as Most Played New Female Artist on Country Radio and CMT, Music Row Critic's Pick Award and Country Weekly Magazine's Reader's Favorite.
With her busy schedule, Lambert has found ways to recharge her batteries on the road. 'I got a little dog from the Humane Society in Tyler, Texas where I live. Her name's Delilah. She's only 10 pounds, just a purebred mutt, but she's really perked us up on the bus.' Practical jokes also help break the monotony of touring. 'Once, while opening for George Strait, we got on the bus and someone had strung dental floss all throughout the bus, like spider webs,' she laughs.
Songwriting remains an important part of Lambert's life. 'I don't really write a lot on tour. I have ideas and write them down, then I pick up my guitar for maybe, 20 minutes. When I'm on tour, I'm out there working. Songwriting's always been like a hobby for me, but it's sort of turned into my job. When I go home it's more peaceful, so I can get back into that mindset.'
Lambert uses different approaches to writing her songs. 'Sometimes I sit down with my guitar with no lyrics in mind, just a melody, and sometimes I have an idea – a word or a phrase that I want to build around. It's different for every song.' One thing she still doesn't participate in is the Music Row practice of sitting down to collaborate on songs with people she doesn't know. 'I'm just not comfortable with that. It's just not my style. Songwriting is such an intimate thing to me. I write better with people I have relationships with. I also enjoy writing by myself. I feel like people don't do that as much anymore and I want to continue to do it.'
As she matures, Lambert says she realizes more than ever the importance of keeping up with the business end of her career. 'I'm pretty hands-on. I want to be a part of all the decisions that are made and keep my eyes open to everything that's going on around me. I've also grown as an artist and performer. Since our first tour with Keith Urban, I think we've really stepped up as a band. We want every performance to be better than the last. And now with the platinum album and nominations for awards, I'm starting to get a lot more serious about the rest of my life and I want to take it by the horns.'
As her career takes off, Lambert's family remains an important part of life. 'My mom is my fan club president and my dad runs my merchandising company. My little brother who's 18, takes care of everything to do with my name and my brand on the Internet. It's still a family operation.'
Despite her seemingly rapid rise to success, Lambert, now 23, feels that Nashville has welcomed her with open arms. 'I've been playing bars every weekend since I was 17, so I feel that I have paid my dues.' For those trying to get started in the business she offers a bit of advice: 'First, get them used to seeing your face. Perform at every place that will let you in the door. The more people you're in front of, the more likely someone will recognize you. Word of mouth is so important. Also, if someone comes up to you and likes your stuff, make sure you've got a demo to hand them. Even if it's just a tape you've made yourself, you need to give them something to remember you by.'
Jayne Moore is a freelance music/entertainment journalist. She has launched a new service, writing bios, articles and press releases. Moore can be contacted at [email protected]. You can also visit her website: www.musicgerm.com.