Mike Posner Returns With Hit "I Took A Pill In Ibiza," And Co-Writes Hit Songs For Other Artists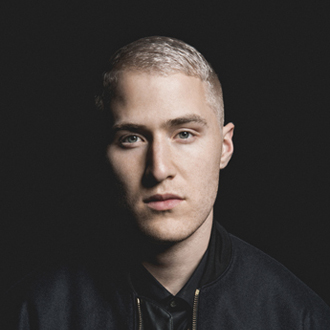 Update: Mike Posner was nominated for Song of the Year by the Grammy Awards, for writing his hit "I Took A Pill In Ibiza." 
Pop singer/songwriter Mike Posner is probably best known for his breakout hits "Cooler Than Me" and "Please Don't Go" (from 2010), and his hot new single, "I Took A Pill In Ibiza." What is less known, is that Posner has been a consistent hit songwriter for the past six years, whether it's writing hits for his own artist career, or writing songs for other artists.
Besides the songs he's written for his own album and EP, Posner has co-written the pop hits "Sugar" for Maroon 5, "Boyfriend" for Justin Bieber, and the duet ballad "Beneath Your Beautiful" for Labrinth featuring Emeli Sande. He's also co-written songs for many other artists, including Avicii, Nick Jonas, Iggy Azalea, Pharrell, Big Sean, Wiz Khalifa, Snoop Dogg, Nelly, 2 Chainz, Cher Lloyd, Big Time Rush, Travis Porter, Cris Cab, Rixton and Oily Murs.
SPECIAL FEATURE: STREAMING AUDIO

Here's an excerpt of our interview in 2016 with Mike Posner, who tells how he wrote his hit, "I Took A Pill In Ibiza."
As an artist, Posner broke through with his album 31 Minutes to Takeoff, which was released on J Records. This album included the hits "Cooler Than Me," "Please Don't Go" and "Bow Chicka Wow Wow" (featuring Lil Wayne). Following this success, Posner recorded two album projects and released the singles "The Way It Used to Be" and "Top Of The World." However, when these singles weren't successful, Posner focused on writing songs for other artists while continuing to develop his artist career.
It was in 2015 that Posner recorded and released a new EP called The Truth, which contained an acoustic, more stripped-down version of "I Took A Pill In Ibiza." Now signed to Island Records, Posner worked with the label to oversee an electronic-styled remix of "Ibiza," which was done by the Norwegian production duo, SeeB (Simen Erikstud & Espen Berg). It's this new mix which has become a worldwide hit single. Posner has just released his new album, At Night, Alone, on Island Records.
We are pleased to do this new Q&A interview with Mike Posner. He tells how he wrote "I Took A Pill In Ibiza," and co-wrote the hit "Sugar" for Maroon 5. He also discusses the ups and downs of his artist career during the past few years.
DK: I like your song, "I Took A Pill In Ibiza." Is it true that you actually took a pill in Ibiza (an island near Spain) when you were at an Avicii concert?
Posner: That's very much true.
DK: What's the story behind this song?
Posner: About four years ago, I was really ice cold at the time as an artist. I had worked a lot with Avicii in the past—he's been a supporter of mine. He invited me to Stockholm to work on his new album at the time. So I went over there, and he had a gig in Ibiza after we worked. Like I said, I was ice cold at the time, so I sort of invited myself to his show. He [brought me] down to Spain and I was at his show, and he's onstage killin' it.

Here's the video of Mike Posner's hit single, "I Took A Pill In Ibiza."
Everyone was going crazy. It was a fun time and I was a bit inebriated. But if I'm being honest with you, I was a little bit jealous, because my friend was up there (onstage) killin' it, and everyone was going crazy for him. And I was not—I was in the crowd and no one really recognized me for who I was. But then, these three Englishmen [said to me], "Mike Posner!" and it kind of stroked my ego a bit. I thought, Oh these guys know me…that made me feel good. I'm not proud of this, but that's the truth. And they held up a plastic baggie with some mystery pills inside. They said, "Would you like one?" And me, in my inebriated state, foolishly said, "Yeah!" (he laughs). And I took the pill out of the bag and put it into my mouth and swallowed. And that is the story.
DK: So did you write this song the next day, or later on?
Posner: I wrote the song (later on) two years ago. I find that's a recurring theme for me. Events need to be contextualized for me in order to write about them…to get a hint of what they actually mean. (For example) I had a break up last year, and I didn't write about it. Really, I thought…I'm over this. Then six months later, the songs start coming out.
DK: I know that you recorded an acoustic version of "Ibiza" first. But it's the remized vcrsion (by the duo SeeB) that's become a big hit. How was it decided to do the remix?
Posner: Well, I'm a child of the hip-hop generation. Flowers blooming out of hip-hop soul. I grew up doing hip-hop music—I started rapping when I was 8-years-old, and making beats when I was 13. The remix is something I really believe in, because it carries the same ethos as sampling does. Hip-hop started, and you'd take a break in the soul record, and loop it, and make new art out of it.
If you go back and listen to my mixtapes, I've remixed tons of songs, from Electric Light Orchestra —I remixed "Evil Woman"—to Beyonce's "Halo" to Adele's "Rolling in The Deep." I just believe in the remix. I think it's cool, and I think that a healthy society allows for art to be reconstucted and reimagined—the old Andy Warhol and the Campbell soup thing (laughs). So my label, they asked me, "Are you cool with having a remix done for this song?" And I said, "Of course!" I love the idea of the remix.
So these two guys, SeeB—Simen and Espen of Norway—did this amazing job and made this new reimagination of what I did with my song. And it seems to have really resonated with people, first in Norway and spreading to different countries. So I think it's a really cool thing. It wasn't as calculated as maybe it seems, at all. It's just like, you get a remix done, and then it just started going crazy. It wasn't anything that we really tried to make happen…it just kind of did.

Here's the video of Maroon 5's hit song, "Sugar," which was co-written
by Mike Posner.
DK: Last year, you had a hit with another artist, co-writing the smash "Sugar" for Maroon 5. How did you get together with Maroon 5, to write this song?
Posner: Well, it was an idea that my friend (writer/producer) Ammo started. Ammo is an incredible producer and writer. He really had the bulk of the song started when I walked into the room. He had the melodies really fleshed out, and the track really fleshed out.
The role I played on that song is largely lyrical. I sat down with JKash (Jacob Kasher) who also wrote on the song. We really labored over the lyrics for like a full day, and we didn't have it right. We were sort of writing it tongue-in-cheeky, reminiscent of a lot my songs, like "Ibiza"— lyrics that straddle the line between sad and funny. I was trying to do it that way, and it wasn't working. And finally, the next day I was sitting along at home and I thought, "What would Marvin Gaye say?" And we just wrote the lyrics like that.
That was fun for me, because it wasn't like what I would say…it was what he'd say. Then my buddy Dr. Luke…I think he played the song for Adam (Levine) and he liked it, and then of course he put his own spin on the song; he wrote on the song as well. He really customized it for himself. [Adam's] just an amazing writer in his own right, and that's how that one happened. It's a real honor to work with those guys. I've been listening to them since 2004-5, (their album) Songs About Jane. To work with them has been amazing…they're just some of the best people I know.
DK: These days, with you having a hit with "Ibiza" and touring, how do you balance being an artist and writing songs for other people?
Posner: To be honest, I've always considered myself an artist first. The songs I write, are for myself. And then sometimes, I'll come to the conclusion that a song doesn't fit on the record , or that someone else would be better served with this song. As a writer, I write a lot of songs. So when I sat down to cut this album last year, I had 70 demos. I've written hundreds of songs since 2010. And you can only put 10 on an album. If everything goes as you hope it will with an album, you're not going to release another album for at least a year. So what are you doing with the other 60 songs? It's another way for me to share my art with the world.
I've always kind of done my own projects first. and thought about other people second. Maybe I'm vain and selfish—actually I know I am (laughs). That's just how I do it. Every once in a while there's an artist that I just love—Labrinth is an example of that. If Labrinth calls me tomorrow, and he wants to write a song for his album, I'll pretty much fly anywhere in the world to go do it with him, because I love him as a human and I love him as an artist. And I care about his album being good. I will do whatever it takes to help him with that.

Here's the video of Labrinth & Emeli Sande's hit song, "Beneath
Your Beautiful," which was co-written by Mike Posner.
DK: With you as an artist, I know you're playing shows and you have an album coming out. Looking ahead, what are your plans for this year?
Posner: Well, I guess more people want to hear me play (live), because of the hit ("Ibiza"). That's really cool, because I really love to play. I've spent last year riding around in an RV, playing shows for free for my fans. So this year, to play some concerts with a band inside of buildings, is going to be really fun. I've been rehearsing with the band. My plan is really to just enjoy the ride and share the music that my friends and I have made, with as many people as possible.
I had a big slump between my first album and this one. I had two albums shelved. So I know that moments like this are not promised, and they're rare. So I'm just trying to be as grateful and have as much fun as I can, because you only get to do this kind of thing once—if you're lucky, twice in your life.