Michael & Marisa's "Beautiful Comeback" Named October "Best Song Of The Month"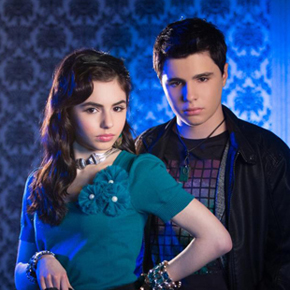 Michael & Marisa, a talented, teenage pop/rock duo based in Boston, MA, has won the "Best Song Of The Month" Contest for October, for their song "Beautiful Comeback" (co-written by Stokes Nielson). This song was released as a single in 2012, and the duo filmed an excellent video of the song. Michael & Marisa are currently recording a full album which will be released early next year (2014).
'Beautiful Comeback' is contemporary, rock/pop ballad which has an appealing melody and a strong chorus. The music track starts with a good blend of guitar & piano, and then Marisa's lead vocal comes in, sounding clear and expressive. The song gradually builds energy and emotion, and features good harmonies by Michael in the chorus, plus a string arrangement. "Beautiful Comeback" was expertly produced by Stokes Nielson, a Nashville-based writer/producer who is a member of the band, the Lost Trailers.
Michael (who is 15) and Marisa (16) were born and raised in the Boston area, and both learned to play instruments at a young age. Michael said, "I started to play guitar when I was six, and we were writing songs a couple years later." Marisa began to play drums when she was eight, and within two years the duo co-wrote most of the songs for their first album, Kickin' It Together (released in 2008). Then in 2010, Michael & Marisa released their four-song EP, It's Like That.
Throughout the past six years, the duo has also steadily performed live and toured, playing a total of 300 shows across the country, including many East Coast cities, and gigs in California and Texas. They've opened for such artists as David Archuleta, Cody Simpson, Greyson Chance, plus Disney and Nickelodeon artists.
For "Beautiful Comeback," Michael & Marisa traveled to Nashville to collaborate with Stokes Nielson. "We wrote the song together," explained Marisa. "The lyric theme of 'Beautiful Comeback' is about teen empowerment, how every failure can be the first act of a beautiful comeback. We try to write songs that have a message and meaning. Another song we've written, 'The Same', has an anti-bullying theme."
For their upcoming album, the duo has been working Los Angeles-based writer/producer C.J. Abraham (aka The Super Chris), who develops young talent and has worked with many Nickelodeon artists. "We're excited about working with C.J.'we've already written 15 songs," said Michael.
What's important to Michael & Marisa, is that they want to establish themselves as long-term music artists, and not just a teen act. "We're aiming to be musicians for life. All of our planning and work is so we can build long-term music careers," said Marisa.
Top Five Songs Of The Month
Here are the Top Five Songs which were submitted for this month's contest, with the songwriter credits, plus their e-mail and website links. You can listen to the winning songs by clicking the music players below.
"Best Song Of The Month" Winner
Song Title:
"Beautiful Comeback."
Written by:
Michael & Marisa (of Boston, MA) and Stokes Nielson. Performed by Michael & Marisa.
More Best Songs Of The Month
To enter the next "Best Song Of The Month" Contest (the deadline is the last day of each month), please
Click Here