Rising Country Star Megan Moroney Talks About Her Excellent Debut Album, Lucky, And Her Hit, "Tennessee Orange"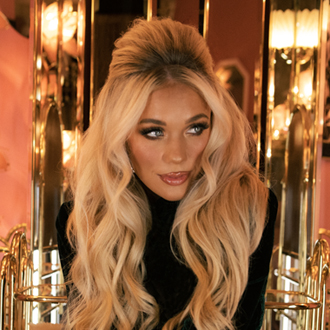 In the past year, Megan Moroney has emerged as one of the fastest-rising artists in country music. In July 2022, she released her debut EP, Pistol Made of Roses, which showed that she's a promising singer/songwriter. Then a few months later, she released her unique, breakthrough single "Tennessee Orange," which has already had a six-month run on the Billboard country charts and is headed for the Top 10. Notably, Moroney has now been nominated for New Female Artist of the Year by the ACM Awards.
Moroney has just released her excellent debut album, called Lucky (on Sony Music Nashville/Columbia Records). This album is an impressive collection of 13 songs that display Moroney's distinctive, expressive lead vocals, along with her skills as a talented young songwriter.
On her album, what truly stands out is Moroney's creative, imaginative songwriting, particularly as a lyricist. Lucky is full of colorful, clever and witty lyrics and interesting storytelling. In addition to presenting her funny and lively personality, Moroney shows an honest, vulnerable side on certain songs.
SPECIAL FEATURE: STREAMING AUDIO

Here's an excerpt of our interview with Megan Moroney, who tells how she wrote her hit, "Tennessee Orange."
So far, Moroney is best known for her hit, "Tennessee Orange." This song tells the one-of-a-kind story of how she's from Georgia and ahe grew up wearing the red colors of the University of Georgia. But now she also wears the orange color of their rival, the University of Tennessee, because she's fallen in love with a good man from Tennessee. This is a unique story that any sports fan in the South can identify with.
There are many other song highlights on Moroney's new album. The second track is the rollicking, uptempo title song "Lucky," that has a playful vibe to it. Another key song is "Traitor Joe," which creatively takes the grocery store name "Trader Joe's" and turns it into a story about a guy that Moroney likes, but who currently has a girlfriend who's been foolin' around, and she's become a traitor to him.

Here's the video of Megan Moroney's hit, "Tennessee Orange."
Lucky also contains some heartfelt, sensitive ballads such as "Girl in the Mirror," "Why Johnny" and "Mustang or Me."
For her album, Moroney co-wrote songs with a wide array of top country songwriters. She wrote seven songs with her friend & collaborator, Ben Williams. She also wrote with several hit Nashville writers including Luke Laird, Lori McKenna, Rodney Clawson, Jessie Jo Dillon, Matt Jenkins and Parker Welling.
Moroney was born in Savannah, Georgia, and she grew up in Douglasville (near Atlanta). Her father taught her how to play guitar, and emphasized the importance of writing good lyrics.
For college, Moroney attended the University of Georgia in Athens. Then after graduating, she moved to Nashville to pursue her artist career. When she arrived there, she started to write everyday and built her fanbase through social media. This eventually led to her signing with Columbia Records in Nashville.
Now that Moroney has released her album, she will be embarking on two major tours. First, she'll be opening for country stars Brooks & Dunn, and then she'll launch her own headlining tour later this summer.
Megan Moroney Interview
We are pleased to do this new Q&A interview with Megan Moroney. She tells how she got her first break in the music business, and how she wrote her hit, "Tennessee Orange." She also tells the stories behind writing her other songs.
DK: I read that you're from Georgia. How did you get started with singing, playing guitar and writing songs?
Megan Moroney: I grew up in Douglasville (Georgia), and my dad taught me how to play guitar when I was 16. And he always made me listen to the lyrics. He had me hyper-analyzing the lyrics to "Desperado" at the age of 8 (laughs). So he always made me pay attention to lyrics.
I originally went to college to be an accountant, but then an opportunity came where I was able to open for (country star) Chase Rice at the Georgia Theatre in Athens. But he gave me a condition, which was I had to write a song, because he didn't want me to get up there and play covers. So I wrote my first song to be able to do that. I played that show and then I decided that's what I wanted to do.

Here's the video of Megan Moroney's song, "Girl in the Mirror."
DK: After college, you moved to Nashville. What was it like being in Nashville, leading up to signing with Columbia Records?
Moroney: It was difficult, because I moved right in the middle of Covid, which make it hard to meet people. I spent the first year writing every single day, and I found that the more you write, the better you get. And since I finally didn't have to do schoolwork anymore, I could focus on songwriting. I lived in Nashville and wrote songs for a whole year, but I didn't play any shows until 2021. I was just writing and building my fanbase through social media, and here we are.
DK: Last year, you released your EP, Pistol Made of Roses, and I like your songs "Love Me" and "Fix You Too." Can you talk about that EP, and those songs?
Moroney: The songs from that EP were written the first year I was in Nashville, and then we recorded them in January 2022. I put those songs together because I wanted to be able to start touring, and I couldn't tour without having a body of work out. So once I had written songs that I was proud of like "Fix You Too," "Hair Salon" and "I Love Me,"  I decided to put out this EP so that I could tour. And that EP helped get me on tour with Jamey Johnson and five other acts last year. So I was on six tours last year with the EP. Then in September, I released "Tennessee Orange."
DK: Your hit "Tennessee Orange" has been on the charts for six months, and it has such a unique lyric story. What inspired you to write this song?
Moroney: Well I'm a Georgia girl obviously, and there was a day that I found myself wearing a Tennessee shirt. And being from the South, you know you don't put on another school's shirt or anything like that. So I jokingly had the shirt on, and I was like…My mom would kill me if she saw me wearing this Tennessee shirt. And so I thought of the hook, "In Georgia, they call it a sin, I'm wearing Tennessee Orange for him." And I knew if I felt consciously about feeling bad that I had a Tennessee shirt on, I could write a song about it. I thought it was a clever take on being from the South and the SEC (Conference) rivalry. And I'm not great at writing love songs, but I thought it would be a good way to squeeze one in there (laughs).

Here's the lyric video of Megan Moroney's song, "Lucky."
DK: I also like your song "Girl In the Mirror," which is a ballad that's very honest and personal. Can you talk about writing this song?
Moroney: I wrote that with Jessie Jo Dillon and Matt Jenkins. It was my first write with Jessie Jo. We talked about life and our past relationships, and what was going in our lives for three hours. And then we ended up writing the song in like 30 minutes. I had the idea…"She loves the boy more than she loves the girl in the mirror." And based on what we were talking about, we were able to write it. I love how simple the chords are…there isn't much to it. But it's really vulnerable and honest, and I think that song has the most important message on the record. So I'm happy that it's out in the world.
DK: I like your lyric writing. Most of your songs have unique lyrics with clever ideas, and some of your lyrics are funny. How do you come up with ideas for your lyrics and your song titles?
Moroney: I usually come up with the hook first, and every one of my songs are based on personal experiences. I have a hard time just making stuff up, so I usually think of situations that I'm going through. I do have a big personality (laughs) and I'm very in touch with my feelings. And with whatever situation I'm going through, I'm thinking…how can I make this clever, or how can I say this in an intelligent, smart way? So I take my personal experiences and situations, and try to make something out of it that's intriguing.
DK: Some of your songs have a lot of humor. Two songs on your album that I like are "Traitor Joe" and "Sleep On My Side." Those are funny concepts. How did you think of the ideas for those songs?
Moroney: I thought of Trader Joe's, but with "Traitor" with a "t." I thought that was funny (laughs). And then I wanted to make it, "You're a traitor, Joe." Because I tend to write songs that are mad at boyfriends. But then my co-writer Ben (Williams) was like, "He's a traitor, Joe," and I thought that was incredibly smart. I don't have a song that's anything like that. So that's how we wrote that one.

Here's the lyric video of Megan Moroney's song, "Traitor Joe."
"Sleep On My Side" was based on personal experience (laughs). I just thought it was a funny idea…it shows my personality. I don't ever take myself too seriously…I'm goofy. And it's taking a situation like that. That guy had cheated on me, but I took a bad situation and made it into something funny. That's how I deal with my trauma.
DK: I looked at the songwriting credits on your album, and you write with several different writers. I noticed that you wrote seven songs with Ben Williams. How did you like writing with Ben, and with the other writers for your album?
Moroney: Ben is definitely my go-to guy. He was my first legitimate co-write in Nashville. He's my age, and when I met him he was immediately down to write. He takes my ideas and makes them better. I usually come in with the core idea and then he makes it cooler. We work really well together and he's one of my good friends, and so writing with him is easy and it doesn't feel like work. And on the record there's some great writers that I've looked up to like Lori McKenna, Luke Laird and Rodney Clawson. The four of us wrote "Kansas Anymore." It was hard for me to believe that I was getting to go in a room with them, because that was first time I had written with them on a song.
It's cool to write with legendary songwriters, and it's also cool to have the writers that have grown with me.
DK: With your live shows, I read that you'll be opening shows for Brooks & Dunn, and then you'll be launching your own headlining tour. Can you talk about your live shows?
Moroney: The live shows are actually very fun. We'll be opening for Brooks & Dunn first, where we'll be there to get the party started. Then for the headlining shows, I'll try to give my fans a little taste of everything. We'll come out rockin', but then there's a part in the show where it's just me and an acoustic guitar. So I try to cater to all my fans, because I know some of my fans really like tempo songs, and some fans like songs like where it's just me and the guitar. So it's a little bit of everything.
Here's the link to Megan Moroney's site: https://www.meganmoroney.com/