Lauren Christy Of Writing/Producing Team The Matrix Talks About Their Hits With Korn And Shakira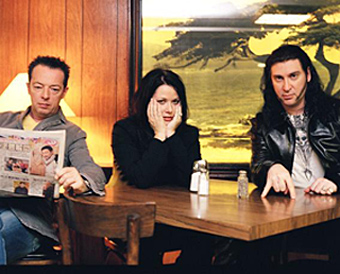 The Los Angeles-based trio The Matrix, has been one of the hottest writing/producing teams for the past five years. Since they broke through in 2002-3 with huge hits with Avril Lavigne ('Complicated,' 'Sk8er Boi' and 'I'm With You' ) Hilary Duff ('So Yesterday'), Liz Phair ('Why Can't I') and Jason Mraz ('The Remedy'), the trio have remained prolific hitmakers who are in high demand. Many superstar artists and bands want to collaborate with The Matrix to create new hits, and young, newly-signed artists want the trio to write & produce their debut hit singles.
In the past year, the Matrix, which consists of Lauren Christy, Graham Edwards and Scott Spock, have successfully worked with a wide variety of artists, from hard rock/metal to acoustic pop, to even some hip-hop and grunge. The trio collaborated with platinum group Korn on 13 songs for their latest album, See You On The Other Side, including the hits 'Twisted Transistor' and 'Come Undone.' The Matrix also wrote two songs with Latin/pop star Shakira for her hit album, Oral Fixation Vol. 2, including the hit 'Don't Bother.' The trio also collaborated with rock/pop artist, Josh Kelley, on his hit 'Only You.' In addition, they are excited about several other artist projects, such as Ashley Parker Angel (formerly of O-Town; 7 cuts), new Capitol artist Skye Sweetnam (11 cuts) and new Def Jam artist, Jon McLaughlin.
In a new interview, Lauren Christy of The Matrix talked about their recent projects, including their work with Korn and Shakira. Christy also discussed the trio's songwriting process, and how they collaborate with different artists. And lastly, she spoke openly about The Matrix's own album project in 2004 with Sony Records, which ended up being shelved.
Here is the Q&A interview with Lauren Christy of The Matrix:
DK: It's impressive that The Matrix has been able to write and produce songs in such diverse styles, from Korn to Shakira to Josh Kelley.
Christy: Being able to write in different styles is what I love so much about being a songwriter. Everyday you get to wear different hats.
DK: What was it like collaborating with a hard-rock band like Korn?
Christy: With Korn, we spent the first day watching them record and jamming. Then we went back to our studio to work, and we came back with melodies and lyric concepts. That's how we made it work. We mainly wrote the songs with Jonathan Davis (of Korn). With Jonathan, we came up with melodies and lyrics. When we worked with the band, we would be recording the band first, then develop the songs from there. Working with Korn was an amazing period of writing ' it flowed so well. All these ideas just came rushing out. We wrote 23 songs in just three weeks with Korn. We recorded full demos of all 23 songs.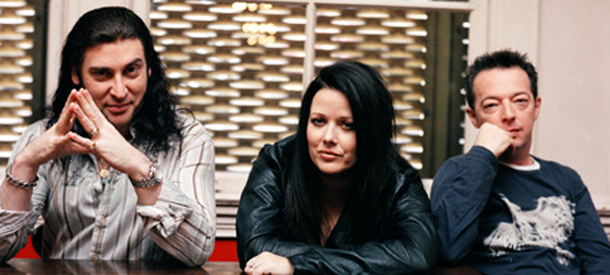 DK: How did you write the hit 'Twisted Transistor?
Christy: The title popped into my head early on in their project. I had no idea what it was going to be about. I sat there with Jonathan (Davis) and mentioned this title. Then we came up with the hook, 'Hey you, Hey you.' He pulled it off so brilliantly. It was more of a pop hook than what Korn would usually do, but it worked great. Jonathan is an amazing singer.
DK: What was it like collaborating with Shakira?
Christy: Working with Shakira was really great – she really knows what she wants. We wrote seven songs with Shakira, two of which made her album. We wrote the seven songs with her in just one week.
DK: Do you always work at such an intense pace, writing so many songs in a short period?
Christy: We don't work like that all the time. You need the down time to live life, to be able to write about actual life experiences. It would be boring to write about just going to the recording studio!
DK: When you do write, how do you, Graham and Scott write together?
Christy: We spend half the time just writing new songs on our own ' which we save until we pull out a song when it fits for an artist. The other half of time, we spend co-writing songs from scratch with the artist. When it comes to our writing together, there are no real rules. Sometimes Graham is doing the lyrics. I tend to do a lot of the meat & potatoes lyrics. Scott and Graham sometimes come up with great ideas or titles. Scott is great for his all-around musicality. He works on the arrangements, and he is also a technical wizard. Graham is the million-dollar melody man who comes from the more organic, songwriting perspective. I'm good at doing melody and lyrics. We work really well together. The songwriting usually works best when it's the three of us all working in the room together.
DK: Around 2003, when you had such big hits with Avril Lavigne, Hilary Duff and Liz Phair, it seemed like The Matrix style and sound was dominant on the radio, and that other writer/producers had begun duplicating your sound.
Christy: You do start to hear songs by other people who have copied you. We were aware that we didn't want to come out with more songs that sounded like 'Complicated.' We knew we had to stretch ourselves musically, and I believe we've done that.
DK: Tell me about The Matrix's own artist deal and album on Sony. What happened with this project?
Christy: We made a record for Sony in 2004. They wanted an album by The Matrix, so we did it. It would feature a young male singer and a young female singer, like Fleetwood Mac. Our intention was, that we would stay behind the scenes, with the two lead singers out front in the videos and photos. But as things evolved, Sony said they wanted to do a photo shoot and include us in the photos. Then they said, 'we want you in the video.' At some point in the process the lines got blurred, as to whether we would be out front at all. The singers for the album were Katy Perry and Adam Longland, who were both excellent. Ultimately, the album never came out ' it was shelved. It came down to us preferring to remain behind the scenes, rather than go on tour and promote the record. I believe this was the greatest album never heard. One day it will come out. We're really proud of this album.
DK: Besides Korn and Shakira, which other album projects and songs are you excited about?
Christy: We really liked 'Only You' with Josh Kelley. And we're happy with the songs we did with Ashley Parker Angel, whom we knew from O-Town and his TV show. We're proud of song called 'Soundtrack To Your Life,' which is also the title of Ashley's new album. We're also excited about the songs we did with Skye Sweetnam (on Capitol Records), who is a new artist from Canada that is a cross between Gwen Stefani and the Sugarcubes. Her style is different than pop/rock ' it's more hip-hop and grunge. And there's a new artist we're working with named Jon McLaughlin, who is on Def Jam Records.
Dale Kawashima is on Google+