Writing/Producing Trio The Matrix Break Through With Hits For Avril Lavigne and Hilary Duff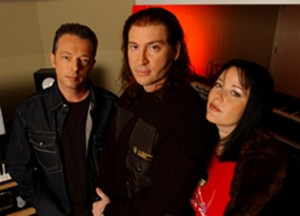 This is the first interview/article we did with The Matrix, in 2004. Our second article on The Matrix was posted in 2006.
Lauren Christy, Graham Edwards & Scott Spock are not household names to most music fans, but collectively they are known as The Matrix, which is probably the hottest, most in-demand, writing/production team in the business. They co-wrote and produced three, smash hits for Avril Lavigne ('Complicated,' 'Sk8er Boi' and 'I'm With You'), and as a result of this success, they have had the opportunity to write and produce cuts with many other, top artists. They have also co-written & produced the smash hits, "So Yesterday" (Hilary Duff) and "Why Can't I" (Liz Phair).
The list of artist projects The Matrix has worked on reads like a 'who's who' of the current music scene. During the past six months, the trio has collaborated with Ricky Martin, Britney Spears, the Backstreet Boys, Nick Carter, Evan & Jaron, Nick Lachey (from 98 Degrees) and Paulina Rubio. In addition, they co-wrote and produced the hit singles by Jason Mraz ('The Remedy (I Won't Worry)'), and Lillix ('It's About Time').
In a recent interview, the trio discussed how they formed The Matrix, and how they got together with Avril Lavigne to co-write and produce five songs on her multi-platinum, debut album, Let Go. They also spoke about how their success with Lavigne has led to a flurry of other writing and production projects.
Christy, Edwards and Spock are veterans of the music business, and each enjoyed success prior to forming The Matrix. Christy (who is married to Edwards; they are both from Scotland) had written and recorded two albums as a solo artist for Mercury Records in the mid-90s (Lauren Christy and Breed), and had a hit song, 'Steep.' She also co-wrote and recorded the theme song to the Bruce Willis movie, Color Of The Night.
Edwards started in London as a session and touring bass player, working with Adam & The Ants, Go West, Mick Jagger and Jeff Beck. 'I played on the road much of the '80s, including four years touring with Go West,' explained Edwards. 'I had gotten tired of being on the road, so I started getting into writing. As my writing progressed, I decided to move to Los Angeles, where I was able to write several songs with the Rembrandts, and a song with the Baha Men. I also became a member of Dollshead (a rock band which signed with MCA Records).'
It was a Dollshead project which brought together Graham and Spock. Graham was impressed with a remix Spock had done of a Dollshead song. Spock (who is from St. Louis, MO) had begun his career as a jazz trumpet player, and later became a skilled songwriter and programmer. 'Graham asked if I wanted to join Dollshead, and so we ended up working together,' recalled Spock. 'Sandy Roberton was our manager, and he suggested (Graham and I) write together for other projects. In 1999 we started concentrating on writing for other people, and we grew to love what we were doing. By summer of 1999, Graham, Lauren and I officially were working together as a team.'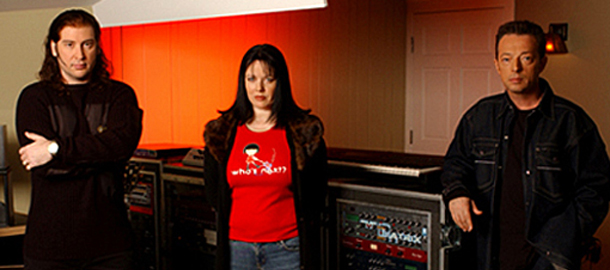 'Sandy (Roberton) suggested we come up with a name, because it was hard to constantly describe the three of us,' explained Christy. 'So we came up with the name, 'The Matrix'. The matrix is a name for the womb, or the rock, which everything comes from. Our name wasn't inspired by the movie The Matrix (which came out later).'
Spock explained how the trio writes and produces together. 'We all do everything: creating melodies, lyrics, and tracks. We have three, different Pro Tools rigs. When we write, we like to sit down with a guitar and piano, rather than starting with a track. Graham plays guitar and bass, Lauren plays piano, and I play piano and trumpet. Also we all sing, often on both our demos and the masters.'
It wasn't long before The Matrix started getting cuts and projects. One of their first projects was writing and producing a song for Christina Aguilera's Christmas album. They also wrote and produced songs for Irish artist, Ronan Keating. But their big break was when Roberton hooked them up to collaborate with a new, then unknown Canadian artist named Avril Lavigne. Lavigne had been signed to Arista Records by A&R exec Josh Sarubin.
'Avril was an artist that Sandy had brought to us,' said Christy.' 'We began collaborating in LA (in June 2001), and the first song we came up with was 'Complicated.' Avril loved it, and Josh (Sarubin) immediately thought it was a hit. (Arista President) LA Reid freaked out when he heard our first two songs with Avril. We ended up working the whole summer with her.'
'With Avril, we would come up with the initial ideas, and play her the melody and concept,' explained Christy. 'She would them come up with great melody and lyric ideas. Five of the songs we wrote together made the album, and we finished the album on October 27 (2001), which was Avril's birthday.'
The Matrix was very pleased with their work with Lavigne, but they didn't realize until many months later how successful her album would become. They first realized Lavigne would be big when they saw her on MTV's 'Total Request Live' (TRL) around April 2002. 'Complicated' was released as the first single at that time, and by July 17, it reached number one on the Billboard 'Hot 100 Singles' chart, and stayed number one for a remarkable 12 weeks. The follow-up single, 'Sk8er Boi,' also reached number one, staying on top for four weeks. The third single, the ballad 'I'm With You,' became another major hit.
Following their tremendous success with Lavigne, The Matrix has probably become the hottest writer/producers in the business. It seems like practically every A&R exec wants to hire them to work with their major artists, or to help develop their new artists. Their non-stop writing & producing schedule has resulted in dozens of upcoming cuts, many which will be released as singles. Their discography lists an impressive array of cuts: seven songs with Ricky Martin, four songs with Liz Phair, two songs with Evan & Jaron, five songs with Nick Lachey, two songs with Lillix, and six songs with Keaton Simon (a new artist they have been developing, who has signed with Maverick Records). In addition, they have begun working with other, top artists.
Currently, Christy, Edwards & Spock are working hard to confirm their top writer/producer status. But they also have a great appreciation for their success and good fortune of the past year. 'When our songs with Avril became hits, we just pinched ourselves; it was like a dream,' said Christy. Spock added, 'We are so happy to have had the success with Avril, and it's a honor to be working now with such high level artists, plus have the opportunity to develop new artists.'
'It just goes to show, that if you keep working hard, it can turn around with one hit song,' said Edwards. 'You have to keep the faith, and keep writing. It all turns around.'
Dale Kawashima is on Google+