Martin Page Discusses His Career As A Hit Pop Songwriter (The #1 Hits "We Built This City" and "These Dreams") and Singer/Songwriter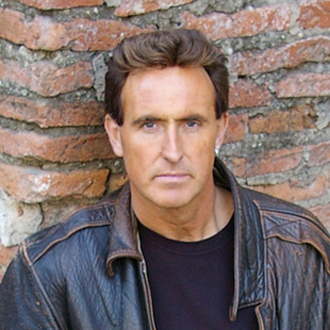 Since his breakthrough in the music business in the mid-1980s, Martin Page has had a very successful career as a hit pop songwriter and distinctive singer/songwriter. He's co-written number one hits for other artists, and as an artist he's released five albums, and he's had a solo hit single, "In the House of Stone and Light" (from 1994).
As a pop songwriter in the '80s, Page teamed up with renowned lyricist Bernie Taupin (longtime co-writer with Elton John) to write the #1 hit songs, "We Built This City" for Starship and "These Dreams" for Heart. Then in the early '90s, Page got together with the British duo Go West (Peter Cox & Richard Drummie) to co-write their big U.S. hits, "King of Wishful Thinking" (featured in the Pretty Woman movie soundtrack) and "Faithful."
As a singer/songwriter, Page emerged as a prominent solo artist with his debut album, In the House of Stone and Light (on Mercury Records), which contained the hit single of the same name. The single reached #14 on the Billboard Hot 100 chart and #1 on the Adult Contemporary chart, and it became one of the longest-running singles on the AC chart.
SPECIAL FEATURE: STREAMING AUDIO

Here's an excerpt of our interview with Martin Page, who tells what inspired him to write his unique hit song, "In the House of Stone and Light."
Since his debut album in 1994, Page has released four more solo albums as an independent artist on his label, IroningBoard Records (in partnership with his longtime manager, Diane Poncher). His four, subsequent albums are: In the Temple of the Muse (2008); A Temper of Peace (2012); Hotel of the Two Worlds (2015); and The Slender Sadness (The Love Songs) (2017). Notably, on these four albums, Page played all of the instruments, sang all the vocals, and produced each album.
It was in 1985 that Page first made an impact with his U.K. pop/dance band, Q-Feel, which was signed to Jive Records. Their single "Dancing In Heaven (Orbital Be-Bop)" became a local hit in Los Angeles, which spurred Page to move to Los Angeles and build his career there. As it turned out, he became more in-demand as a pop songwriter than as an artist. Page began writing with Bernie Taupin, which led to their quick success with the hits "We Built This City" and "These Dreams."
In addition to his hit success with Starship, Heart and Go West, Page collaborated with many other hit artists and songwriters, and secured cuts with a wide range of pop, rock and R&B artists. Here's a partial list of artists who have recorded songs co-written by Page: Josh Groban, Earth Wind & Fire, Barbra Streisand, Kim Carnes, Neil Diamond, the Commodores, Robbie Robertson, the Osmonds, Bad English, John Waite, Elaine Paige, Paul Young, Robbie Williams, Tom Jones, Bryan Ferry, Melissa Manchester, Mickey Thomas, Lee Ritenour, Desiree Coleman, Samantha Fox, Curt Smith, James Ingram and Tina Arena.
We are pleased to do this new Q&A interview with Martin Page. He tells how he got started, and how he co-wrote hit songs for other artists. He also discusses his career as a solo artist.
DK: How did get started as a songwriter and artist?

Here is the video of Martin Page's hit, "In the House of Stone and Light."
Martin Page: I was basically a musician in England first—I was a bass player and I traveled around England in various bands, mainly soul bands. More and more, I realized that the biggest thing that would get us a record deal was the material. So I started to think about songwriting. That brought me to London, and I joined a successful band that was touring, and in that band I met a Scottish guitarist named Brian Fairweather. To make a long story short, we decided to get a little four-track recorder and put it into a little flat in London, and then we did some demos and started running around town to publishers.
We formed a band called Q-Feel, and we eventually got a deal with Jive Records. At that time, when it was the revolution of technology in the '80s, we were making a record in London which was techno…it was very oriented towards synthesizers, like (the band) Ultravox. And lo and behold, our second single "Dancing in Heaven" did well in America—it sort of exploded in Los Angeles as an underground club record. Fortunately, my father worked in America for British aerospace, so I was able to come across to America, stop off in L.A. and see what was going on. And I was convinced that "Dancing in Heaven" was a breakthrough record for me in America. So I came to L.A. on the back of that single, really. Brian Fairweather also came across with me.
DK: How did you decide to focus on being a songwriter in L.A., rather than being an artist with your group, Q-Feel?
Page: When I was in L.A., Brian and I started to go to all the record companies and get to know all the A&R execs. They were very fascinated with the sound of Q-Feel, because England's music was a little ahead of what was happening in L.A. So all the A&R men started to say to us, "We'd like you to work with this band or that band; change their sound, get them modern." And we started to realize that it would be more beneficial to focus a little while on songwriting. Also during that time I first met Diane Poncher, who was working with (manager) Bob Cavallo. She's an excellent manager and we've been working together ever since, for over 30 years now.
So at the time, Brian and I began writing with various artists, and we had success with our songs being cut with other people. We decided and said…let's put the band on rest for a while, and concentrate on songwriting.
DK: Early on, you wrote two big hits with Bernie Taupin, "We Built This City" and "These Dreams." How did you get together with him?

Here is the video of Martin Page's song "Mi Morena," which was also
recorded by Josh Groban and Elaine Paige.
Page: I was a huge fan of Elton John. I grew up on (his album) Goodbye Yellow Brick Road and always loved Elton and Bernie's work. There was a [music exec] named Bob Skoro over at Chappell Music, who said, "Would you be interested in working with Bernie Taupin?" This was a period when Elton wasn't working with Bernie quite so much. And I said, "Yeah, absolutely, I'd be thrilled." Bob set up a meeting, and he gave Bernie my Q-Feel record which I thought wasn't going to be his cup of tea. But he listened to the album and said, "I'm willing to try it out, let's see how it goes."
The first two lyrics Bernie sent me were "We Built This City" and "These Dreams." He just faxed the lyrics to me (laughs). The lyrics would come through the fax machine, and I would just put the paper by the keyboard and off I would go. I liked this approach—it was good for me, because I'm always a chordal, melodic person first. And then I did little 8-track demos of them at home, just to show we could do this. When Bernie heard the demos he said, "This is going to be great; I'm into this 100%." So I think it was very brave of Bernie…if you look at the lyrics of "We Built This City," it's him trying to push an edge towards what was happening [politically in the '80s].
With "These Dreams," Bernie wrote a lyric that was initially called "Boys In The Mist." It was a lyric that he had originally given to Stevie Nicks. But Stevie wasn't interested in it or wasn't available to do it, so he sent it to me. I was able to convince him to change the title to "These Dreams"—he had written [those words] in the bridge. And he let me move it around.
DK: In the early '90s, you wrote two hits, "King of Wishful Thinking" and "Faithful," with the British pop duo, Go West. How did you get together with them?
Page: During that time, I got a reputation for being a songwriter that English bands, when they came to L.A., would want to write with. I knew about Go West and I was a fan—I thought Peter Cox had a brilliant voice. Somebody from their label EMI contacted us and said, "We want to break Go West in America, and we're looking to set up collaborations for them in the States." So I said, "Yeah, I'd be thrilled."
I knew that Go West were kind of like Hall & Oates—they were blue-eyed soul. Peter came first to write with me in L.A. I had already prepared something which sounded like what I envisioned they'd like to do. That turned into a song called "That's What Love Can Do." He took it back to Richard (Drummie), who said, "I think we're in a good space with this guy." Then they both came to me in L.A., and again, I always like to prepare upfront. I don't think there's anything worse than sitting in a room and looking at people, and saying, "I don't have anything to give you, and you don't have anything to give me, and we're just writing crap here." So I always prepare four or five ideas, and I did have (an idea for) "King of Wishful Thinking" bubbling—not the title, but I had the music and bits of the melody.

Here's the video of Starship's #1 hit "We Built This City," which was
co-written by Martin Page.
Both Peter and Richard came to my studio, and within two days we knocked out this demo. They were working on the lyrics outside by the pool, and I was doing the music. I think Richard said, "I've had this lyric in a book for quite awhile, it's called "King of Wishful Thinking." I said, "great."
DK: Also in the early '90s, you started focusing on your own artist career. Can you talk about your first album, which had the hit "In the House of Stone and Light"?
Page: By this time I was a mature artist, an older guy when I made that record. I had been working with Bernie Taupin, with Maurice White of Earth Wind & Fire, and then with Robbie Robertson of The Band when he did his first solo album. These three people really started to say to me, "Your demos, the way you sing, what's really in you …you're an artist as well." And my manager Diane Poncher had always said that she'd like me to do something solo.
I think the whole process of writing hits for other artists was lovely and got me going, but deep down there was a side of me, that wanted to get into the trenches with my music, and feel brave enough to just say, "This is what's inside of me…there's a melancholy, there's a blueness, there's a [unique] energy. Also, I grew up in England loving church hymnal music and loving folk, pastoral music and classical music. So it was a great release to record my own album…it was very rewarding to me. I was also able to write my own lyrics, and do my own thing.
DK: Your song "In The House of Stone and Light" has a very unique title. How did you come up with this title and concept?
Page: It was during a period where I was working so much in L.A.—every day, every studio. It was quite intense, constantly writing on different projects. So I got worn out, and I thought, I gotta take a break. Fortunately, I took a break for two weeks, and I took a train ride down to the Grand Canyon to just really cool out. And when I was at the Grand Canyon, I took one of their trips down to the bottom of the canyon, where the Havasupai Indians lived. They were basically cut off from the world down there. They just lived their own way…with simplicity, and each day they climbed up on mules to the top, to bring their supplies down. And the Indians there called the canyon, The House of Stone and Light. So I wrote that title down. And because I was going through my own kind of soul searching…[I was thinking] am I satisfied? Or am I just a machine, just working? I brought that title back and I wrote (the song) "In the House of Stone and Light" about my body…my own self, really. I wrote it like…my house, my strength is a stone, and the light…can I see a better future for myself?  So in a way, "In The House of Stone and Light" became a hymn for me. It's about healing and getting fresh again, with simplicity.

Here's the video of Heart's #1 hit "These Dreams," which was
co-written by Martin Page.
DK: Following your first solo album, you've since released four more albums. Can you talk about these albums, and the songs from these albums that were recorded by other artists?
Page: Well, it was a long time after The House of Stone and Light album. It was about 14 years when I released my second album. My label for my first album, Mercury Records, was going through a major change. Initially, I began working on my second album which would be for Mercury. This album turned out to be In the Temple of the Muse, but I later released it on my own label after most artists on Mercury had been dropped. So I said to myself, "Okay, well that's the way it is," and I kept the songs to one side, and I started to write with other people again (for different projects).
But as time went on, I would play my solo songs for other artists and producers, and they thought it was great. They asked me, "Why don't you release your second album yourself?" At first, I thought it would be too difficult to do so on my own. But a few people I worked with said, "It's a different climate now. In the digital age, you can put your music out on your own label and do it your way."
So I formed a new label with my manager, Diane. We called it IroningBoard Records because when I first came to L.A., I used to use my mother's ironing board to put speakers on it in my home studio. So we thought, let's just do that. And I used the insignia of an ironing board. And then we put my second record out, In the Temple of the Muse. This album was all done at home…I played everything myself. It was a lovely experience and I thought, let's release it and see what happens. Well, from this album, I got four cuts from artists who fell in love with the songs. A song called "Mi Morena" was recorded by Josh Groban, and (British star) Elaine Paige also heard "Mi Morena" and cut it.
Around that time, I started to play soccer in L.A. with Robbie Williams, England's big pop star. And he heard my solo record and he went crazy for it. I was bemused…I couldn't understand why he liked it so much. He cut "The Long Walk Home" (from the album) which is a lyric about restoration and healing, and getting over some things in life. And then a song called "Everything You Do" was cut by Mickey Thomas & Starship for their greatest hits album. It was a pleasant surprise—I wasn't running these songs. I was just doing them for myself, but I was very pleased that the songs were covered. And that made me want to go on making more albums. Also, an independent, little fan base came up, who liked the album and wanted to hear more.

Here's the video of Go West's hit "King of Wishful Thinking," which was
co-written by Martin Page.
DK: Currently, what are the new projects that you're working on?
Page: I'm about to put out my first instrumental, ambient record. I've been a huge fan of bands from the early years like Tangerine Dream and Cluster, and I like the classical new music of Arvo Pärt. I have been slowly constructing over a number of years, pieces of work which I think reflect an existential side of me that I think is quite darkly beautiful. It's called The Amber of Memory. It's something that I've always wanted to do. So that's my next release, and after that is an album I'm working on, which will be a live record that I'm excited about with some great players that I've worked with over the years. So these two albums are totally different—an ambient, landscape album, and an album with live musicians. So we're bubbling along.
For more info on Martin Page, here's his site: http://www.martinpage.com