Legendary Songwriting Duo Barry Mann & Cynthia Weil Talk About Writing Their Classic Hit Songs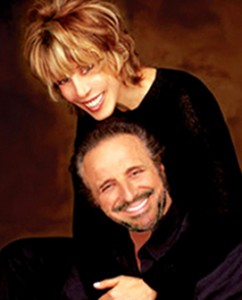 R.I.P.: We are sad to report that legendary songwriter & lyricist Cynthia Weil has died at age 82. Here's the interview we did with Weil and her songwriting partner & husband Barry Mann in 2006, about their great careers and classic songs.
The legendary, husband & wife songwriting team of Barry Mann & Cynthia Weil is known for writing many of the greatest pop, rock, R&B, AC and country hits of the modern era. From the early '60s, when they were creating hits at the Brill Building in New York City, to the present day, Mann & Weil have consistently written memorable, intelligent, emotional songs which have been loved by generations of music fans.
Mann & Weil are known for writing "You've Lost That Lovin' Feeling," the classic hit by the Righteous Brothers, which was honored by BMI as the Most Performed Song in history and is in the Grammy Hall Of Fame. But this song is only one of over 50 major hits that the duo has written. In addition, Mann & Weil have been the recipient of many prestigious awards, including multiple Grammy awards, Oscar and Golden Globe nominations, induction into the Songwriters Hall of Fame, the Lifetime Achievement Award from the National Academy of Songwriters, and The Clooney Foundation's Award for Legendary Song Composition.
The duo took time off from their busy schedule, to do this new interview. They talked about how they first met, about writing hits during the Brill Building era, writing rock hits for the Animals and Paul Revere & The Raiders, and later writing pop hits for Linda Ronstadt, James Ingram, Dolly Parton, Lionel Richie, the Pointer Sisters and many others. Mann & Weil also discussed their new projects, which includes the song score they've written for the upcoming Broadway musical Mask (which is based on the hit movie).
Mann & Weil's songwriting credits are so vast, that it's difficult to list their career highlights in a single article. But here's a rundown of their enduring chart hits. (Note: most of these songs were written by Mann & Weil together, but some were written separately by Mann or Weil with other writers).
In the the '60s, they wrote hits for Tony Orlando ("Bless You"), Steve Lawrence ("Footsteps"), Eydie Gorme ("Blame It On The Bossa Nova"), the Paris Sisters ("I Love How You Love Me"), Barry Mann (his solo hit "Who Put The Bomp"), the Crystals ("Uptown" and "He's Sure The Boy I Love"), Paul Petersen ("My Dad"), the Drifters ("On Broadway" and "Saturday Night At The Movies"), Jay And The Americans ("Only In America"), Gene Pitney ("I'm Gonna Be Strong" and "Looking Through The Eyes Of Love"), the Ronettes ("Walking In The Rain"), the Righteous Brothers ("You've Lost That Lovin' Feeling" and "(You're My) Soul And Inspiration"), the Animals ("We've Gotta Get Out Of This Place"), Paul Revere & The Raiders ("Kicks," "Hungry"), Mama Cass Elliot ("Make Your Own Kind Of Music" and "New World Coming"), Bill Medley ("Brown-Eyed Woman") and Dusty Springfield ("Just A Little Lovin'").
Then in the '70s, Mann & Weil wrote hits for B.J. Thomas ("I Just Can't Help Believing" and "Rock and Roll Lullaby"), Leo Sayer ("How Much Love"), Dolly Parton ("Here You Come Again"), George Benson ("On Broadway") and Dan Hill ("Sometimes When We Touch").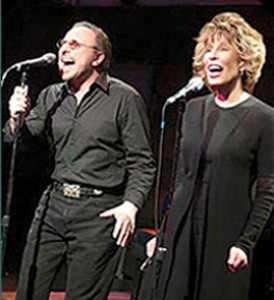 In the '80s and '90s, they had hits with the Pointer Sisters ("He's So Shy" and "Baby Come And Get It"), Quincy Jones featuring James Ingram ("Just Once"), James Ingram ("There's No Easy Way"), Barry Manilow ("Somewhere Down The Road"), Sergio Mendes ("Never Gonna Let You Go"), Lionel Richie ("Running With The Night" and "Love Will Conquer All"), Jeffrey Osborne ("We're Going All The Way"), Jeffrey Osborne & Joyce Kennedy ("The Last Time I Made Love"), Peabo Bryson ("If Ever You're In My Arms Again"), Diana Ross & Julio Iglesias ("All Of You"), Chaka Khan ("Through The Fire"), Deniece Williams ("Black Butterfly"), Linda Ronstadt & James Ingram ("Somewhere Out There"), Linda Ronstadt & Aaron Neville ("Don't Know Much"), Vanessa Williams ("Just For Tonight"), Curtis Stiger ("Never Saw A Miracle"), Hanson ("I Will Come To You") and Martina McBride ("Wrong Again").
Barry Mann & Cynthia Weil Interview
Here is the Q&A interview with Barry Mann & Cynthia Weil. Both writers were very friendly and personable, and were a pleasure to speak to.
DK: When did the two of you first meet?
Mann: We met in 1960 when I was signed to Don Kirshner and Al Nevin's publishing company, Aldon Music.
Weil: I happened to be writing with Teddy Randazzo, a singer-songwriter. At the time, I was more interested in writing for the theatre but a friend of the family knew Teddy's managers, Ken Greengrass and Stan Catron, and suggested I show them my lyrics. Stan put me together with Teddy to write and Barry and Howie Greenfield happened to come up to the office while we were working. We interrupted our work session to listen to their song and I thought Barry was really cute. I asked the receptionist who he was and she told me that he was signed to Don Kirshner, who was a friend of her's. She offered to call Kirshner and set up an appointment for me to show him my lyrics and I took her up on it hoping I'd run into Barry. As it turned out, the Aldon writer Donnie put me together with was Carole King but I kept hanging around until I bumped into Barry again.
Mann: We started dating first, and then we began to write together.
DK: It seems like you have a great chemistry as a couple. What is it like to have one partner play such an incredible role, in both your creative and personal lives?
Mann: Our relationship ebbs and flows. But even if there's friction in our personal life, we're very professional about our writing. If we have work to do we always do it.
Weil: We've also always collaborated with other people so we do get breaks from working together and appreciate each other when we collaborate again.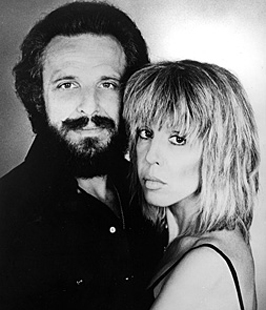 DK: When you write together, what comes first – the melody or the lyric?
Mann: Our approach to writing varies with each song but most of the time the melody comes first.
Weil: Sometimes a song can begin with a title, or a melodic or lyrical hook or phrase.
DK: Back in the '60s, were your earlier demos more basic, like piano/vocal demos?
Mann: No. Aldon Music was known for its great, full-band demos. We had two mono recording machines and we overdubbed, by bouncing the tracks back forth between the two machines. A good example of this was our demo of "We Gotta Get Out Of This Place." It was originally intended as a demo for the Righteous Brothers, but I was signed to Redbird Records as a singer and when I played it for them they wanted to put it out as a single with me. But we had played it for (manager/exec) Allen Klein and left it in his office. He gave it to his client, (record producer) Mickie Most, who recorded it with the Animals. It became a hit in England and was released in the United States before I could put out my record.
DK: Did you usually write for specific projects, or would you just write a song and then place it?
Mann: At Aldon, we usually wrote for a specific artist. But some songs like "On Broadway" were written just to write. I had the idea of writing a Gershwinesque pop song and Cyn was in love with Broadway so we put those two concepts together.
DK: What was it like, working at Aldon during the Brill Building era?
Weil: We worked non-stop. We wrote and cut demos, six days a week, for a three-year period. It seemed like the only friends we had were Goffin & King, because they were the only people we knew who had the same schedule as we did.
DK: It's impressive how you were able to write hits in many different genres. You wrote hit rock songs for Paul Revere & The Raiders – how did this happen?
Mann: Terry Melcher called us looking for songs for Paul Revere. (Melcher was also known for producing the Byrds). We sent him "Kicks," and he produced it with them. We had originally written it hoping to get a friend off drugs.
Weil: In 2004, we did an off-Broadway show (called They Wrote That? The Songs Of Mann & Weil). When Barry performed "Kicks," we were amazed at the response. It turns out to be the ultimate high school garage band song. Everyone who had ever been in a band in their teens had played it.
SPECIAL FEATURE: STREAMING AUDIO

Listen to the original demo of Barry Mann & Cynthia Weil's classic hit, "We Gotta Get Out Of This Place" (recorded by The Animals). Barry Mann is singing the demo.
DK: What are the current projects that you're working on?
Mann: My energies are mainly focused on writing for the theater. We're very excited about the songs we've written for the musical version of the hit movie, Mask. The show is being directed by Richard Maltby Jr. who directed Ain't Misbehavin', Fosse and is currently directing Ring of Fire, which is scheduled to open on Broadway in March. We've also written a treatment and a few songs for an original musical.
Weil: A non-musical screenplay that I wrote with my friend, Judy Skelton, is being produced by Gross-Weston Productions for the Lifetime network. It's called The Stranger Game. It's very loosely based on a personal experience and is a suspense thriller. Of course it does have a song as part of the plot and Barry and I are working on that.
DK: The two of you have written so many classic hits. Barry, which of your hit songs are your favorites?
Mann: "You've Lost That Lovin' Feeling" is definitely a favorite, especially since it has been the most played. I also like "There's No Easy Way" (which was a hit for James Ingram).
DK: How did you write and place "You've Lost That Lovin' Feeling"?
Mann: It was the sixties and Phil Spector asked us to come out to L.A. to work with him. Phil played us a record by a new duo from Orange County: Bill Medley & Bobby Hatfield (the Righteous Bros.). They had a Sam and Dave sound, and they'd had two local hits with uptempo songs. We loved what we heard, went back to the hotel and wrote two verses and choruses of "You've Lost That Lovin' Feeling." We weren't sure how to end the chorus and thought the title wasn't strong enough. We called and played what we had over the phone for Phil. He told us that when we hit the line "something beautiful's dying" it brought tears to his eyes. We told him we'd come up with a better title but he said "No! That's it." Then we met with him to work on the end of the chorus, write the bridge and complete the song. He went on to produce one of the most soulful, innovative and creative records ever made.
DK: Cynthia, which of your hit songs are your favorites?
Weil: "Just Once" was a really special song. I think it was a sophisticated lyric for its time and for the pop market.
DK: Is it true that James Ingram sang the original demo of this song?
Weil: Yes. Barry had always sung the male vocals on our demos but he decided that we needed a real soul singer for "Just Once." We had heard that Quincy Jones was recording George Benson and thought it would be perfect for him. Our friend, (music publisher) Linda Perry, who was working at our co-publisher's office suggested a singer named James Ingram. On her recommendation we booked him for the session. Robbie Buchanan, a great keyboard player, worked with Barry on laying down the track. When James began to sing we were so blown away that Barry had to stop the tape. He told James that he was the best singer he'd heard in the past 15 years. James proceeded to give an amazing performance and we sent it over to Quincy. A few days later Quincy called and said, "I love this song. I want to do it on my album and Barry's really singing his ass off." I broke the news to him that it wasn't Barry singing this time. He called James, and the rest is history.
DK: Do you have lesser known songs, which are also among your favorites?
Weil: We wrote a song score (seven songs) for the film Muppet Treasure Island (released in 1996), and some of my favorites are in this film. I love writing comedy songs. The Muppets are great – they can be appreciated both by adults and kids and the performances on film were incredible.
DK: What do you think of the current trends in music? Are there certain songs that you like?
Mann: To be honest, we're not much into hip-hop but there are always a few songs that stand out. A recent song that I like is "Stickwitu" by the Pussycat Dolls. We both really liked "Stan" by Eminem. It's a powerful song – a mini-movie within a song.
DK: How do you work these days?
Mann: I have a studio in the house. I've been using the Digital Performer software program, which I really like. I just need a keyboard and a hard drive for this program; all the sounds come on discs. The program itself looks like a studio console.
DK: Lastly, do you have any advice for young songwriters who are trying to make it in the music business today?
Mann: Definitely develop your skills as a producer – records now are producer-driven. Listen to everything that's going on. If you're not a singer, try to help develop one, get them a label deal, and then write with them.
More Barry Mann and Cynthia Weil News and Info can be found at their website: www.mann-weil.com