Singer/Songwriter Madison Emiko Love Co-Writes Pop Hits "Bad Things" (Machine Gun Kelly & Camila Cabello) And "Him & I" (G-Eazy & Halsey)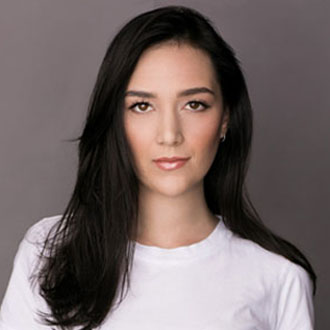 Update: Madison Emiko Love has a new hit on the charts. She co-wrote the hit "Sweet But Psycho" for Ava Max.
In just the past two years, singer/songwriter Madison Emiko Love has emerged as a successful pop songwriter. She has already co-written two hit singles on the Billboard Hot 100 chart: the Top 5 hit "Bad Things" by Machine Gun Kelly & Camila Cabello, and the current Top 15 hit "Him & I" by G-Eazy & Halsey.
Impressively, Love is just 22 years old, and two years ago she signed a music publishing deal with APG (Artist Publishing Group) while attending the Clive Davis School of Recorded Music at NYU (New York University). She co-wrote "Bad Things" while being a student there. Love has since graduated from NYU and is based in Los Angeles.
As a songwriter, Love's specialty is writing lyrics and melodies. Besides the cuts listed above, she has also co-written songs for Jason Derulo, Pitbull, Fifth Harmony, Madison Beer, Astrid S, Zara Larsson, Hayley Kiyoko, Axwell Ingrosso and Baby Ariel.
Notably, Love is also developing her artist career. She has been a featured vocalist with G-Eazy on the song "Mama Always Told Me," from his The Beautiful & Damned album. Also, Love co-wrote and is singing on "I Love You" by Axwell Ingrosso featuring Kid Ink, which was a #1 single on the Billboard Dance Club Songs chart.
We are pleased to do this new Q&A interview with Madison Emiko Love. She tells how she got started in the music business, and how she co-wrote the hits "Bad Things" and "Him & I."
DK: How did you get started as a songwriter and artist?
Madison Emiko Love: I'm born and raised in Los Angeles, and I've always known I wanted to be an artist and in music. My dad is a vocal coach, so I was always surrounded in the industry, watching him, and I wanted to be a singer. When I was growing up, (music) professionals I met said, "You can sing, you can do that. But you need to learn how to play instruments, how to write your own songs, and learn everything you can about your specific business." So I learned how to play guitar and piano, and I started writing my own songs.
For college, I went to the Clive Davis School at NYU which offered a degree in music business. They taught engineering, producing, songwriting, marketing, licensing and publishing, which really changed my perspective. I just thought I wanted to be an artist, but I learned about [many aspects] of the music industry there.
At the Clive Davis School, I fell in love with songwriting, so I took more courses on that. I also started hustling in New York, writing and trying to meet as many people outside of the program while I was living in the city.
DK: Did you graduate from NYU?
Love: Yes, I graduated from NYU in three years because I signed to a music publisher in L.A. called APG (Artist Publishing Group). I was a sophomore in college when I signed with APG.

Here's the video of Machine Gun Kelly & Camila Cabello's hit "Bad Things,"
which was co-written by Madison Emiko Love.
DK: How did you get the attention of APG while being in college?
Love: First, a lot of my teachers at the Clive Davis School are really respected and in the industry. So my songwriting teachers were like (hit songwriter) Jesse Harris and other songwriters in the business. And people from Primary Wave (music publishing company) taught my marketing class. So I would meet different publishers through my teachers. Also, I really took my homework super-seriously (laughs) so when teachers saw my work, they were like, "This student is actually pretty good; I'm gonna bring her into my company and introduce her to a few people." So that's how I started meeting more people in New York, and then I met Ben Maddahi, who was working at APG at the time. He introduced me to that company, and I ended up signing to Mike Caren (CEO of APG). And it was all amazing and I'm happy (laughs).
DK: Currently, are you still interested in being an artist, or are you focused now on being a songwriter?
Love: I definitely want to be an artist…that was the whole plan originally. I got sidetracked writing for other people and falling in love with so many artists. I was like, "Oh I want to write for you, I'll give you a song." And I kind of put my artist career on the back burner for a while. But now, after writing "Bad Things," "Him & I" [and songs for other artists], I realized what kind of writer I am—what kind of writer I am for other people, and what songs I want to write about for me. That became more clear as I kept writing, which was what I wanted, which is really exciting.
DK: As a songwriter, would you say your strength is writing the lyrics and melody?
Love: I always say lyrics are my strongest [skill], but over the years people have said, "Your melodies are so good too." So it's kind of a lot of both. I'm the type of girl that carries a songwriting journal, and I have tons of concepts in it, that I'll bring to the writing session. [The journal] has ideas that I see from watching movies or reading books, or seeing great quotes or hearing people talk at a party, and I'll write that stuff down. And so I'm more of a nerd when it comes to lyrics.
DK: After you signed a publishing deal with APG, what were some of the first cuts you had?
Love: I had a song called "Kiss The Sky" that I wrote with (hit songwriter) Sam Martin for Jason Derulo. It was in the movie trailer for the film, Storks. That was my biggest song starting out, which was really exciting for me. And then I did a few features (vocal performances) with some DJs in New York.
DK: You wrote the hit "Bad Things" (Machine Gun Kelly & Camila Cabello) with the writing/producing duo, the Futuristics (Alex Schwartz & Joe Khajadourian). How did you work with them on this song?

Here's the video of G-Eazy & Halsey's hit "Him & I," which was co-written
by Madison Emiko Love.
Love: I met the Futuristics when I went on a writing trip during a break from school. Alex (Schwartz) called me one day when I was in New York. He said, "I have this idea from APG; we want to flip a Fastball song." And I was like, "Oh that's cool. Let's make it really sexy and and let's flip (the lyric) to 'I only want to do bad things to you'." Then we just wrote it over FaceTime really quickly in-between my classes (laughs). We ended up going back and forth on email until we got the lyrics perfect, which took weeks afterwards. I remember being in Physics class, just emailing back and forth (laughs), working on the lyrics.
DK: Currently, you have another hit with "Him & I" (G-Eazy & Halsey). How did you co-write this song?
Love: With "Him & I," I went one night to G-Eazy's house for the first time for a late night session. We wrote "Him & I" that night, and we wrote it super quick. It was great to write with G-Eazy—he's the sickest writer. Then he got Halsey on the record too, and she just put the cherry on top and her voice just made the song perfect. I've always been a huge fan of Halsey's, so that was really exciting.