Lord & Lady's "A Little Longer" Named January "Best Song Of The Month"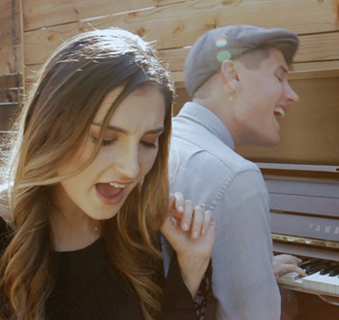 Lord & Lady, an alternative music duo which consists of Scott Oatley (of Thousand Oaks, CA) & Rachel Panchal (of Mission Viejo, CA), has won the SongwriterUniverse "Best Song Of The Month" Contest for January, for their song, "A Little Longer." This song is included on their self-titled debut EP, which they released in November (2015).
"A Little Longer" is a graceful, heartfelt ballad which starts softly with just piano and acoustic guitar, and then gradually builds in emotion and energy. Panchal's vocals lead off the first verse, followed by Oatley's lead vocals. Both Panchal & Oatley sing with clear, expressive voices, which blend together well. The song's overall style is in the vein of duo The Civil Wars, although the melody on "A Little Longer" has a more of a pop flavor. This recording was expertly produced by Scott Feldman, a Los Angeles-based writer/producer & musician.
Both Oatley and Panchal are also solo singer/songwriters, who decided to form Lord & Lady in 2015 after they had several, successful writing sessions together. Oatley is originally from Florida, and he moved to Southern California, where he attended Cal State Northridge and graduated with a B.A. Degree in Music Industry Studies. Panchal grew up in Mission Viejo, CA, and she attended Chapman University in nearby Orange, CA, where she subsequently graduated with a B.A. in Music.
Oatley plays piano and guitar, and he released his first EP, called Lift You Up, at the end of 2012. Panchal plays piano and sings, and she released her own EP Top Of The World last November (2015).
It was two years ago that Oatley and Ranchal first met. "We came together as co-writers through a mutual contact of ours," explained Oatley. Ranchal said, "Scott and I just clicked as songwriting partners. We also liked the way our voices sounded together."

Here's the video of Lord & Lady's song, "A Little Longer."
The duo has since become Lord & Lady, and their new EP contains "A Little Longer" plus three more songs which they wrote together: "Nothin' At All," "Love Is A Choice" and "500 Days." Notably, the duo has filmed an excellent video of "A Little Longer," which was directed by their friend, Thomas Reiten.
Oatley & Ranchal are beginning to perform more live shows together as Lord & Lady. Later this month (Jan. 2016), they will be performing at L.A. venue Genghis Cohen, for their EP release party.
"We will be promoting our EP, and we're going to keep writing," said Oatley. "We would love to put out another EP or album." The duo is also interested in pitching their songs for film & TV placements.
Top Five Songs Of The Month
Here are the Top Five Songs which were submitted for this month's contest, with the songwriter credits, plus their e-mail and website links. You can listen to the winning songs by clicking the music players below.
"Best Song Of The Month" Winner
Song Title:
"A Little Longer"
Written by:
Scott Oatley & Rachel Panchal (of the duo Lord & Lady), Performed by Lord & Lady.
More Best Songs Of The Month