Country Duo LoCash Talks About Their Hit Song "I Love This Life" And Their Other Songs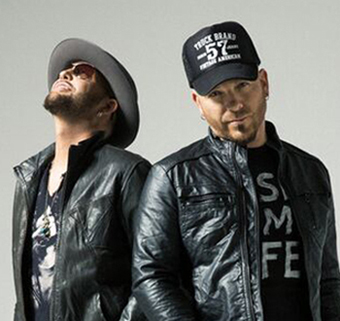 Prior to their current hit success, country music duo LoCash (formerly known as LoCash Cowboys) had scored two big hits as songwriters. LoCash members Chris Lucas and Preston Brust wrote Tim McGraw's hit "Truck Yeah" and Keith Urban's chart-topper, "You Gonna Fly." But the aspiring artists desired more than being the writers behind the songs. Their hearts longed to perform their own music on stage, and after a decade of trying, their persistence paid off with their single "I Love This Life," which made a long ascent to peak at number two on the Billboard Country Airplay chart.
In this new interview, Locash talks about why it took so long to break through, trying to write a song for Garth Brooks, and why not listening to their publishing company turned into a good move with one song.
Following up their hit "I Love This Life," LoCash has released their new single, "I Know Somebody."
Here is our Q&A interview with Preston Brust and Chris Lucas of LoCash:
BC:  How did you first get together as songwriters, and why did your chemistry work?
Preston Brust:  We got together about 12 years ago and started writing songs. We both had the same interests in mind when we were sitting down to write songs for our last show. We wanted to go hit the road, write and perform all over the country. So we were looking for some material. We needed songs to sing. We started hooking up with different songwriters around town. We wanted to get a record deal. We wanted to have songs on the radio, so we were trying to write the best songs we could. The better songwriters we could hook up with, the more we would learn from those guys and girls. We would pick up tips on songwriting and things like that. For instance, Jeffrey Steele took us under his wing, and we sat down and wrote a lot of songs with him. Jeffrey is one of the greatest songwriters of all time. We would soak up some of those great things that he would put into the music and into the lyrics.
BC:  What are your individual strengths as songwriters? Are you stronger with melody or lyrics?
Chris Lucas: I think you've got to have both to even be a songwriter. You can write lyrics, but they would just turn into bones if you didn't have melody with them. It depends on what day it is. We wake up and one of us is writing melody and the other is writing lyrics or vice versa. I usually come up with titles of the songs, and Preston is probably stronger on the melodic side.
BC:  How does the songwriting process work for you?
Brust: It can hit you anywhere. Sometimes you're in a conversation with somebody in Texas, and they say something a little different than the way they say something in Florida. You'll catch those little inflections. 'Ah, that's pretty clever.' Sometimes you'll be watching a movie, and you'll see a situation happen in the movie. That love scene inspires a moment with a lyric in your mind.
Sometimes I'll just sit down at the piano and start playing and won't really think about anything, and see what the chords and what the melody on a piano make you want to say. There's just different ways for us. In fact, sometimes we'll carry writers on the road. We'll go sit in the back of the bus, and we'll kind of talk about our lives…and kind of design a song around real life situations that are going on with us.
BC:  What's the story behind Tim McGraw's "Truck Yeah"?

Here's the video of LoCash's hit single, "I Love This Life."
Brust: We were sitting at Sony/ATV and Chris Janson had double booked that day. He had booked with Danny Myrick, and he had also booked to write with us. Chris called me and said, "Hey man, would you mind if instead of cancelling on one or the other, can we all just work together." All of us are buddies, so we all said that'd be fun.
We walked in and we sat down. We were catching up on life and drinking coffee. Then, somebody from the office walked in and said, "Hey, guys, I just got this email, and it said that nobody is going to be recording songs about trucks any more. So, we're kind of highly advising you guys to write something other than about trucks."
Danny Myrick looked at all of us and said, "Last time I checked this is country music, and it's about trucks, and I say we write a song about trucks." We all laughed. He looked at Chris Janson, and he said, "F*** yeah!" Then, I said, "no, no, no. It's truck yeah." We started laughing. About an hour and a half later we had "Truck Yeah." Out of spite we wrote that song. We knew we had something really special on our hands right away because it had a lot of energy. It felt like an anthem.
BC:  How did "You Gonna Fly" (co-written with Jaren Johnston) develop?
Lucas: We were each trying to write a song for each other's act. He had a pretty cool melody working already, and when we came in, he said, "What do you guys think of it?" I thought, let's write this. It's amazing. About an hour and a half later it was created, and he sent it to us. It was our first song that was ever picked up.
BC: You've also had your own hit as songwriters with "I Love This Life." How did that come together?
Brust:  We were sitting around over at Danny's house one day, and Danny was kind of rocking on guitar a little bit, playing different riff ideas. We got to talking about how there was so much negativity on the news. We were kind of fed up with it that morning. [We said] Let's get back to the stuff that we love, the little things. Let's make a laundry list of all the things we love, and let's call this song, "I Love This Life." We had heard that Garth Brooks was cutting, so everybody in town was trying to write a Garth Brooks' song.  So, we were trying to write a song for Garth and make it a big anthem, and trying to imagine what Garth would say on stage, with everybody singing along and they've got their hands in the air. We're like, "Yeah!  I love this life!" This is great. Turns out, Garth didn't cut the song after all. Thank God, because it turned out to be something strong for us.
BC:  After a decade of trying to break through as singers, you finally did it. How were you able to be so persistent?
Lucas: Having a duo, it helps to have each other, but the thing is that Preston and I truly believe we never had a fair shot at radio. The label would fold or we didn't have a team or they didn't have enough money. It was never our fault. That kept us going. You know what? Give us our fair shot. If we lose that way and it doesn't work out, then we're cool with that, but we never had that shot. Thank God, we finally did, and here we are.
BC:  What advice do you have for songwriters?
Brust: Write, write, write all the time. You've got to write song after song after song. Jeffrey Steele told us one time. "You've got to sling them like pancakes, but don't skimp on the ingredients." I think for every like 150 or 200 songs that you write, you might have something in one of them.
Chris and I do this all the time. We look back two years ago on what we thought were great songs. We're like, "Oh, man. We've grown so much as songwriters." I think you just mature over time with anything you do, but especially with songwriting.
Bill Conger is a freelance writer for various publications including Bluegrass Unlimited, GACTV.com, Bluegrass Music Profiles and ParentLife. He can be reached at [email protected].He is also on Google+