Country Singer Lindsay Ell Talks About Her Album, heart theory, Her Hit Want Me Back." And Writing Her Songs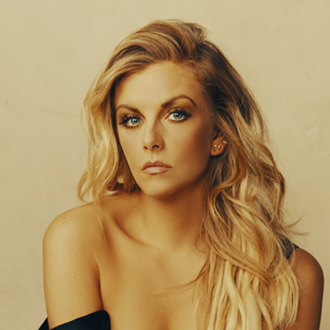 Country music singer/songwriter & guitarist Lindsay Ell has just returned with her first original album in three years. Her first album on Stoney Creek Records, The Project (released in 2017), debuted at #4 on Billboard's Hot Country Albums chart and was impressively named Billboard's Best Country Album of 2017 (Critics Pick). Her latest music is a concept album titled heart theory, that beats its way through the stages of grief encapsulating the Calgary, Canadian native's emotional recovery. She enlisted the aid of fellow writer/artists Tyler Hubbard of Florida Georgia Line, Kane Brown, and Brandy Clark in writing her album, which was produced by renowned Nashville producer, Dann Huff.
Ell, who is from Calgrary, Canada, is not only known for being a talented singer/songwriter, but she's also known for being an outstanding guitar player. Over the past three years, she's had a solid impact on the country charts. Her 2017 single, "Criminal", was a Top 20 hit, and her 2019 duet single with Brantley Gilbert, "What Happens in a Small Town," became a number one hit. She's also had a string of country hits in Canada.
Notably, in 2018 Ell also released an album called The Continuum Project, where she recorded her own versions of the songs on John Mayer's hit album, Continuum. She played all the instruments on this album and recorded the tracks herself.
Since her start in country music, Ell has toured with Keith Urban, Brantley Gilbert, and Brad Paisley. She also shared the stage with Little Big Town and other female stars at the 2019 CMA Awards, where she was nominated for Musical Event of the Year. Notably, she has two ACM nominations, including New Female Artist of the Year.
We are pleased to do this new Q&A interview with Lindsay Ell. She tells what inspired her to write a song about the two sexual assaults in her life, reclaiming her power, and she discusses her songwriting.in-depth.
BC: heart theory is your first new album of original songs in three years. Can you talk about this new album?
Lindsay Ell: I am so excited to get this record out. I have been working on this album for the better part of three years, and I'm just so proud of it. I worked so hard on it, and I cannot wait to get this music out there to the world.

Here's the video of Lindsay Ell's new song, "Want Me Back."
BC: Your new album is a concept album about grief. Why did you want to go in that direction with this project?
Ell: I was about halfway through writing the record, when I realized I was writing these songs in order of how I'm processing through this time in my life right now. I'm kind of a nerd about a lot of things in life, but specifically, reading up about personal development and people like Brené Brown, and things like the seven stages of grief. The seven stages of grief is just one way of articulating the process of how we go through change in our lives. As human beings, we go through transformative times where we're forced to feel everything at every little step of the process. It's about taking those emotions one by one and truly embracing them, knowing that on the other side of that, we're going to find a much deeper level of growth and freedom from that.
So I was like…how cool would it be to write a concept album starting at track one and stage one at shock and write it in order—shock, denial, anger, all the way down to stage 7 and track 12 of acceptance. I really hope that this album can be support or empathy if people are looking for that, or it can be a road map if somebody is looking to go through their own transformative time in their life. They can look at it and be inspired by my diary, my journey, my process and want to find that deeper, authentic level in their own life.
BC: You've tackled some tough issues on the album, including your personal story on "Make You," about the rapes you experienced at age 13 and age 21. That had to be a very hard song to write and to share on a co-write.
Ell: Thank you. Yeah, I've never talked about my story as a little girl before. I never wanted it to just be a publicity stunt, so I didn't ever talk about it. Three years ago I went to this place called Youth for Tomorrow…for youth who have ended up in the wrong situations or specifically youths age 12 to 18 who have been victims of sex trafficking and rape. I went there three years ago to help them launch their music program, and I ended up sitting down in a conference room with 12 other little girls and told them my story and then heard their story. As I talked more, they wanted to share more [and I heard] some horrific things. There was a 12-year-old girl sitting beside me and she said, 'Lindsay, my parents sold me to a sex trafficking company when I was little.' And I thought…What?!! Here's this 12-year-old little girl and she has so much light in her eyes and in her heart, and yet she had such a deep, dark past.

Here's the video of Lindsay Ell's new song, "I Don't
Love You."
I left that campus that day knowing that if I didn't take this moment in my career and in my life to talk about my story, that I was holding back an opportunity to help other little girls or little boys like that or grown adults, because I truly think that this happens far more than we want to realize in life. It's when we can talk about it and use our voices for good. whether we're talking to two people or two million people, that we have the opportunity to normalize a bit of that shame, and be able to find a deeper level of feeling through it.
BC: Is that what you hope someone will take away from listening to this song?
Ell: Absolutely! I called up (co-writer) Brandy Clark. Brandy is one of my favorite songwriters in town…she's an incredible songwriter & wordsmith. I call her the female John Prine of our time because I truly feel she is that gifted. In a matter of seconds, she said, "I'd love to write this song with you." She was completely fearless in it. She said, "Thank you for having the courage of wanting to tell your story." We wrote "Make You" in a matter of hours. It was just one of those songs that just came out.
Shortly after writing the song, we decided that I was going to start my own foundation. My foundation is called the Make Me Movement, and it focuses on disadvantaged youth, specifically victims and survivors of sexual violence and domestic abuse. I just want to ensure that survivors know that they're not alone, that we're all out here in this world fighting battles that may look different, but they're so similar in so many ways. You know, I would have had somebody to hold my hand as a 13-year-old girl and say, "It's okay, Lindsay. You're not alone. It's going to be okay." Or even as a 21-year-old girl and say, "It's okay. You're not alone." I feel like I would have healed so much faster.
BC: Your current single, "Want Me Back" is about reclaiming your power. How did that song develop, and what did it take to reclaim your power?
Ell: I am so proud of "Want Me Back". This is a song I wrote with Kane Brown, Matt McGinn and Lindsay Rimes. I feel we all have those moments in our lives, where we all step into our own inner confidence again and claim back that self-power. It's the favorite point in a lot of our favorite movies of where the main character truly feeds their own self-worth and steps into that fire. When we were writing "Want Me Back," Kane walked intothe  room and said, "I want to write a song for the women." I'm like, "Awesome, Kane; you're preaching to the choir." And I'm like, "I want to write a song about women feeling their full potential."

Here's the video of Lindsay Ell & Brantley Gilbert's hit, "What
Happens In A Small Town."
It's been so cool to watch the reaction to this song. Even after we released it, a lot of girls were like, "I want to send this song to my boyfriend from high school." It's really cool to see the reaction to it. We're reminding everybody how wonderful and awesome they are.
BC: You're co-written all but one of the songs on this album. Why is it important that it be your own material for the album?
Ell: As a songwriter, I am very grateful to be able to craft my own message. It means so much to be able to say exactly what I want to say. Really, it's hard to find outside songs that say that. I fight recording outside songs all the time. My team, thankfully, are able to talk me off a ledge sometimes (laughs). Going into an album, the rule is always best song wins now. We listen to a lot of songs just to find those gems. "I Don't Love You" is the only song I didn't write on this record, and it was just one of those things that I found that I was like this is exactly what I want to say. As a songwriter, I never would have written this song in that way. Keith Urban once told me, "Lindsay, if you find an outside song that is just what you want to say but not in the way you would say it, then you need to cut that song."
As far as every other part of this record, I put my heart and soul into it, and it was exactly what I wanted to say. If anything, I've gotten a lot more vulnerable about my writing on this record.
BC: How does the songwriting process work for you?
Ell: Every song is different which makes the whole job of a songwriter so eventful and wonderful. I generally do start with an idea, and then I usually start with the music. I'll find a melody I like or a guitar lick, or a chord progression, and the lyric usually comes last. It's interesting, because piano was my first instrument and when I write on piano, I write a completely different song than if I write on guitar. My brain just works in different ways. I learned the instruments from different standpoints.
At the beginning of quarantine, I made a list to myself to write 100 percenters for a few months and just write songs by myself. Before I moved to Nashville, that's the only thing I did, and then when I moved to Nashville, I started co-writing because that's the way of life here. I was like, "Why would I finish a song by myself, when I could bring it to a few of my friends and finish it with them." But at the beginning of quarantine I really made a commitment to do that again. It's been so rewarding in some really cool ways.

Here's the video of Lindsay Ell's hit, "Criminal."
BC: Before we wrap up, I wanted to ask you about your first number one song, the duet with Brantley Gilbert, "What Happens in a Small Town." What was it like working with him, and where were you when you heard the news that it went number one?
Ell: It was so wonderful working with Brantley. He became like another brother to me in this life…he has such a good sense of humor. He has this rock side of him that complements the rock side of me. It was so much fun being able to collaborate with him.
I found out that "Small Town" went #1 when we were playing a show in Virginia Beach. It became official when we walked off stage. I remember walking into the green room and my band was [chanting] "Number One! Number One!" I just broke down crying. These are moments and dreams that we think about for so long. I will never forget that day.
Bill Conger is a freelance writer for various publications including Bluegrass Unlimited, ParentLife, Homecoming, and Singing News and is currently writing a biography on The Osborne Brothers with Bobby Osborne. He can be reached at [email protected].