Linda Perry, Renowned Songwriter & Artist, Talks About Writing Her Classic Hit Songs And Her Served Like A Girl Soundtrack Album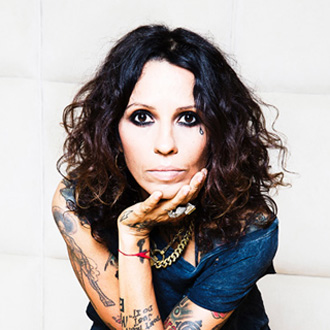 Linda Perry is well known for being a top songwriter, a platinum recording artist and a music exec who has run record labels. Impressively, she has been inducted into the Songwriters Hall of Fame, and she has written classic hit songs such as "Get The Party Started' for Pink, "Beautiful" for Christina Aguilera, and "What's Up" for her own band, 4 Non Blondes.
Perry got her start by leading 4 Non Blondes, for which she wrote the songs and was lead vocalist. Their debut album (Bigger, Better, Faster, More! on Interscope Records) went multi-platinum and "What's Up" was a major hit single.
In addition, during the past decade, Perry has also established her credentials as a music executive. She launched the label Custard Records, which signed singer/songwriter James Blunt, who had the worldwide hit, "You're Beautiful." Currently, Perry has launched a new company called We Are Hear, which is a partnership with producer/exec Kerry Brown. We Are Hear is a record label, a music publishing company, and they will be producing movies. A key goal of We Are Hear is to discover and nurture new talent.
SPECIAL FEATURE: STREAMING AUDIO

Here's an excerpt of our interview with Linda Perry, who tells how she wrote her three biggest hits: "What's Up" (4 Non Blondes), "Beautiful" (Christina Aguilera) and "Get The Party Started" (Pink).
One of the first projects for We Are Hear is producing and releasing the soundtrack album for the documentary film, Served Like a Girl (directed by Lysa Heslov). This movie has received acclaim for bringing awareness to the plight of female U.S. veteran soldiers, showing their struggles to make the transition back to civilian life after being wounded, or suffering from PTSD (post-traumatic stress disorder), homelessness, divorce and broken families.
The Served Like a Girl soundtrack album features new or previously unreleased songs co-written by Perry. She teamed up with Pat Benatar and guitarist Neil Giraldo to write a new song for the film called "Dance Through the Wreckage," which is sung by Benatar. The album also features unreleased songs co-written by Perry, with such artists as Pink, Christina Aguilera, Gwen Stefani, Natasha Bedingfield, Little Mix, Lykke Li, Chely Wright, Lizzo, Willa Amai, Dorothy, Maya Heslov and LION. Notably, all proceeds from the soundtrack album will be donated to Final Salute, an organization that provides homeless women veterans with safe and suitable housing.
We are pleased to do this new Q&A interview with Linda Perry. She discusses the new Served Like a Girl soundtrack, her company We Are Hear, and she tells how she wrote her classic hits "Get The Party Started," "Beautiful" and "What's Up."
DK: You've recently released a soundtrack album for the film, Served Like A Girl. Can you talk about this film and how it spotlights female soldiers?
Linda Perry: Well, what was important was to bring attention and awareness to this amazing movie that Lysa Heslov made. I felt it was important to put a soundtrack together that kind of had the same emotion and vibe, the same strength of the women that are portrayed in this documentary. Then one day I started to look through my computer, and I happened to find all these songs [that I worked on]. There was a Pink song that was never released, a Christina (Aguilera) song that was never released, and a Gwen (Stefani) song.

Here's the trailer of the documentary film Served Like A Girl, for
which Linda Perry produced the soundtrack album.
It was like a light went on…I said, "We'll do an 'inspired by' soundtrack." I can go back to these artists, who are all powerful and have incredible things to say…who [would relate to and support this project]. And in any of those kind of situations, you know you can only pray that the stars are gonna align and the artist is going to say yes. And then, you've also got to get the publishers and labels to say yes. Anyway, everybody said yes and that's how the soundtrack came together. It was just inspired by the film and a bunch of songwriting demos that I did with these artists.
DK: I read that all the proceeds from the soundtrack are going to the charity Final Salute, that helps homeless women veterans.
Perry: Yeah, absolutely; 100% is going to [this charity]. That was the deal Kerry (Brown) and I made—if we do the soundtrack with all these big artists on the album, we've gotta make all the money go to the cause, because that's what it was all about.
DK: On the album, there's a new song you did with Pat Benatar called "Dancing Through the Wreckage." Did you write this song specifically for the soundtrack?
Perry: Yes, that was written for the movie, and the song is in the movie…it's the end credit. I wrote this song with Pat (Benatar) and Neil Giraldo. I got a call from her manager, who said Pat wanted to reach out, which I thought was great. Pat called me and said she wanted to write a song with me for the Million Women's March (which took place the day after President Trump's inauguration). She wasn't going to be available because she was on tour, but she wanted to be part of it. You know, Pat Benatar is still a full-on rebel. She is very active, very strong, and she's always fighting on the frontline for women.
A couple days before I met with Pat, (director) Lysa Heslov sent me 20 minutes of the film. I watched it at 2 o'clock in the morning, got up [and started working on the song]. Then I played Pat what I had, and she loved it. I told her what the movie was all about, and she was totally in. And then Neil (Giraldo) showed up. We finished up the lyrics and then Pat recorded it.
DK: You now have a company called We Are Hear, which is a label and publishing company that you started with Kerry Brown. Can you talk about this company?
Perry: Kerry (Brown) produced the Smashing Pumpkins, and he was in a band in the '90s called Catherine. He and I have been through [a lot in the music business]. He had been complaining about things and I was complaining about things. We were saying, "It doesn't seem like labels are supporting artists anymore. It doesn't seem like labels are supporting art. They're supporting their pockets and quick [money]… you know, everything's fast. They're saying, "Forget albums—let's just do a single and throw it out there in the world. If it sticks, great, if it doesn't…" Nobody was nurturing or developing acts. That's been one of my biggest complaints for years.

Here's the video of Pink's hit "Get The Party Started," which was
written by Linda Perry.
So we started talking about what we would do, like, "Oh, I would start a label and we would develop acts. Instead of putting a band in a studio right away with some big fancy producer, I would put them in a rehearsal room and have them write the record there. And if it sounded great, then put them in the studio. You know, like old school. So we kept bouncing ideas and then all of a sudden, we decided [to form the label] and call it We Are Hear. And as soon as we came up with the name, the company sprouted. It was like we manifested this thing. So now we're managing (singer/songwriter) Dorothy; she's on Roc Nation. She's amazing…I just finished her album. And we're doing a lot of other great stuff.
I'm so proud of it because we really are sitting with artists, developing them, and helping to nurture their talent.  You know, that's what we need to do—you have to let it blossom. So our approach is very old school, but we're throwing a very modern spin on it, as far as the deals. It's more of a partnership…we have songwriters we manage, we have artists, and we're producing movies.
DK: Currently, are you more focused on being a music exec and developing talent, rather than being a songwriter?
Perry: You know, [songwriting] has never been my gig. My career is a funny one, because I just walk in the direction I will go. I don't worry about what everybody else is doing…I follow my gut instinct. And with my journey, I just keep landing places. You know when I was a kid, I just knew that people were gonna know who I was, that I was gonna be important somehow. I just knew in my system, my constitution was to be a grand personality and for people to know who I was. And so I've just been kind of following that instinct, and it landed me as an artist, and it landed me in a band (4 Non Blondes) that sold seven million records. And it took me out of that band because it said you went the wrong way. You know, that was great for a moment, and now you've gotta hop off that train because your destiny isn't with this band. So I just listened to my gut feeling.
Then I made a solo album which was just me…dark and personal. And then I thought…I want to write songs for other people and I did. So I started writing songs for other people and I started producing. And then I got really popular there with my second wind (writing hits for Pink, Christina Aguilera and other artists).
[Then after many years of songwriting], I started to think, "Okay, this has been fun, but I don't really like writing songs for anybody anymore because nobody has the right intentions. People just want to throw out crap, and they don't want to follow it up with any integrity. And I'm not interested in that…I want to work with people who know who they are [and what they stand for and believe in].
Now, I'm moving into being an executive. I want to run a successful label—I want to run a heartfelt one, with passion. And I feel you can do all that and have success and not be greedy and selfish. I have a good business mind, but I can't be business and creative at the same time. It doesn't work for me, so I have to either pick a chair and sit there and be on the phone and do that, and be creative in that way, or write songs. So I've written songs for a while, and it's time for me to move on.

Here's the video of Christina Aguilera's hit "Beautiful," which was
written by Linda Perry.
DK: As a songwriter, you've written some great hit songs. Can you tell me how you wrote your three biggest hits: "What's Up," "Beautiful" and "Get The Party Started"?
Perry: "What's Up" was a song I wrote in my bedroom. My dog was jumpin' around and I had fleas all over my room and I had no money. I wrote that song for some fairly obvious [reasons]…whatever the song is, is exactly how I felt when I wrote it. So that was a really great moment because you write these songs, and like I said, I described where I was (at the time). And then it was around two years later, and people all over the world are singing it. And you can't plan for that emotion that hits you. It's like "Whoa, it's overwhelming…it's incredible." It's a wonderful experience; I wrote a really honest song that a lot of people responded to.
With "Beautiful," when it came out, it's the same thing. I felt like that…I felt ugly and insecure, but I wanted to reassure myself. I thought…Wait a minute, no, I am beautiful, and I can't listen to what people think. I've just got to stay strong, and we all should stay strong. So that song was really great with someone like Christina singing it, because…you've really got to understand that here's this hot chick (Christina) that's successful. You would think she has it all, but she's actually depressed, insecure, and feels exactly the same way. I think that's why that song carried so far. If I sang that song (as the artist), it wouldn't have went as far. But the fact that Christina sang it, is why that song went as far as it did, because you didn't believe that this girl was thinking that way.
With "Get The Party Started," that was a joke, to be quite honest. I was trying to figure out how to run a drum machine and use technology. And because I'm old school…I used tape and analog shit. And so I bought a bunch of digital equipment and had some fun, and wrote that song in literally, swear to God, in 10-15 minutes as a full-on, 100% joke. But when I [finished writing it] I started laughing…Oh my God, this is like a fuckin' full-on, dance hit. And then a week later, I met Alecia Moore (Pink) and she wanted to record it, and that's how that happened.
DK: It's still one of my favorite Pink songs. I saw Pink perform live recently, and she started the show with that song.
Perry: It's such a good song because it's stupid. You know, [this song] helped me understand that I don't always have to be so serious. And I don't have to always have to try to make some deep statement or an emotional one, and I don't have to be depressed. You know, songs can just be stupid, and you can dumb down. And it still came from a passionate place, because I was so excited about all this weird gear that I had no idea what it was. There I was, just kind of having fun. And so the passion comes through, because you can feel it in the energy of that song.
Here's the link to purchase the Served Like A Girl Soundtrack Album via Amazon