Lewis Capaldi, Rising U.K. Artist & Powerful Vocalist, Discusses His Singles "Bruises" And "Rush," His EP Bloom, And His Other Songs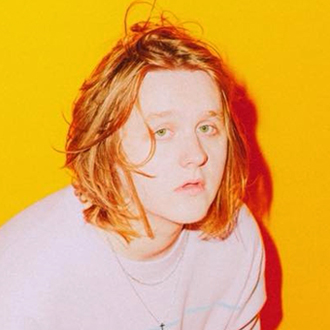 Scottish singer/songwriter Lewis Capaldi has emerged as a promising artist to watch. Just 21 years old, he has signed with Capitol Records and released his debut EP, Bloom. Notably, he has built a large following via Spotify, and he is playing concerts and festivals in both Europe and the U.S.
What makes Capaldi special is his powerful, soulful voice. A quick listen to any of his songs reveals a strong vocal performance that has intensity and range. This can be heard on his EP, and on his dramatic new single & video, "Rush" (featuring Canadian artist Jessie Reyez).
Capaldi grew up in the small town of Bathgate, which is near Glasgow (the largest city in Scotland). He began making music at a young age and learned how to play guitar. When he was 12, Capaldi started performing live in nearby pubs, and by age 18, he had become a seasoned live performer.
When he was 19, Capaldi began collaborating with other songwriters & producers, and in March 2017 he self-released his first single, "Bruises." This song quickly amassed 53 million plays on Spotify, and it reached #1 on Spotify's New Music Friday playlist.
The success of "Bruises" led to Capaldi signing a label deal with Capitol Records (Virgin Records in the U.K.). He also began co-writing with Grammy-winning writer/producer Malay, who is known for working with Frank Ocean, Sam Smith, Lorde and Alessia Cara. Malay produced Capaldi's EP and co-wrote the songs "Fade" and "Rush."
Currently, Capaldi is writing and recording new music, and this year he will be performing shows in many countries including the United Kingdom, U.S., Canada, Germany, Belgium, Spain, Czech Republic, Finland and Hungary.
Lewis Capaldi Interview
We are pleased to do this new Q&A interview with Lewis Capaldi. He tells how he got started, and he discusses his songwriting for his EP Bloom and his new single, "Rush."
DK: How did you get started playing guitar and singing?
Lewis Capaldi: When I was growing up, my older brother was always in bands. He's six years my senior, so when I was 9, he was 15 and learning how to play guitar and being in bands. So I said to my mom and dad, "If he's getting guitar lessons, can I have guitar lessons too?" I didn't want to miss out on it. So my brother and I were running kind of parallel…I was just copying him. So yeah, that was the genesis of it all.
DK: You have a strong, soulful voice. When did you realize you were a good singer and you wanted to be an artist?
Capaldi: Thank you. I think the artist thing came a lot later. I always sang…I started singing from the age of 5. So singing was something I always did. When I was about 15, that's when I first thought about doing it as a career. I was in bands at the time, and I had about three years left in school. I started to ask, "What was I going to do for the rest of my life?" So I started thinking about doing music seriously. I was thinking…if I do music, which is what I enjoy, I wouldn't have to get a real job (laughs). I could do what I love for a living.

Here's the video of Lewis Capaldi's single "Rush" (feat. Jessie Reyez).
DK: When did you start writing songs?
Capaldi: I was around 11 years old when I started writing songs. I knew that I didn't have much to write about yet. I was just kind of making up these stories and writing about nothing essentially, but it was good to learn about how to structure songs and how to put together a song. It was a really good exercise, learning how to craft a song.
DK: One of your first songs that you had success with was "Bruises."  Can you talk about this song?
Capaldi: I wrote that song on my 20th birthday, which was about six months before it came out. I had been doing co-writing sessions for a year—it was my first foray into that world and collaborating with people. I was writing with someone new every day, and I was getting to the point where I just wanted to put something new out there.
I wrote "Bruises" with (writer/producer) James Earp. I had recently broken up with a girl I had been seeing for a year-and-a-half. The song was about how I was feeling, how your life just goes back to normal after you've stopped being with someone.
At the time, I had a song called "Something In The Water." But I didn't quite know how I wanted to tackle the lyric in that song. So I said, I'll scrap that song but I'll keep this concept of "there much be something in the water, because every day it's getting colder." I also had the lyric: "But I hope I never lose the bruises that you left behind." I had that line kicking around for a while. So I liked those lines…it was good and real.
DK: "Bruises" became popular on Spotify and was a breakthrough for you. How did this happen?
Capaldi: In terms of it doing as well as it did, I don't have a clue. When it was released, it became #1 in sales on Spotify's New Music Friday and in America. From that point on, everything was great. There was no time to take a breather after that. My feet haven't really touched the ground since (laughs).
DK: Besides "Bruises," what are your favorite songs on your EP?
Capaldi: My favorite song on the EP is "Fade." For me, the reason is I always wanted to write a real classic-sounding song—it's got that major to minor chord change at the end of the chorus as well. "Fade" was produced by (hit writer/producer) Malay, who has worked a lot with Frank Ocean. I've been such a fan of his for years. To be able to get in a room with him and write a song that we were both proud of, was an amazing feeling. It's still my favorite song that I've written.
DK: I like your new single, "Rush," which features Jessie Reyez. Can you talk about how you wrote this song?

Here's the video of Lewis Capaldi's single, "Bruises."
Capaldi: Thank you very much, cheers. With that song, I was again [in the studio] with Malay last October (2017). I was out in L.A. again, almost a year after I wrote "Bruises." When we finished [the song's original version], I was listening back to it. I was able to live with it for a few months. I wanted to release it, but I think it needed someone to take it to the next level, to really get across the theme as well.
I was a massive Jessie Reyez fan, so I said to my manager, "Can you ask if she wants to come on and work with us on the song?" I thought I would just take a shot in the dark and see if she'll do it. And yeah, she came back almost instantly and said, "Let's do it." So in January (2018) we were back out in L.A. and she came in and rewrote some of it and put her own spin on it. And it was amazing—it was a dream come true to be working with Jessie and Malay.
For me, I think that "Rush" is like a no bullshit breakup song. I've written songs in the past when I'm like, "Oh we've broken up, but it's not your fault and it's not my fault, and I hope you're okay." And sometimes that's the case. But I think the actual week or day of the breakup…in your head you're like, "I hope you're miserable without me. But at the same time, I don't want you to feel as bad as I feel." For me, the song is like the internal conflict that you've got in your head, when you're so mad at this person, but also want them to be okay.
This is another song I'm proud of. The opening lyric in the chorus says, "I hope you're lonely, I hope you're lost without me." I had that lyric knocking around for months, and I was thinking…How can I get this into a song without sounding like a horrible person? (laughs). And so this is the most honest, no bullshit way to express this song.
DK: You've released an EP and the single "Rush" so far. Are you working on a full album now?
Capaldi: I think I'll be coming out with an album in the next year. I'm absolutely writing every day, trying to get better and keep learning from people I get to work with.
In terms of schedule, I think I'd like to put out one more EP before the album, because I think those first five songs are still relatively early on in terms of my music. I feel like another EP would lead nicely into a full album.
DK: This year, you're scheduled to play a lot of shows and festivals. Is there a festival or show that you're most excited about?
Capaldi: I think Lollapalooza in Chicago is going to be quite special. In January, I did a show in Chicago with a band called Milky Chance and it was amazing. To be able to come back and play at such an iconic festival is amazing, and the lineup is just knockout. So I'm really looking forward to playing in front of all these people and seeing as many bands as possible. Also, there's a Scottish festival in my hometown that I'm excited to be playing.
Here's the link to Lewis Capaldi's site: https://www.lewiscapaldi.com/