Leon of Athens' "Aeroplane" Named May "Best Song Of The Month"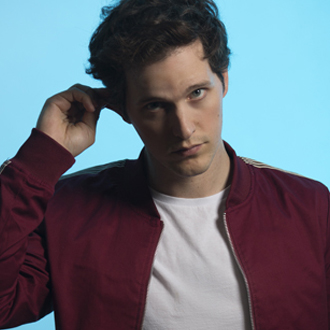 Leon of Athens, a pop-indie singer/songwriter based in London, United Kingdom, has won the SongwriterUniverse "Best Song Of The Month" Contest for May, for his song "Aeroplane." This song is included on his latest album Xenos, which was released earlier this year on EMI/Universal Records.
"Aeroplane" is a modern pop/rock song that has a subtle electronic and alternative edge to it. The song starts off softly with vocals and guitar, and then adds a rhythmic energy and full production in the chorus. The melody is appealing throughout the song, especially in the chorus. This recording also provides a good showcase for Leon's expressive, lead vocal performance. "Aeroplane" was expertly produced by David Kosten (who has produced Marina & The Diamonds and Bat for Lashes) and Ottorno.
Leon was born in London, but he grew up in Athens, Greece. Both of his parents are Greek. His artist name Leon of Athens was inspired by his love of Athens. He says he likes, "The light, the weather, the history and the energy of the city. In Greece, I've played in almost all the big venues and I have people who follow me and support me from the beginning. I'm gratedul."
When Leon was 6 years old, he started playing classical guitar and piano. He wrote his first songs as a teenager in school and formed his first band, called Secret Show. He was inspired by listening to such favorite artists as Sufjan Stevens, Flaming Lips, Brian Eno and Radiohead.

Here's the video of Leon of Athens' song, "Aeroplane."
Xenos is Leon's third album, and is the follow-up to his album, Global, in 2014. This new album contains uplifting indie-pop songs like "Aeroplane" and "Fire Inside You," plus darker, electronic songs like the title cut, "Xenos."
Leon explains what his song "Aeroplane" is about. "It's about young love, it's high and lows. How extreme these feelings are. 'Aeroplane' has two sides…one is very bright, free and uplifting and the other is dark and lonely, long distance and dating apps."
Leon's albums have received positive reviews by such publications as The Guardian, New York Times and NME. Impressively, he recently completed a sold out UK and European tour. This spring, Leon has traveled to the U.S. to play SXSW, and the Okeechobee Festival in Florida, and he'll be playing at the Firefly Music Festival in Delaware and the Summerfest in Milwaukee.
Top Five Songs Of The Month
Here are the Top Five Songs which were submitted for this month's contest, with the songwriter credits, plus their e-mail and website links. You can listen to the winning songs by clicking the music players below.
"Best Song Of The Month" Winner
Song Title:
"Aeroplane"
Written by:
Leon of Athens of London, United Kingdom. Performed by Leon of Athens.
More Best Songs Of The Month