Brandon Lancaster Of Country Band LANCO Talks About Their Hit "Greatest Love Story" And Writing Their Songs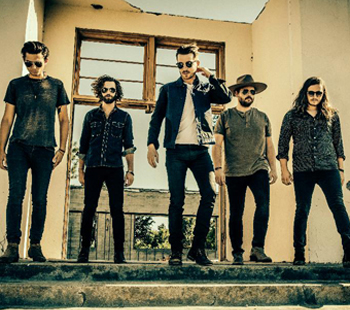 It's a rare feat in today's country music scene for a songwriter to pen a successful song with no co-writers, but that's just what Brandon Lancaster, lead singer of the fast-rising country band LANCO accomplished. He joins the ranks of Taylor Swift ("Our Song"), Zac Brown ("Free"), and Jennifer Nettles ("Stay"), who penned chart-topping hits alone in the early 2000s. LANCO's "Greatest Love Story" propelled him to the number one spot on the Top 60 Country Songwriters Chart for three consecutive weeks and helped earn the band more than 60 million streams of their self-titled debut EP, LANCO. The song, which has a very positive, romantic theme, has risen to #5 on Billboard's Hot Country Songs chart.
Besides Lancaster, LANCO (which stands for Lancaster & company) consists of Chandler Baldwin (bass), Jared Hampton (keyboards), Tripp Howell (drums), and Eric Steedly (guitar). Since forming in 2013, the band has toured the country's top festivals including Bonnaroo, Lollapalooza and Austin City Limits. The group has served as support act for Dierks Bentley, Brothers Osborne and Jake Owen, and will be hitting the road with Dustin Lynch. Their full-length debut album is scheduled for release early next year on Arista Nashville Records.
We are pleased to do this new Q&A interview with Brandon Lancaster of LANCO. He talks about the joy of writing songs alone and how "Greatest Love Story" is creating some real-life stories.
BC: "Greatest Love Story" has been a great success. When you wrote and recorded it, did you feel that there was something special about this song?
Brandon Lancaster: We had the advantage of playing the song for a while before we released it to radio. We put it out on an EP, and we've been touring a lot the last year-and-a-half. It kind of took on a life of its own, which is always encouraging. Just because we had seen the way people reacted on the road and before we released it to radio, people would tell us how much they loved that song or telling us their story in relation to the song. You can never really tell how it's going to do on radio. Honestly, you can never anticipate a song doing as well as this one. It's been on top of the iTunes chart for a while now. We did have an idea it would do pretty well because we had seen that on the road.
BC: What kind of reactions have you seen from people when you perform it?
Lancaster: The crowds sing along. You can see guys and girls during that song start to hold each other a little tighter. That's always cool to watch. We've had proposals. It's funny we'll be in the middle of a song, and we'll see commotion in the crowd and a circle forming. You can tell something is going on. You can clearly see that the guy is on one knee proposing in the middle of the song, which is really awesome. We'll try and invite them back. We get to hear their stories. Every detail of the song is like theirs. A lot of people have told us their stories that aren't identical to the lyrics of the song, but the song still has a special place with them. Ultimately, the song is about two people finding each other and discovering how badly they need each other.

Here's the video of LANCO's hit single, "Greatest Love Story."
BC:  How did the song develop? Was any of it autobiographical?
Lancaster: It was kind of half and half. As long as I've been writing, the thing I've noticed is how much songwriting is a blend of experiencing and observing things. I'm married as of recently. I dated my wife since I was 19. We've been together a long time, then broke up and spent some time apart, and ended up getting back together, and now we're married. That part of the song is definitely autobiographical. I grew up in a small town where people marry their high school sweethearts. Then, they go off to college and later get back together. I've had a few friends go through that. So, it was a blend of my experiences and what my friends have experienced.
BC: You have the distinction of being the first country writer in 10 years to write a chart-topping solo song. Do you usually write by yourself?
Lancaster: At the time I wrote it, LANCO was just starting, and I was writing a lot more by myself than I do now. I grew up outside Nashville. When I was younger I went to the Country Music Hall of Fame and worked with a songwriting course there. I worked with professional songwriters, and they'd teach you how to structure a song. I've been writing since I was 12 or 13. Writing by myself is a thing I've done for a long time. It was a natural thing to sit down and just write the story by myself with a guitar.
I still write by myself a lot…maybe get a hook or a chorus or an idea and bring that into a writing session. Sometimes a song will come naturally. I think any writer, no matter how far along they are in their writing career, should never be afraid to sit down, and if you've got a story to tell, you don't always need other people for that. Sometimes you can tell a story on your own.
BC: Are you more of a melody writer or lyricist?
Lancaster: I'm both. It just depends on the day. Sometimes you walk around and start humming a melody, and you realize it's your own melody and not one that you've heard. I'll write a song around that melody. A lot of times a friend will say something in a conversation that makes a cool hook or line in a song.
BC: When you've had those opportunities to co-write, what has that brought to the experience?
Lancaster: I'm definitely not afraid to write by myself. But at the same time, I really love co-writing. Sometimes you have an idea or an experience, but you don't have the words to put it together. Or sometimes you may have a melody, but you hear someone's story or someone's experience or someone's line that you would have never thought of. Co-writing is incredible because you can get multiple people's perspectives and multiple people's influences. I'm one guy with one set of influences that I have, but you get a few people in a room and you take all their influences lyrically and melodically and sonically, and you can put all those things in a song, and you get something that you may have never created by yourself. That's a really cool experience for sure.

Here's the video of LANCO's first single, "Long Live Tonight."
BC: What were your expectations for LANCO? You knew how hard it would be to succeed, but you guys are pulling it off.
Lancaster: It's kind of like two sides of the brain working. Everyone picks up a guitar because they saw a music video or went to a concert, or they knew someone who played guitar and it seemed cool.
When you're young you have this dream of—I have in my hands this guitar, this piano, these songs I have in my head. I'm going to travel the world and sing these songs to millions of people. But then, once we started putting this band together, and we started hanging out practicing, you live in the moment and take it day by day. We'd put on a show and be happy if a few of our friends came out. The next time they would bring their friends, and the crowds would keep growing. You were just happy that people were singing along with you and coming out to see you play and perform and having a good time. Then, you start thinking what if we could do this all over the country. What if we could grow this?
I really felt like we had something special that we could take literally around the world. At the same time, you live in a day-by-day mindset of going to a show and hoping people show up that night. I enjoy playing shows and all the guys in the band do. We have wanted as many people to be a part of this as possible. If we just wanted it to be house shows, we never would have taken some of the risks that we've taken. Early on, we played Nashville a lot, but we all hopped in an RV and started touring on our own. We just wanted to take it as far as it could go.
Bill Conger is a freelance writer for various publications including Bluegrass Unlimited, ParentLife, Homecoming, and Singing News and is currently writing a biography on The Osborne Brothers with Bobby Osborne. He can be reached at [email protected]. He is also on Google+