Kristian Bush Of Country Duo Sugarland Talks About Their Hits "Baby Girl," "Stuck Like Glue" and "Still The Same," And Writing Their Songs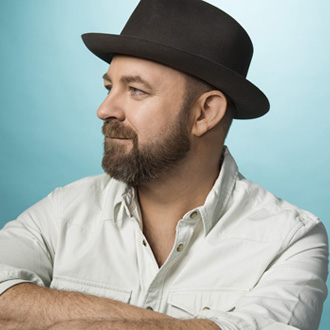 Sugarland's Kristian Bush and Jennifer Nettles are reuniting after a lengthy hiatus. The hit country duo return with their current single, "Still the Same," and a tour of the same name. The tour kicks off overseas before beginning in the United States this May.
Starting in 2004, Sugarland debuted with their hit single "Baby Girl," and from there continued to deliver a steady string of country hits. Impressively, the singers/songwriters achieved more than 22 million in album sales and landed five number one singles—"Want To," "Settlin'," "All I Want to Do," "Already Gone," and "It Happens." Their mantles are full of trophies from the Grammys, ACMs, and CMAs.
During their time apart, Bush and Nettles began solo careers. Nettles hit the road on back-to-back headlining tours and released the critically-acclaimed albums, Playing With Fire and To Celebrate Christmas. She also branched into acting with her Broadway debut in the Tony Award-winning musical, Chicago, and had a role in Dolly Parton's television movies, Coat of Many Colors, and the sequel, Christmas of Many Colors.
Bush debuted as a solo artist with "Love or Money," which is now featured in the hit mobile game, My Singing Monsters. A six-time BMI songwriting award winner, he wrote and performed "Forever Now (Say Yes), the theme song for the hit TLC reality series, Say Yes to the Dress. Last year, he wrote the songs for the world-premiere musical, Troubadour. Most recently, he signed on to host the podcast, Geeking out with Kristian Bush.
We are pleased to do this new Q&A interview with Kristian Bush. He talks about Sugarland's reunion, Jennifer Nettles as a songwriter partner, the story behind two of their hit songs, and gaining confidence in his skills as a lyricist.
BC: How did your current single with Sugarland, "Still the Same," come about?
Kristian Bush: We've been relatively quiet for the past five-and-a-half years. Jennifer reached out to me and said, "Hey, let's go see if we can make any music." I said, "I'm game for that." We walked into a room together for the first time in five years, and that song is exactly what came out in the first 45 minutes.
BC:  In the past when you and Jennifer wrote together, how did the songwriting process work for you?
Bush:  I write songs every day. It's pretty natural for me. What was really fun is that Jennifer and I have a songwriting chemistry that is very quick. You never know how you will mix with different people. She and I have always found inspiration either in the topic that we want to talk about and/or in the sound that we start to feel in the room. Because we're both from the Atlanta music scene, we don't have a lot of calculation. We go a lot on gut more than science. Then, we just lean on our skills. She's a great singer, and I'm obsessed with melody. It's a good fit.
BC: Since you're obsessed with melody, is she more of the lyricist?

Here's the video of Sugarland's new single, "Still The Same."
Bush:  It's a bit of both. I've always downplayed my own lyrical ability for years, but it turns out I think I'm much better than I think I am at it (laughs). This past year I wrote a musical (called Troubadour) by accident, and I did it alone. I learned very quickly that I'm a fine lyricist. I guess I just love to surround myself with people who are better than me.
BC: Let's go back a few years to Sugarland's debut hit, "Baby Girl." How did that song develop?
Bush:  We wrote in my studio in Decatur, and it was relatively early on. It was part of the audition process for Jennifer actually. Part of what we were doing at the time was having singers come in and sing songs that were already written for the project and then also write together to see if we were all compatible. That was the second song that we wrote together. It was a whole bunch of us sitting on the floor writing together. It was one of those songs that just tells the truth. It doesn't have to be fancy…it just has to be really honest. There's nobody in that room that was writing that day that did not at some point borrow money from their parents to go be a musician.
("Baby Girl" lyrics: Dear Mom and Dad,
Please send money, I'm so broke that it ain't funny.
I don't need much just enough to get me through.
Please don't worry cause I'm alright
I'm playing here at the bar tonight.
This time I'm gonna make our dreams come true
Well I love you more than anything in the world.
Love,
Your baby girl)
I love the idea that it's a wish because nobody had even heard of our band [at that point] so it wasn't really a hit song at all. It was just a song. I love the idea that at the end of it we made it so that the character actually made it long before the band ever made it. We kind of wished our own story into existence.
BC: What's the story behind your hit, "Stuck Like Glue"?
Bush: "Stuck Like Glue" was the last song written for our album, The Incredible Machine. There was a lot of pressure on us to deliver a hit single that would cross over into different genres, because Lady Antebellum had just done its song called "Need You Now." There was a dramatic level of expectation on A-level country artists at the time to stretch out. We were no strangers in stretching out. We had been making an album in Atlanta that was a stretch.

Here's the video of Sugarland's first hit, "Baby Girl."
At the very last minute our drummer on the session who was also the drummer in our band, Travis McNabb, had an idea. He had been a member of Better Than Ezra for a very long time, and before that, he had been a member in my old band, Billie Pope. His old singer for Better Than Ezra, Kevin Griffin, really wanted to pitch a song to us. I was trying to explain to Travis I couldn't do that because Jennifer and I were writing them all ourselves. If we opened up the option to one person, we would have to open it up to everyone. It wouldn't be fair to all the other co-writers who had spent so much time working with us that were also not being included. [But] he begged and begged. I said, don't send me a song; send me a part of a song like a chorus.  You're not investing too much time, and if we like it, we can write it to fit. Sure enough, Kevin sent the chorus to "Stuck Like Glue." I remember listening to it and playing it. I thought "Oh, My Gosh! This scares the death out of me. I love it." I played it for Jennifer, and she was like O.M.G. We went downstairs and wrote the rest of the song and decided to record it that day.
BC: Is there a song that's a particular favorite of yours?
Bush: There's a song on our Love on the Inside slbum called "Genevieve." The song existed in my previous career. I had written as much as I had of it as a Billy Pilgrim song in the mid-'90s to be on Atlantic Records. It never fit into our next project there, and it hung around for a long time. It's a strange song about a singer who is thinking about this girl that he can't get off his mind. There's these strange images of Einstein's dreams and of a girl walking across the snowy roof like an angel on a cabin. It's very strange stuff. I played it one afternoon in a trailer while we were waiting to go on stage to Jennifer.
She said, "Let's finish it now." I said, "You understand you're going to be gender bending. You're going to be singing the words of a man." She was like, "I don't care. If you can't figure out the characters, you deserve to be confused." I've always been fascinated by that song because it existed before the band was even a figment of anyone's imagination. That song existed in 1994 and made an album in 2008. Amazing!
BC: What's it like reuniting with Jennifer?
Bush: We don't know really. We've only spent about three days next to each other. So far, so good. [Audiences are] really going to be experiencing it at the same time we are. There's something exciting about that. There's something awesome about finding a friend that you haven't seen in a while, and…you pick up where you left off and see what happens next. That's where we are.
BC: Why did you decide to host a podcast?

Here's the video of Sugarland's hit, "Stuck Like Glue."
Bush:  I got approached by (nationally-syndicated weekday radio show host) Bobby Bones. His job had taken off after Sugarland had stopped working, so we didn't know each other professionally. He wanted to make a comedy album, and I got put on his list of people to co-write with him. I'm a little outside the normal circle. I live in Atlanta. He and I became fast friends.
Bobby wanted to start a podcast network here in Nashville. He said I don't know why I want you to do this, but I want you to do this. He said I want you to do whatever comes to mind. I take my entertainment seriously, and I don't want to waste anybody's time. I came up with a pretty cool set of rules in order to have a conversation. The rule is for the next however minutes, we have a conversation about one thing that you're totally geeking out on that has nothing to do with your job. And hilarity ensues.
The best part about it is you don't know what's going to happen next. It's the most rock and roll thing there is.
BC: Congratulations on your new concert tour. Are you and Jennifer also working on a new Sugarland album?
Bush: Oh yeah! You'll hear about it when we let you (laughs).
Bill Conger is a freelance writer for various publications including Bluegrass Unlimited, ParentLife, Homecoming, and Singing News and is currently writing a biography on The Osborne Brothers with Bobby Osborne. He can be reached at [email protected]. He is also on Google+