Kevin Rudolf Talks About His New Single, Writing His Hit "Let It Rock," and Co-Writing Hits For Selena Gomez, Keith Urban and Cobra Starship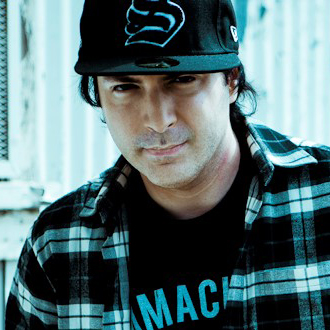 Pop singer/songwriter Kevin Rudolf is probably best known for his big 2008 hit, "Let It Rock" (featuring Lil Wayne). This pop/rock anthem was a worldwide hit, and is known for having a memorable, super-catchy chorus. But beyond this success, Rudolf has demonstrated that he's also a hit songwriter and producer who's had hits working with several other artists.
Besides "Let It Rock" and his 2010 hit as an artist, "I Made It (Cash Money Heroes)", Rudolf has co-written the hit songs "Good Girls Go Bad" for Cobra Starship, "Round & Round" for Selena Gomez & The Scene and "Shooting Star" for David Rush (featuring Rudolf, Pitbull & LMFAO). In addition, in 2013 he co-wrote the country/pop hit "Little Bit of Everything" for Keith Urban.
Currently, Rudolf has just released his new single called "Nobody Gets Out Alive," which he's released independently (via Empire Distribution). This single has a fresh, modern pop sound that appears ready for radio airplay. Rudolf will be following up "Nobody Gets Out Alive" with more single releases, and he plans to release a full album later this year or in early 2018.
SPECIAL FEATURE: STREAMING AUDIO

Here's an excerpt of our interview with Kevin Rudolf, who tells how he wrote his hit song, "'Let It Rock" (with a rap by Lil Wayne).
Rudolf grew up in New York City and now lives in Miami, although he regularly travels to other cities to collaborate. Notably, he plays both guitar and keyboards, and can handle production and programming.
To date, Rudolf has released three albums. He first signed with Madonna's Maverick Records and released his first album in 2001 using the artist name, Binocular. He subsequently signed with Cash Money Records and released his albums In the City (in 2008) and To the Sky (2010).
Rudolf has also co-written songs for DJ Khaled, Flo Rida, Leona Lewis, Lil Wayne, Gavin DeGraw, Fefe Dobson, Allison Iraheta, Lifehouse, Natasha Bedingfield, My Darkest Days and Cher Lloyd.
We are pleased to do this new Q&A interview with Kevin Rudolf. He tells how he wrote his hit "Let It Rock," he discusses his collaborations with other hit artists, and his new single, "Nobody Gets Out Alive."
DK: How did you get started in the music business?
Kevin Rudolf: I was a kid growing up in New York, and I started out as a guitar player. I realized early on that I wanted to be in control of my own music and productions. At the time, technology was advancing—I got a computer and learned to play keyboards and do programming to construct my own productions. So I started making my own music, writing and producing, and it got the interest of a few labels and I signed with Maverick Records.
DK: I read at Maverick you went under the name, Binocular. Is that correct?

Here is the audio of Kevin Rudolf's new single, "Nobody Gets Out Alive."
Rudolf: Yes. It was a futuristic nickname I was given from a band that I was playing with at the time. Binocular was very much a one-man project. I made all the records in my bedroom and the record came out, but then I was dropped by the label about six months later. And that's when I realized that at the time, I wanted to be more on the production side. So I moved down to Miami and I started working with (hit writer/producer/artist) Timbaland, playing guitar on a lot of his records, and just absorbing everything I could from him. As a producer, I consider him to be a real pioneer, especially in the hip-hop world, sonically. I always admired his work, and the fact that his music was really unique, personal and forward-thinking, but also was successful commercially.
DK: Eventually you signed with Cash Money Records, which is known more for hip-hop. So how did that come together?
Rudolf: Strangely enough, I always felt more comfortable in the hip-hop world. There were less rules, less judgment, more freedom and more acceptance. Whereas in the pop world that I'd come from before, I think the labels were always trying to shape and contribute much more to the artist that they signed. And I can understand that because they're putting up the money. But in the hip-hop world, there was more of a feeling-based relationship to the music. For example, Slim (Ronald Williams) and Baby (Bryan Williams) would just say, "Yo Kev, that record's hot, you need to put that out." And I found myself in a very free environment where I could make my art, and we were putting out records and they were successful. So it was a really good match at the time.
DK: I've always liked your big hit, "Let It Rock." How did you create this song?
Rudolf: I wrote that song by myself in my bedroom, where I was working on my entire album. Then I talked to Slim over at Cash Money and said, "Man, if we could get Lil Wayne on the first single, I just think it would be such a cool marriage musically of rock and pop and hip-hop." And that would be something really new and innovative at the time. I was also pulling a lot from the influence I had working with Timbaland, because he was always foraying into rock stuff from his hip-hop background. So I wrote that song and brought it to Slim, and he called Lil Wayne, and Wayne got on it that night. And then we were off to the races.
DK: When you were about to release "Let It Rock," did you think it would become such a big hit?
Rudolf: I think that when you write something that you're excited about, you're always envisioning where it could go (on the charts) and how it could affect people. It was exciting to hear feedback from people when they heard the song. One person said something to me and I really liked this compliment. He said, "Listening to "Let It Rock," it made me actually feel like I was a rock star."

Here's the video of Kevin Rudolf's big hit, "Let It Rock" (feat. Lil Wayne).
When I was a kid growing up, I always loved songs that were really empowering, that made you feel strong and excited. And I was very excited that I was able to put [a song] into the world that made other people feel that way.
DK: About a year after "Let It Rock," you co-wrote the hit "Good Girls Go Bad" for Cobra Starship. How did you co-write that song?
Rudolf: That song was a very collaborative work with the band, with Gabe (Saporia) and Ryland (Blackinton) from Cobra Starship, with (hit songwriter) JKash, and (hit songwriter) Kara DioGuardi was a huge part of that record. This was my first foray into the L.A. songwriting world, in terms of collaborating with a few different people. [Writing this song] was a labor of love, because it started out as one thing and took a few different shapes, and then the guys from Cobra Starship really did a lot of the production work while I was on tour. Then I came in and just kind of tweaked it. But it was very much a collaborative song where we all contributed pretty equally.
DK: Not too long after that, you had a hit with Selena Gomez on the song, "Round & Round." How did you get together with Selena and co-write that song?
Rudolf: Well, that song was written with JKash and producer Halatrax, who were signed to me at the time. And we got together with Fefe Dobson—(her label CEO) L.A. Reid had called and wanted me to work with Fefe. I liked her music, so we wrote a couple songs including "Round & Round," but the general consensus was that it was a little too pop/dance for her. So I began [pitching] the song and it ended up being in the hands of Selena Gomez, and it was her first single from her album (A Year Without Rain).
DK: A few years later, you had a hit, "A Little Bit of Everything" for Keith Urban, which you co-wrote with (hit country songwriters) the Warren Brothers. How did this song come together?
Rudolf: That was really fun experience…I had never done anything in country. I went to Nashville for two days, and I wrote with the Warren Brothers (Brad & Brett Warren). Those guys are so much fun—we just sat around and we had a great time. We were laughing, and I started playing a beat and some chords, and they started doing their thing. It was just a really fun day, and then I made a little demo of the song when I got back to Miami.
We sent it on to Nashville but nobody seemed to bite on it; nobody seemed excited about it. And then a year went by, and I was mixing one of my singles in Virginia with my friend Serban Ghenea, who is a top mixer. He was mixing a Keith Urban song and I was there. And then (label exec) Dan McCarroll called me—he was involved with A&R-ing Keith's album. I knew Dan and said, "Hey Dan, how you've been? " He said, "Do you have any country songs?" And I said, "Well I have one song—I went to Nashville a year ago." I sent him [the demo of "Little Bit of Everything"] and he called back 10 minutes later and said, "This is the first single." I said, "Well that works, that's great." And that's how that happened.

Here's the video of Keith Urban's hit, "Little Bit of Everything," which
was co-written by Kevin Rudolf.
DK: Moving to the present, I like your new single, "Nobody Gets Out Alive." Can you tell me about your recent projects, and creating your new single?
Rudolf: After I wrote the Keith Urban song, I lived in Nashville for about two years. I really enjoyed a lot of the aspects of Nashville. And during that time I met a country writer named Tim Nichols who is a good friend, and we started working on some stuff for me. He was excited about working on some songs outside of country. And one of the songs we wrote was "Nobody Gets Out Alive." And when I got back to Miami and I had a different perspective on things, I decided to completely remix the record into what it is now, to make it somewhat a different song, but still the bones of it are the same.
[I feel that] "Nobody Gets Out Alive" is a song about empowerment, individuality and living everyday like it's your last, because one day it will be.
DK: Will "Nobody Gets Out Alive" be part of an album or EP?
Rudolf: Yes, it will be part of an album. I will be dropping singles every month or two for a while, and then put out an album, which will come out either late this year or early next year.
DK: Are you also still writing and producing songs for other artists?
Rudolf: I am. I'm doing some writing and producing; I've worked with some different artists in the past year. I'm also really enjoying sort of going back to my roots and writing by myself. So I'm doing both of those things.
I live in Miami now. I've made the full circle—growing up in New York, finding my first little home in Miami, then moving to L.A,, then going back to New York, then Nashville and now Miami again. I feel pretty settled in Miami. I still travel to New York, L.A., Nashville (and other cities), although I enjoy having a home base in Miami now.