R&B Legend Keith Sweat Talks About His Album Playing For Keeps, And Writing His Big Hit "I Want Her" And Other Songs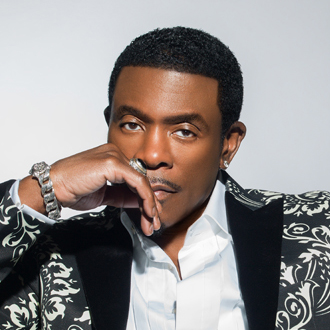 Since he emerged with his first hit in 1987, Keith Sweat has been a leading R&B and pop artist, songwriter and producer. Starting with his breakout hit "I Want Her," Sweat has had many hit songs as an artist, and he's had six platinum albums and one gold album. He's also known for discovering and signing the popular R&B group, Silk, and he co-wrote their biggest hit, "Freak Me."
Currently, Sweat has just released his 13th studio album, Playing For Keeps. The album showcases his powerful, soulful vocals, with his unique formula of blending provocative wordplay, infectious hooks, harmonies and melodies. This album includes guest performances and collaborations with several top R&B artists & songwriters, plus some talented newcomers. On the album's first single "How Many Ways," Sweat sings a duet with R&B star K-Ci (of the duo K-Ci & JoJo). And on his new single "Boomerang," he sings with rising new artists Candace Price and Ray Fade.
SPECIAL FEATURE: STREAMING AUDIO

Here's an excerpt of our interview with Keith Sweat, who tells how he co-wrote his hit "I Want Her," and the hit "Freak Me" for his group, Silk.
Notably, Sweat also reunites with superstar writer/producer Teddy Riley (who's had many hits with Michael Jackson, Bobby Brown and Guy) on the new song, "Who's Ya Daddy" (featuring Riley and Tank). It was Riley who co-wrote & produced Sweat's first hit, "I Want Her." Another key song on Playing For Keeps is "Fuego," that features Akon, Alkaline and Ray Fade.
We are pleased to do this new Q&A interview with Sweat. But before we get started, here's a rundown of his hit songs as an artist and songwriter. Sweat has had eight Top 20 pop hits (four which were Top 10), with 14 Top 10 R&B hits. His biggest hits are "I Want Her," "Twisted," "Nobody" (featuring Athena Cage), "Make You Sweat," "I'll Give All My Love to You," "Keep It Comin'," "Come and Get With Me" and "I'm Not Ready." Impressively, he also co-wrote the hits "Freak Me" and "Girl U For Me" for Silk.
Sweat's six platinum albums are: Make It Last Forever (released in 1987); I'll Give All My Love to You (1990); Keep It Comin' (1991); Get Up on It (1994); Keith Sweat (1996); and Still in the Game (1998). His gold album is Didn't See Me Coming (2000).
On top of this, Sweat discovered and signed the hit female group, Kut Klose, and he formed the R&B supergroup LSG with Gerald Levert and Johnny Gill. In addition, he has hosted his popular, syndicated ratio show (called The Sweat Hotel) for the past decade.
Keith Sweat Interview
Here is our interview with Keith Sweat. He discusses his new album Playing For Keeps, and he tells how he co-wrote his classic hit "I Want Her" and his hit for Silk, "Freak Me."
DK: Can you talk about the making of your new album? I like the new songs you did with Teddy Riley and K-Ci.
Keith Sweat: With the making of the album, I just wanted to do what I enjoy doing and what I love to do, and that's music. With the collaborations, I wanted to work with Teddy (Riley) again, 'cause Teddy was one of the people I started with. And K-Ci is a good friend of mine that I enjoy having fun with and working with. Basically, this album is 2017-2018 Keith Sweat.

Here's the video of Keith Sweat's single, "Boomerang"
(feat. Candace Price).
DK: Your new single is the ballad "Boomerang," with Candace Price. How did you write this song, and how did you decide to sing it with Candace?
Sweat: Candace is one of the young ladies that I thought…I've got to work with in the future. This song was brought to me by a good friend of mine. I liked the song, and I thought it would be great if I put one of the artists that I would be working on in the future, on a song along with me. So that's how the whole song came about. I really loved the song, so I just wanted to put that song out and make it my second single (from the album).
DK: You sing a duet with K-Ci on your song, 'How Many Ways." Was that the first time in a while that you worked with him?
Sweat: Yeah, that's the first time that I worked with K-Ci in a while. That song turned out really well.
DK: What are your favorite songs on your new album?
Sweat: Some my favorite songs are "Big Ass Lie," "Eney Meeny Miny Moe," "How Many Ways," and "Boomerang."
DK: With your songwriting, how do you like to come up with ideas for your songs? Do you usually come up with a title or hook first, or do you like writing to a track?
Sweat: It varies. I've come up with them in different ways. Sometimes it's the hook first, and sometimes the music comes first and I'll write to it. There's not a set way that I come up with writing songs. And with producing songs, there's not a set way, either
DK: Going back to the early days of your career, I've always liked your first hit, "I Want Her." How did you and Teddy Riley create that song?
Sweat: Teddy created the track first. I went to his house—we went over certain scenarios or certain vocal arrangements on how this track should be sung. He actually suggested that I sing it in a certain way. I sang it in a certain way, and we wrote the lyrics together and came up with the song, "I Want Her."
DK: Another big hit that you co-wrote was "Freak Me," for your group, Silk. Can you talk about how you co-wrote "Freak Me," and discovered and signed the group?

Here's the video of Keith Sweat's single, "How Many Ways" (feat. K-Ci).
Sweat: "Freak Me" was written by me and a few other guys (Roy Murray and Anthony Johnson), with two producers (T.H. & Errol Taylor) that I worked with back in Atlanta. I was looking for a group, so I could to add to my legacy of what I had been doing [as an artist]. Silk was my first signing—so what I did was, the songs that I probably would have written for myself, I wrote for them. And I put Silk on the songs, and basically that's the short version of a long story. I put them out, and they hit with the first album that I did with them.
DK: On a separate note, you've had a popular, syndicated radio show for the past 10 years, called The Sweat Hotel. Can you talk about your radio show?
Sweat: Well, the show's been on for at least 10 years now. Back in the day, I started it in about six or seven (radio) markets and now it's in over 50 markets. It's my R&B show that comes on every night except for Saturday nights. So I'm happy to be syndicated on radio and hosting my own show. It gives me a chance to express myself, not only in the (recording) studio but on radio as well.
DK: You've been busy with your new album, your radio show and your touring. Will you be starting a new tour soon?
Sweat: I'm always on the road…it's not like I'm starting a new tour. I'm definitely someone that stays on the road anyway, regardless.
DK: Thank you Keith for doing this interview. Is there anything else that you'd like to mention for this article?
Sweat: I'm working on a few things outside of the music game, like television and movies. There are TV shows and movies coming up soon that I'll executive-producing. I'm just trying to put my foot in everything (laughs).