Kane Brown Talks About His Hits "What Ifs" And "Heaven," His Debut Album, And Writing His Songs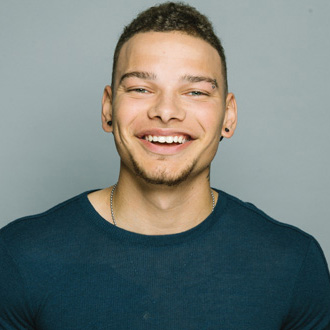 Rising singer/songwriter Kane Brown brings an intriguing mix of R&B, pop and country to the country music format with his rich baritone voice, and that combination has paid off for the Georgia native. Notably, Brown is the genre's best-selling new artist of the past three years and made history as the first-ever singer to take the number one spot on all five Billboard country charts (including album, single and airplay).
Before signing his label deal with RCA/Sony Records in 2016, Brown's use of social media earned him more than one million Facebook followers, YouTube views, and Spotify streams with his phone-shot videos and self-released tracks. Since then, his self-titled debut album has been certified gold, and he reached #1 for five consecutive weeks on the Billboard Hot Country Songs chart with his single "What Ifs" featuring Lauren Alaina. "What Ifs" was also named the Duet of the Year at the Rare Country Music Awards.
Impressively, every single, EP and album that Brown has released has gone to #1 on the Country iTunes chart. Brown's Chapter 1 became the highest-debuting country EP of the Nielsen SoundScan era and included the gold-certified "Used to Love You Sober."  His full-length album, Kane Brown, debuted at #1 on the Billboard Top Country Albums chart and top five on the Billboard 200.
Brown's new single, "Heaven," has already ascended to #1 on the Billboard Country Digital Songs chart and is one of four new tracks on the Deluxe Edition of his first album that was released in October. In 2016, Brown earned his first ACM award nomination as New Male Vocalist of the Year and a nod for CMT Music Awards Breakthrough Video of the Year for "Used to Love You Sober."
We are pleased to present this new Q&A interview with Kane Brown. He tells the story behind his big hit "What Its," and explains how Lauren Alaina influenced him to into music. He also discusses how Taylor Swift helped him build a strong fan base.
BC: Congratulations on having a big hit with "What Ifs." How did you write that song with Matthew McGinn and Jordan Schmidt?
Kane Brown: Matthew, Jordan and I started talking about how everybody says, "what if." So we said, why don't we start putting it in a relationship with a positive outlook? What if this happened, or what if that happened? And we wanted to get a girl on it, and Lauren (Alaina) has really inspired me so much. We're from the same hometown. I was like, "Do you all care if I get my girl, Lauren, in on it?" Then Lauren came to the studio, and she [sang it great]. She really completed the song.
BC: You and Lauren actually go back a long ways. I understand that she nudged you into singing.
Brown: We were in choir together in seventh grade. It was middle school, and you didn't have to sing…it was just a class. I was always shy, and I just hummed. She actually heard me one day, and she was like, "Why don't you sing louder?"  She wouldn't let me leave the class until I sang, and the teacher came over there. Lauren was so outgoing, and she really convinced me to sing. They ended up making us do some duet together. Then Lauren went on to do her American Idol thing, and she convinced me that I wanted to start doing music because they brought her home for a parade, and it was awesome to see everybody cheering for her.
BC: How did you find your latest hit, "Heaven"? (written by Matthew McGinn, Lindsay Rimes & Shy Carter).

Here's the video of Kane Brown's #1 hit "What Ifs," featuring Lauren Alaina.
Kane Brown: We were at a songwriter's retreat, writing a song upstairs called "What's Mine is Yours." It's on the new Kane Brown (Deluxe) album. I heard this song being played underneath us, and I went down and started listening to this song. It kind of hit home for me. I immediately had to take it. It's a song talking about basically my heaven is here with my family and my fiancée. I felt really connected to the song.
BC:  Normally, how does the songwriting process work for you?
Brown: It depends on the writers I'm writing with. Sometimes we'll put our minds together, and we'll write this break-up song from all of our past relationships, or we'll write a song about my life like "Learning" or "Granddaddy's Chair," and [the co-writers] will help me out with it so it relates to other listeners out there, so they can really connect to the song.
BC: You mentioned the song, "Learning," which deals with the physical abuse you suffered from your step-dad, being looked down on because of a different skin color. Is it difficult for you to make yourself vulnerable to write and sing songs like that?
Brown: It's a lot easier to get that out through songs, so people can really understand and not judge you as much for it. It's kind of a free leeway to letting people know your story.
I feel like there's not really any rules when it comes to writing songs. I'm not going to go out and be dirty or perverted or anything like that. But as far as telling your stories, the songs are a perfect thing for it.
BC: Your career has really taken off, thanks in part to the large social media following you've gathered. How did you build that kind of fan base?
Brown: I was posting videos and commenting back to everybody, and talking to as many people as I could. Everybody who asked to take a picture, I took a picture. I shook everybody's hand that wanted to shake my hand. Basically, doing the Taylor Swift method. You shake a million hands, you get a million fans. That's what I kept trying to do, and I guess it's worked out so far.
BC:  You don't look and sound like the typical country music singer. Who are your musical influences, and what got you into country music?
Brown: My mom got me into country because that's what we listened to growing up. She used to listen to a lot of Shania Twain. The first song I ever knew was "I Like It, I Love It" by Tim McGraw. Then of course, my granddaddy used to listen to Randy Travis and Keith Whitley and all of them. Once I got to middle school, I branched off into new music. And when I got to high school, I got back into country music. My R&B influence, my hip-hop influence, came with me on how I dressed. It was kind of combining genres with looks and then songs and my voice.  Now, music is changing so much, it kind of fits. It was like perfect timing.

Here's the video of Kane Brown's new hit, "Heaven."
BC: Can you tell me about the new deluxe edition of your album?
Brown: It's basically four new songs talking about my fiancé (Katelyn Jae) because I just got engaged. Really, every song is about my fiancée except for "Setting the Night on Fire," a duet with Chris Young. It's just a fun party song about, instead of going to the bar we're going to out into the field and party, just hang out and setting the night on fire.
BC: What was it like working with Chris Young?
Brown:  It was fun…Chris is a great guy. He's one of my role models. We're going on tour with him, and we were on tour with him (in 2017) with Jason Aldean. We've had him around a lot…he loves to write with me. Hopefully, we'll get some more writes in…we usually write pretty fast. It's awesome to have his voice on "Setting the Night on Fire," just like it's awesome having Lauren on "What Ifs." I've got two of the best voices in Nashville on one album.
BC: You've had a lot of great things happening to you. What have you enjoyed the most?
Brown: I've enjoyed making friends, and people coming up and telling me that my song has gotten them through so much. I had a little girl who came up to me today, and when she looked around and saw me, she started crying because she said I got her through so much. I gave her a hug. That's what it's all about—making people happy and guiding them through life, putting light in their life. That's what I really love about this job.
Bill Conger is a freelance writer for various publications including Bluegrass Unlimited, ParentLife, Homecoming, and Singing News and is currently writing a biography on The Osborne Brothers with Bobby Osborne. He can be reached at [email protected]. He is also on Google+