Interview with Justin Tranter, Hit Pop Songwriter for Selena Gomez, Justin Bieber, Fall Out Boy, Gwen Stefani and Other Artists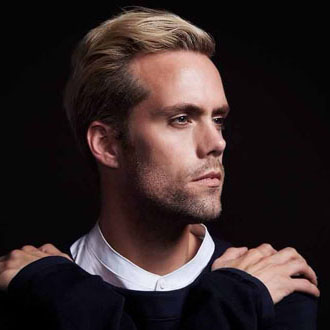 Justin Tranter has emerged as one of the hottest songwriters on the pop charts. Previously known for being the leader of the rock band Semi Precious Weapons, Tranter is now a full-time pop songwriter who has co-written several singles on the Billboard Hot 100 charts during the past year.
Tranter, who is originally from Illinois and is now based in Los Angeles, seems to have new singles (which he co-wrote) debuting on the charts on a regular basis. He co-wrote the recent big hit "Good For You" by Selena Gomez featuring A$AP Rocky, and the Top 10 hit "Centuries" by rock band Fall Out Boy. And just this week, Justin Bieber's new single "Sorry," co-written by Tranter, debuts at #2 on the Hot 100 chart.
In addition, Tranter also co-wrote the current chart single "Love Myself" by singer/actress Hailee Steinfeld, and Gwen Stefani's new single, "Used to Love You."
Tranter has made an impressive transition, from being the lead singer & songwriter for the New York-based band Semi Precious Weapons (which released three albums from 2008 to 2014), to becoming an in-demand pop songwriter who writes for other artists. It was in 2012 that Tranter began this evolution, working closely with Katie Vinten (Vice President of A&R at Warner/Chappell Music, where he is signed) and co-writing with many artists, songwriters and producers. One of his first pop placements was with Kelly Clarkson, and he later secured cuts with Fifth Harmony, Nicole Scherzinger, Breathe Carolina, DNCE (which includes Joe Jonas) and Timeflies. Notably, Tranter co-wrote six songs on Selena Gomez's just-released album, Revival, which has received a glowing, four-star review in Rolling Stone magazine.
We are pleased to do this new Q&A interview with Justin Tranter. He tells how he got started writing songs and formed Semi Precious Weapons, and how he made the transition to pop songwriting. He also recalls how he co-wrote some of his hits, and discusses his close collaboration with hit songwriter Julia Michaels.
DK: You first had success by leading the rock band Semi Precious Weapons. Early on, was it your goal to focus on being a rock artist and singer/songwriter?
Tranter: When I first started writing songs as a teenager it was definitely so I could sing them myself. My dream then was to be a glamorous but political Ani Difranco-type singer/songwriter.  I mean…it was the '90's after all. Then after going to Berklee (College of Music) and moving to New York City, the vision of a glam punk band took over and Semi Precious Weapons came into being and that was an amazing ride we rode for eight years.
DK: When did you decide to focus more on writing songs for other artists?
Tranter: The decision was slowly but surely made for me out of fabulous necessity. When we were signed to our third record deal, Katie Vinten took over our publishing A&R at Warner/Chappell. I had a meeting with her in December of 2012 that has forever changed my life for the better. I can't remember the exact words, but she said something along the lines of "Your band is amazing, but there is a disconnect at the label. I would love to start putting you in pop writing sessions for other artists, because I don't want to see you waste these ideas." I was thrilled to be able to step outside of my own point of view and went to any session available and said yes to everything. At the end of the day, I just want to make music, and Katie busted her ass just has hard as I did to make that happen.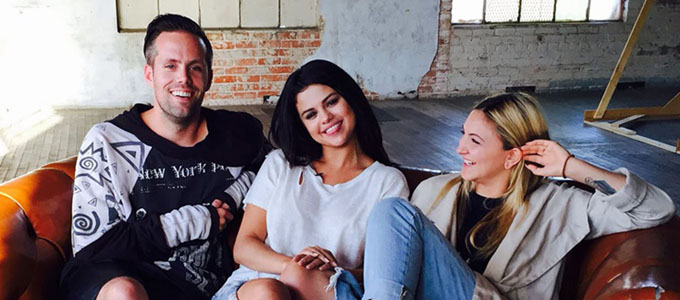 DK: After you started making this transition (to pop songwriting), was there a particular cut or co-write session that was a breakthrough for you?
Tranter: I love anything that involves a transition. About three months into writing for others, I co-wrote a song called "Nostalgic" that Kelly Clarkson cut. I think it was the first time I really understood what I bring to the table as a pop writer. And even though it didn't come out for another two years, it made me realize that this writing thing might work. Then there was my first session with (hit songwriter) Julia Michaels which would take up WAY too much time to fully explain. But it involved an almost fight with a stranger on the street, Julia hiding in a closet, an amazing musical connection, and is for sure the other most important "meeting" of my life.
DK: Congratulations on co-writing the big hit "Good For You" by Selena Gomez. How did you co-write this song?
Tranter: Me, Julia and Nick Monson went in to tweak another song on a Sunday morning. Nick had booked the studio for two hours, and the tweak was done in 45 minutes. So we figured we may as well use the rest of the time to do something new. The rest is 14-karat marquise diamond history. Shout out to Selena for delivering that song like no one else could! Iconic.
DK: You've also had the recent hit "Centuries" with rock band Fall Out Boy. How did you get together with the band and write this song?
Tranter: Actually me and my loves JR Rotem and Raja Kumari wrote the chorus and post chorus of "Centuries" on our own. JR's manager sent the hook/track over to Evan (Taubenfeld) at the Crush team for Travie McCoy. Evan had the magic ears that heard it for Fall Out Boy. As a fellow rock ho from Chicago I was all about that idea. The band wrote the amazing verses and bridge on their own. The future is chic.
DK: When you co-write, is your specialty writing the topline (melody and lyrics), or are you more involved with creating the tracks and production?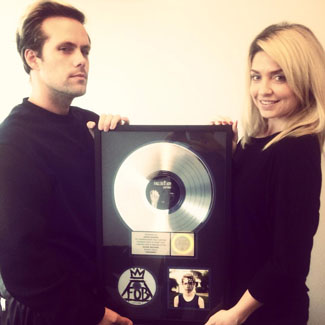 Tranter: If songwriting sessions were broken down like a standard work week my life would look something like this: Topline is my full-time job. Helping artists, producers and other topliners make sense of their amazing ideas is my part-time job. And my hobby is letting my music school geek come out, write a chord change or twelve, and dig in deep to production/song structure. But she doesn't touch computers. And by she I mean me.
DK: I really like your new song "Love Myself" by Hailee Steinfeld; it has a great chorus. How did you hook up with Hailee and co-write this song?
Tranter: Well that song specifically was written by me, Julia, and Mattman & Robin. Me and Julia went to Sweden for a week to work with all of the Wolf Cousins. This song opened a lot of doors for us, got us deep in the Wolf Cousin camp, introduced us to Queen Wendy Goldstein (EVP & Head of Urban A&R at Republic Records) and brought us to working on almost all of the Hailee project. Hailee is such a sweetie, and an amazing story teller on the mic.
DK: You're having a great year with several hits. Are there other current cuts or upcoming releases that you're excited about?
Tranter: GWEN! GWEN! GWEN! I've written over 15 songs with this brilliant woman (Gwen Stefani), and I can't wait for the world to hear them. The reception we've gotten from the first single is so fucking awesome. (Thanks Aaron Bayshuck for making my teen dream come true!!!) I also had such an inspiring time working with Joe Jonas' new band DNCE, and then having Bieber's new single "Sorry" is a CRAZY feeling. I mean…Bieber!
DK: Lastly, are you also working on new music with Semi Precious Weapons, or is your focus purely on songwriting now?
Tranter: If I ever make music for myself again it will be either a SPW album ten times harder rock than we ever did before, or a highly theatrical folk album. But right now it's all songs all day. Making a living in art is almost impossible, so if the goddess presents an opportunity to do something you love, my view is go for it full force. And by the goddess I mean Marilyn Monroe.