Justin Froese's "Finally Here" Named January "Best Song Of The Month"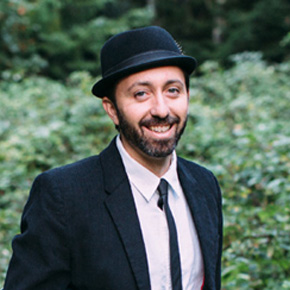 Justin Froese, an alternative/pop singer/songwriter based in Los Angeles, CA, has won the SongwriterUniverse "Best Song Of The Month" Contest for January, for his song "Finally Here" (co-written by Nancy Montgomery). This song is included on Froese's latest album Fireflies, which he released independently last August (2014).
"Finally Here" is a joyful, uptempo tune which is in the contemporary folk-rock vein of Mumford & Sons. The song starts out with just vocals and acoustic guitars, and then gradually builds into a full arrangement. The chorus is the song's highlight, featuring a very hooky melody plus appealing, female background harmonies (sung by Daniela Curto). Impressively, Froese produced this recording and played all the instruments.
Froese was born in Redondo Beach, CA, and mainly grew up in Encinitas (near San Diego). The first instrument he learned to play was guitar, and he now also plays piano, drums, bass, mandolin, banjo and ukulele. Froese began writing songs at an early age, and as a teenager he began performing live with a band and as a soloist. His musical influences include Cat Stevens, Paul Simon, Jeff Buckley and Radiohead.
Following high school, Froese attended Principia College in Southern Illinois, where he subsequently graduated with a B.A. in Music. After college, Froese decided to pursue a music career, although he didn't initially focus on being an artist. "I returned home to San Diego and began playing with bands, producing artists (at his home studio) and teaching music privately," he explained. "It was a slow progression—it took a few years before I focused on my own artist career."
It was in 2006 that Froese released his first album (as a singer/songwriter) called Here Rules, and in 2007 he was accepted into ASCAP's Lester Sill Songwriting Workshop. "This was a big encouragement for me, because only a small group of people are selected for this workshop," he said.

Here's the video of Justin Froese's song, "Finally Here".

It was about two years ago that Froese began writing & recording songs for his latest album, Fireflies. Although he wrote six of the album's 10 songs by himself, he wrote "Finally Here" with Nashville hit songwriter, Nancy Montgomery. "Nancy heard my songs and wanted to write with me," said Froese. "I flew out to Nashville and we hung out. We wanted to write a song about 'coming home.' Nancy came up with the initial idea for 'Finally Here," and we wrote it together quickly in a couple hours." Later on, Froese produced an excellent video of "Finally Here" which was directed by John & Allison Abdelnour.
Currently, Froese has been busy promoting his Fireflies album. He recently completed a six-week concert tour which included shows in Austin, Phoenix, Los Angeles, San Diego and Seattle. Notably, "Finally Here" has also won the grand prize in the Songdoor International Songwriting Competition, and won first place in the San Diego Songwriters Guild song contest.
Top Five Songs Of The Month
Here are the Top Five Songs which were submitted for this month's contest, with the songwriter credits, plus their e-mail and website links. You can listen to the winning songs by clicking the music players below.
"Best Song Of The Month" Winner
Song Title:
"Finally Here"
Written by:
Justin Froese (of Los Angeles, CA) & Nancy Montgomery (Nashville, TN). Performed by Justin Froese.
More Best Songs Of The Month
To enter the next "Best Song Of The Month" Contest (the deadline is the last day of each month), please
Click Here