Julia Grayling's "All Tied Up" Named October "Best Song Of The Month"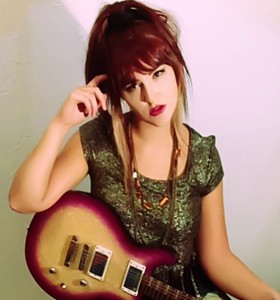 Julia Grayling, a folk/pop/rock singer/songwriter based in Phoenix, AZ, has won the SongwriterUniverse "Best Song Of The Month" Contest for October, for her song "All Tied Up". This song was released as a single in August, and Grayling is currently working on additional songs for her debut album project.
"All Tied Up" is a fresh, contemporary cut which sounds ready for pop & rock airplay. The song starts off softly with mainly acoustic guitar and vocals, and then gradually builds into a full pop production in the choruses. This recording provides a fine showcase for Grayling's expressive, passionate vocal performance, and she also plays rhythm guitar. "All Tied Up" was expertly produced by Christopher Tyng, who is known for composing music for several TV series, including Futurama, The O.C., Knight Rider and Suits. He is also co-founder of The Grow Music Project, which is a launchpad for emerging and deserving independent artists & bands.
Grayling was born and raised in Chicago, IL, where she learned to play guitar and started writing songs when she was 13. Her father, Phil Lucafo, was an original member of the rock band Heartsfield, which was popular in the 1970s. She was also influenced by listening to such classic bands as the Beatles and Fleetwood Mac, and to indie bands such as Modest Mouse and the Decemberists.
After graduating from high school, Grayling decided to pursue a music career and moved to Los Angeles. She formed a band which played famous clubs like The Whisky and The Mint, and they became the house band at the Rainbow Room. She also had the opportunity to meet and do some recording with engineer/mixer Shelly Yakus, who is known for working with Tom Petty, U2 and the Ramones. However, after two years her band broke up, and Grayling decided to move to Arizona (where her family now lived).

Here's a video of Julia Grayling in the studio with producer
Christopher Tyng, recording her song "All Tied Up".
Grayling continued to work on her songwriting and played solo acoustic gigs. Notably, she has opened for such prominent artists as Michelle Branch, Sophie B. Hawkins and Michelle Shocked. Then earlier this year Lucafo was selected by The Grow Music Project to have her song "All Tied Up" produced by Christopher Tyng. Tyng said, "We love Juice here [at Grow Music Project]. As a songwriter, she stood out in a big way. She puts you straight away into the heart of the song, especially with a track like 'All Tied Up'. We knew we were listening to something meaningful and honest."
Grayling went to Tyng's Star Hill Studio near Santa Barbara, CA, to record "All Tied Up" with Tyng producing. During the recording session, a webisode was filmed which spotlights Grayling and the production process with Tyng.
Currently, Grayling has written & recorded several new songs that she's excited about, including "You Always" and "Talk To Me." Her goal is to release a full album and put a new band together.
Top Five Songs Of The Month
Here are the Top Five Songs which were submitted for this month's contest, with the songwriter credits, plus their e-mail and website links. You can listen to the winning songs by clicking the music players below.
"Best Song Of The Month" Winner
Song Title:
"All Tied Up".
Written by:
Julia Grayling of Phoeniz, AZ. Performed by Julia Grayling.
More Best Songs Of The Month
To enter the next "Best Song Of The Month" Contest (the deadline is the last day of each month), please
Click Here