Josh Osborne Co-Writes #1 Hit Songs for Sam Hunt, Blake Shelton, Keith Urban And Other Artists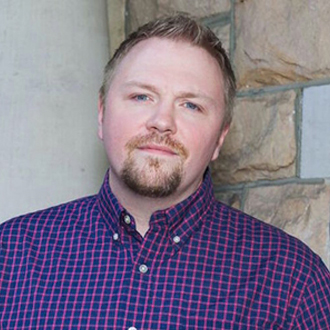 One of Nashville's top tunesmiths, Josh Osborne has co-written a remarkable10 number one hits in just the past three years. His first number one happened with Kenny Chesney's single "Come Over" in 2012. Since then, Osborne has written the #1 songs "Drunk Last Night" (Eli Young Band), "Sangria" and "My Eyes" (Blake Shelton), "We Are Tonight" (Billy Currington), "Leave The Night On" and "Take Your Time" (Sam Hunt), "Wild Child" (Kenny Chesney), "Real Life" (Jake Owen), and "John Cougar, John Deere, and John 3:16" (Keith Urban). Notably, he also won a Grammy award for Best Country Song, fo co-writing the hit "Merry Go Round" with Kacey Musgraves.
In addition to these singles, Osborne has had songs recorded by Luke Bryan, Tim McGraw, the Band Perry, Joe Nichols, Kelly Clarkson, Reba McEntire, Sara Evans, Easton Corbin, Trisha Yearwood, Craig Morgan, Rodney Atkins, Chris Young, Faith Hill and other artists. Notably, he's written about 700 songs, of which around 85 have been placed and recorded.
Osborne's long journey to being one of country music's success stories began when he started  penning songs as a young teen. By the time he was 18, he had scored a publishing deal, but it wasn't until a decade later that he started reaping commercial success.
We are pleased to do this new Q&A interview with Josh Osborne. Osborne, who is signed with hit songwriter Shane McAnally's music publishing company Smack Songs, tells how he got started as a songwriter. He also discusses what led to his later success, and how he wrote some of his hit songs.
BC: When did you know you had what it takes to be a songwriter?
Osborne: I don't know. I think I never thought of things in a grand scale like how you're describing it. I just knew I loved music. I was in bands. I started writing songs when I was about 13-years-old. I started coming to Nashville when I was 15 or 16 and actually met a couple of writers that had staff writing deals. They saw me play at open mic nights and things. I think they could see some potential there. Getting that affirmation of other people thinking I was doing a good job, and thinking I had something to bring to the table gave me a lot of confidence. There was never necessarily a light bulb moment for me. I really enjoyed doing it. Once I found other people that were willing to encourage me to do it, I was off to the races at that point.
BC: Did you always want to focus solely on the songwriting, or did you want to pursue performing too?
Osborne: When I first moved to Nashville, I think I came here more with the intent of writing and singing my own songs, mostly because I didn't know that writing songs was an option, to come here and be a full-time behind-the-scenes songwriter. Once I moved here and started writing songs with people, I really fell in love with that part of it. I never had that same kind of love for doing the singing part of it. I think of myself more as a vehicle for the song. I want it to be more about the song than me, so I like doing writer's nights and playing songs for people. It's more because I want them to notice the songs and not me.
BC: You got your first publishing deal when you were 18. How did that come about?
Osborne: I will say in full disclosure I definitely was not ready for that deal, and I definitely wasted a lot of their money trying to figure out what the heck I was doing. I moved here in '98, and it was kind of right at the end of the big country boom. At that time, publishers were still taking a shot on a young writer. There was a guy at Warner/Chappell Music named Jerry Smith, and he saw me perform at an open mic night at Cafe Milano, which was a songwriter club in Nashville at the time. He saw some potential. At that time they signed me to an artist development deal where they would develop me as a writer for a year and maybe showcase me and see if people liked my voice. A lot of that was where the seeds were planted of me realizing how much more I loved writing the songs than necessarily singing them. I came here at a time when people were still taking a shot on undeveloped or really raw talent. I was definitely very raw. Unfortunately, for them, I wish it would have worked, and I wish I would have been ready, but it was the first step in a long journey for me.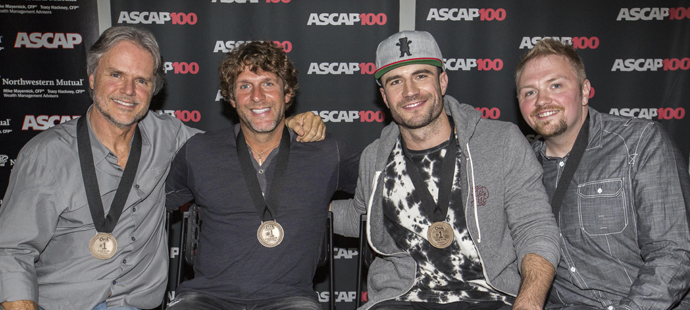 BC: What do you view as your first success as a songwriter?
Osborne: There was a moment for me probably around 2007. I had written with a guy named Trevor Rosen at least once a week for about three years. Trevor came in to write one day and said, "What do you want to write today?" I said, "They don't cut anything we write anyway. Let's just write something we like, and something that when we leave the room, I want to get into my car and listen to it, or I want to be excited to play it for people as opposed to trying chase a cut or chase what's on the radio." From that moment, my brain started to work differently, and I started to write songs in a different way. That was a big turning point for me. Around that same time, I met (hit songwriter) Shane McAnally. Shane didn't really have a lot going on either. He didn't have a publishing deal. We met at the right time where we were both right on the cusp of things starting to happen. He was another big thing for me.
For some reason at that point, I started to feel like success was attainable. You've got a lot of years where you write songs, and you honestly feel like I'm never going to get a song recorded. That day with Trevor and meeting Shane–those were the two big moments where all of a sudden I thought I'm going to do this. It's going to work out.
BC:  When do you know it clicks for you with a particular songwriter?
Osborne: I think you have to find a group of like-minded people, and sometimes it takes a couple of writes before you understand that. In coming to town so young, I really feel like I learned to co-write with people before I really learned to write by myself. I do feel like I'm a good co-writer. Sometimes it's just a gut instinct. Sometimes you work with somebody and you think, this person challenges me in ways that other people don't, or this person lifts me up in spots where I need help. I think to be a co-writer, for me anyway, you have to take your ego out of it. You walk into the room and go, "I'm in the room with this person—they bring something to the table, I want what they bring to the table. For me, a lot of it is instinct. Some people you sit in a room with and you generally enjoy being in the room with that person and you have a confidence that when we leave the room, this is going to be a really good song. There are a lot of people I really enjoy writing with. There's probably only a handful of people that I feel that confidence level that when I walk out of the room, this song is as great as it could be.  Those people are hard to find, and it's a lot of trial and error.
BC: What do you think is your strength that you bring into a writing session?
Osborne:  That's a hard one. I'm not real big on self-analysis. I would like to think in a perfect world that I can sort of do whatever needs to be done in a write, not that I'm great at any of it or all of it. I feel like I'm a little bit of a utility man when it comes to writing. I write with people that don't play the guitar when they write, and then I have writes where I go and I don't even take a guitar.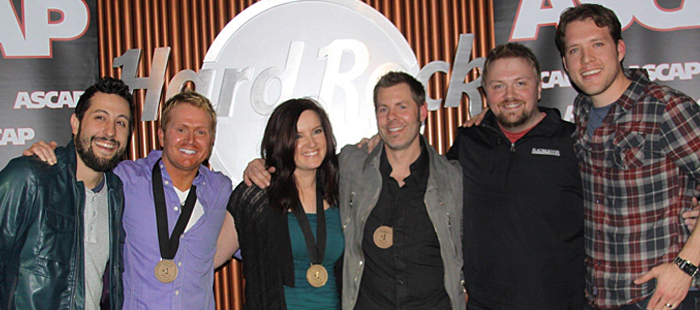 If I were going to broad brush it, I would imagine people would think I'm probably stronger melodically. I'm not necessarily a lyrical driver. You know how when you watch a football game and you have the play-by-play commentator and the color man. I feel like I'm probably lyrically more the color man. If somebody else is laying the bed out for me, I'm able to throw lines out there, or I'm able to grasp onto the concept and throw things out that maybe color up a lyric.
BC: What's the story behind your Grammy-winning song, "Merry Go Round (co-written with Kacey Musgraves & Shane McAnally)?
Osborne: We went to Texas to do a writers retreat with Kacey. She had just gotten a record deal, and she was starting to put together the bones of an album. Kacey had a few songs that she liked, but she felt like she needed more songs. She's from Golden, Texas, and Shane McAnally is from Mineral Wells, which are both kind of close to Dallas. Me, Shane, Kacey, Luke Laird, and Brandy Clark flew down to Dallas, and then we drove out to the Crawford Ranch, which is out in a little town called Strawn, TX. Before we drove out to the ranch, Shane's mom in Mineral Wells was having a 4th of July cookout. One of Shane's friends asked Shane's mom about a neighbor down the street. 'I noticed the neighbor down the street has a bunch of cars parked outside their house. Are they running a business out of there, or are they having a party or what?  Shane's mom said they're selling Mary Kay or Mary Jane or something. I said to Shane, that's a hook for a song. There's some kind of song in that. We started talking about all the different ways you could use Mary as a name, as a feeling.
We drove out to the Crawford Ranch, and we pitched the idea to Kacey, and she loved it. At first Shane and I thought it was maybe a little bit more tongue-in-cheek and fun. Kacey said I think there's something to this about broken people in a broken small town. We all came from small towns, and I think a lot of our real lives came out in that song. I grew up in a coal-mining town (Virgie, KY), so the whole line about "counting little boxes in a row," for me, that was the little coal-mining houses that they built on a side of a mountain. That song was such a representation for me from my heart of where I grew up.
We finished the song, we broke for lunch, we drove out to find lunch somewhere, and the only restaurant in that area of Strawn, TX is a place called Mary's. (chuckles) We went there to eat, and we were like I think this is a sign.
BC: How did Blake Shelton's hit "Sangria" develop?
Osborne: I had that title, and I originally thought it was a girl's song because Sangria is not like a guy's drink. Shane really dug the idea, and we got into the write with Sara (Evans), and the idea just didn't fit. I probably held onto that title for a couple more months. One day I was writing with Trevor Rosen and J.T Harding. I started trying to think how would a guy sing a song called "Sangria." How would a guy be able to make that believable? I stumbled onto the idea of the girl's drinking Sangria, and he's tasting it on her lips. I started messing with that, and I kind of had the chords going. It's kind of the same pattern repeating in that song.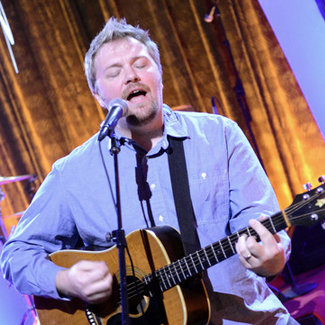 Trevor said I think it would be great if the chorus did an odd phrasing. He started playing different chords, and it felt so perfect. J.T. started singing all these cool cadence things for a bridge, and the song just organically fell out in about three hours.
That was another one that really had a lot of emotional meaning for me because—Trevor and I—this year is our tenth year writing songs together, and "Sangria" was finally our first number one hit together.
BC: You're known for writing songs in the country music genre. Would you like to write in a different genre?
Osborne: I love writing in Nashville. I've gone out and done a couple of things in L.A. It's a whole different way of writing. I have tremendous respect for pop music the way it's written. It's harder to get into. I think you would almost have to go there and really get immersed in it and learn how they do it.
I don't know which one is which, but in my brain, it's almost like the difference between college football and the NFL. It's the same game, but it's played differently. Selfishly, as a songwriter, I want as many people as possible to hear something I've written. That's the goal of any songwriter. I also have a compass that I feel like I have to stay very true to, and I just don't know if that's what I'm meant to be doing.
BC: What advice do you have for songwriters?
Osborne: Try to take the end result out of the equation. If your focus is…I want to write songs because I want to make a million dollars, I swear to you I don't know if you'll ever make a million dollars. I think you have to write songs because you really enjoy doing it, and it's something that you want to express. I think you have to love the process more than you love the end result. If you're going to make the choice to move to Nashville or Los Angeles or New York and be somebody who chases the career of being a professional songwriter, I think you have to be willing to accept that you're writing the songs for yourself because you have to write songs that you're happy with.
I've been very successful. In the last five or six years, I've had like 85 songs recorded, but over the last five or six years, I've probably written 700 songs. Even somebody that's in a very rare position that's having a lot of success, still the majority of my stuff is not being heard. I think you have to understand that you're writing the majority of the stuff for yourself. You have to write songs that you're proud of because if you like them and you're proud of them, somebody else is going to like them.
I know it's so hard…I've been there. I've been that young writer who's like, if I can just get Kenny Chesney to record my song, I'll be okay. If I can get in a room and write with Shane McAnally, I can have a hit. Those things may be true. But you have to focus on what you can control, and the only thing that you can control in this whole business is what happens when you're in that room writing that song.
The hardest part of this business is feeling like you're doing something wrong. You have to not get discouraged. You're not doing something wrong, but you maybe aren't to the point where you're doing it the best you can. You will reach that point, but you just have to keep doing it.
Bill Conger is a freelance writer for various publications including Bluegrass Unlimited, GACTV.com, Bluegrass Music Profiles and ParentLife. He can be reached at [email protected].He is also on Google+