Josh Cisneros' (of the band VIDA) "Chance Like This" Named August "Best Song Of The Month"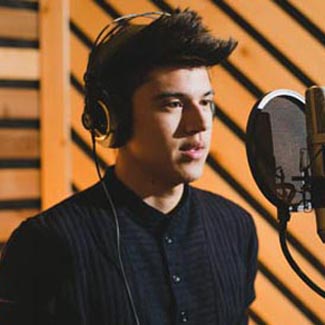 Josh Cisneros, a pop/alt. singer/songwriter based in Orange County, CA, has won the SongwriterUniverse "Best Song Of The Month" Contest for August, for his song "Chance Like This" (co-written by DJ Deneve). This song has been recorded by Cisneros' band VIDA, which formed nine months ago and has already attracted interest from top labels and producers.
"Chance Like This" is a contemporary pop/rock ballad which sounds ready for radio airplay. The highlight of the song is its soaring melody in the chorus, which allows Cisneros to sing powerfully in a higher range and convey the emotion of the lyrics. This recording features the adept playing by the VIDA band members: Jerry Saldana (lead guitar & piano), Francisco Gonzalez (rhythm guitar), David Barrera (bass) and Gustin Flaig (drums). "Chance Like This" was expertly produced by Daniel Martin & Joshua Brooks.
Cisneros, who is 22, grew up in Orange County and started playing guitar at a young age. He was inspired by listening to such favorite artists as Coldplay and OneRepublic, and he formed his first band, called Southlen, when he was 14. Cisneros recorded two full albums with Southlen, but he decided to leave the group at age 18, and focus on his singing & songwriting, which led to the eventual forming of his current band, VIDA.
It was in December 2014 that things picked up for Cisneros in several ways. He signed with the indie label Hourglass International Records (owned by Daniel Martin & Stefani Rose) and signed a management deal with industry veteran Robin Godfrey-Cass of Forefront Management. It was also during this time that Cisneros formed the band, VIDA, and they recorded 10 songs within a two-month period.

Here's a video of VIDA performing their song, "Call On Me."

Then in the first half of 2015, VIDA quickly caught the attention of two top, music industry icons: hit writer/producer Rodney Jerkins and Lava Records CEO, Jason Flom. "We played (separate) showcases for both Rodney and Jason," said Cisneros. "It was around this time that I wrote 'Chance Like This', because I was amazed to get a chance to showcase for these top music pros."
As it turned out, these showcases didn't result in a label deal, but the band is forging ahead, writing & recording new songs and playing live gigs (they recently played shows at the House of Blues club). It's clear that with radio-ready cuts such as "Chance Like This" and their new single "Tell Me," Cisneros & VIDA will be building momentum that should lead to new deals and greater exposure.
Top Five Songs Of The Month
Here are the Top Five Songs which were submitted for this month's contest, with the songwriter credits, plus their e-mail and website links. You can listen to the winning songs by clicking the music players below.
"Best Song Of The Month" Winner
Song Title:
"Chance Like This"
Written by:
Josh Cisneros (of Orange County, CA) & DJ Deneve. Performed by VIDA.
More Best Songs Of The Month