JKash Co-Writes Big Hits With Meghan Trainor, Maroon 5, Jason Derulo, Kesha And Other Artists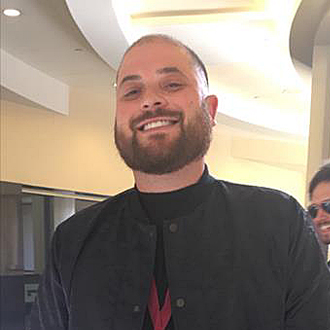 JKash (whose birth name is Jacob Kasher Hindlin) has gradually emerged as one of the top songwriters in pop music. During the past seven years, he has co-written an impressive six Top 10 pop hit singles for Meghan Trainor, Maroon 5, Jason Derulo, One Direction, Kesha and Cobra Starship. He's also co-written other chart singles during this period.
JKash is currently on the charts, co-writing with Meghan Trainor (and Ricky Reed) her hit single "No," which reached #3 on the Billboard Hot 100. Notably, he co-wrote Trainor's brand new single "Me Too," plus three other songs for her just-released second album, Thank You. He also co-wrote Jennifer Lopez's latest single, "Ain't Your Mama."
Originally from Virginia and now based in Los Angeles, JKash started out as a rapper, but he eventually decided to focus on writing songs for other artists. He had his first hit in 2009, co-writing the hooky "Good Girls Go Bad" for the band Cobra Starship. A year later (in 2010), he co-wrote the #1 hit "We R Who We R" for Kesha. This was followed by his Top 10 hits "Wiggle" (for Jason Derulo), "Sugar" (Maroon 5), and "Perfect" (One Direction).
Other chart singles co-written by JKash are "I Really Like You" (Carly Rae Jepsen), 'Here's To Never Growing Up" (Avril Lavigne), "Round And Round" (Selena Gomez & The Scene), and "Slow Motion" (Trey Songz).
In addition, JKash has had cuts with a wide range of artists, including Nicki Minaj, Fifth Harmony, 5 Seconds of Summer, Weezer, Nickelback, Lifehouse, Flo Rida, Charlie Puth, Britney Spears, Jessie J, Natasha Bedingfield, Ciara, Juicy J, Kylie Minogue, Bebe Rexha, Jesse McCartney, Leona Lewis, Cher Lloyd, Zara Larsson, Rixton, Becky G and Lil Wayne.
JKash is represented by AAM (Advanced Alternative Media) management company.
We are pleased to do this new Q&A interview with JKash. He tells how he got started, and discusses how he works as a songwriter. He also talks about his current hit "No" with Meghan Trainor.
DK: How did you get started in music? Were you also an artist, or have you always focused on songwriting (for other artists)?

Here's the video of Meghan Trainor's hit single "No," which was
co-written by JKash."\
JKash: I'm actually a washed-up rapper from Virginia Beach. My dad was always the one who encouraged me to write songs for other people. Then, when I realized he was right, and that I did suck at rapping, I made the transition to songwriting, and moved to Miami.
DK: Do you mostly write topline (lyrics & melody), or do you also create tracks and production?
JKash: Melody and lyrics, but I would have to say that lyrics and concepts are my strong suit…even more so than melody. Production-wise, I'm more like Puff Daddy, in the sense of being a conductor and saying shit like, "that's dope," or, "I'm not feeling' that," but I don't take production credit away from the producers that are putting in the real hours that it takes to complete the production side of the song.
DK: You currently have a big hit, co-writing "No" for Meghan Trainor. How did you, Meghan and Ricky Reed write this song?
JKash: Ricky is a friend and a producer I work with consistently. Ricky, Meghan, and I had already made a few songs for her record, and had an undeniable chemistry. Meghan called me one morning, and told me to get to the studio and that we needed to write something crazy. I actually came up with the general idea for the chorus in the car on the way studio, and then when I got there, we collectively made it happen. Meghan and Ricky are by far two of the most talented people I've been lucky enough to work with.
DK: You've co-written several hit songs which are super catchy, like "Good Girls Go Bad," "No" and "I Really Like You." Do you feel that's one of your strong points, creating terrific hooks for songs?
JKash: I'm just constantly coming up with shit, and sometimes I get lucky.
DK: As a songwriter, what's a typical week for you? Do you have writing sessions on most days?

Here's the video of Maroon 5's hit song, "Sugar," which was co-written
by JKash.
JKash: I go to the studio every day, but don't necessarily write a song every day. I try to find inspiration and make ideas that are really great, but it doesn't happen every day. As far as writing sessions go, I have a small group of people that I work with. I also mainly work directly with artists.
DK: For new songwriters who are trying to break into the music business, what tips can you offer that might help them succeed?
JKash: For me, I work backwards. In the sense that I don't always know what's good, but I can usually tell when I make something that's not good. The reality of the situation is, out of 100 ideas, there might only be one or two that's great. It's about identifying those one or two…don't know if that totally helps, but that's what I got.