Jimmy Robbins Co-Writes Seven #1 Country Hit Songs, For Jason Aldean, Jake Owen, Blake Shelton, Thomas Rhett And Other Artists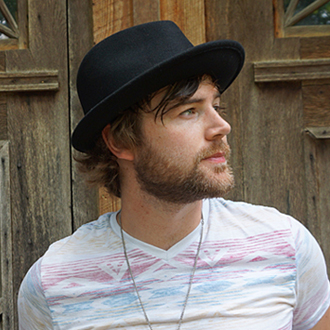 Hit Nashville songwriter/producer Jimmy Robbins cut his teeth in the music business at a young age. When he was only 14-years-old, his mother died, and not long afterwards, he quit school and began playing guitar in a touring band. By the time he was 18, Robbins landed his first record deal with Universal Motown, but he soon discovered his true passion as a tunesmith. After a short stint in Los Angeles, the North Carolina native moved back to his Southern roots in 2012 and quickly landed a deal with Keith Urban's music publishing company.
Over the last four years, Robbins has scored seven #1 country hits including Blake Shelton's "Sure Be Cool If You Did," Thomas Rhett's "It Goes Like This" (which was the 2014 ASCAP Song of the Year), the Keith Urban/Miranda Lambert duet "We Were Us," David Nail's "Whatever She's Got," Jake Owen's "Beachin'," and Jason Aldean's "Lights Come On," and as a co-producer for Canaan Smith's "Love You Like That." Notably, Robbins also co-wrote three key songs on Miranda Lambert's album Platinum, which won the Grammy Award for Best Country Album.
In addition, Robbins was the 2014 ASCAP Breakout Writer of the country genre and the 2014 ASCAP Song of the Year award winner. He has also helped produce for Thomas Rhett, RaeLynn (from The Voice), and Levi Hummon. Robbins is now signed with Round Hill Music publishing company.
We are pleased to present this new Q&A interview with Jimmy Robbins, who is enjoying his first few months of wedded bliss. He talks about the different mindsets of Los Angeles and Nashville songwriters, the stories behind some of his hit songs, how his production skills help in the pitching process, and how he got into a bit of trouble with his former boss, Keith Urban.
BC: Congratulations on your recent wedding to songplugger, Sarah Boddie. Are you able to turn off your songwriters' cap during a special time like that, or are you tuned in even more to writing about love, etc.?
Jimmy Robbins: You're never really off. It's not a bad thing because it's part of who you are. I definitely am inspired by my wife all the time always for the love songs, though (laughs).
BC: You started out quickly at a young age, with a Universal Motown record deal. What were your ambitions early on—artist, songwriter, both?
Robbins: It started as an artist. I performed my songs because I loved writing songs. I didn't grow up knowing that you could be a songwriter. When I signed with Motown, I was 17, and I had never co-written a song before. When I was writing that record for them, they set me up with a ton of writers. I said, "Wait…Let me get this straight. You don't have to sing. You just write?" Oh, that's what I want to do. I fell in love with the writing side. That's always been more of my passion anyway was just about the songs. I sang them more out of necessity than anything else.
BC: You've also written a lot of pop toplines for Disney. How did that relationship with Disney start?

Here's the video of Jason Aldean's hit "Lights Come On," which was
co-written by Jimmy Robbins.
Robbins: Most of the songs that I had success with over at Disney was on the artist side. That relationship came about from my time on Motown. I had a couple of singles do pretty well on Radio Disney. Through that I toured and played with some Disney acts. As far as to actually have some things you would know, that didn't really happen until I got to Nashville. I had tons of close calls in L.A., and I was really close to have some things start to happen. In a lot of people's minds it was probably a terrible time for me to move, but I had really gotten homesick for my family and for the South.
BC: What do you see as the similarities and differences between L.A. and Nashville music scenes?
Robbins: The process is pretty different. Neither is good or bad—they're just different. Writing sessions in L.A. can start later. In Nashville, you have a lot of people that really treat it like a job in the sense that they go into work, get there about 9 or 10 (am), and then they leave at 4 or 5 (pm), and go home. We tend to write more songs here than a lot of L.A. writers. A lot of the guys in L.A., they'll write 40 or 50 songs in a year whereas here sometimes we'll write 200-250 a year.
BC: That keeps your songwriting chops up, doesn't it?
Robbins: Yeah. It would be impossible without co-writing. I can't tell you how many sessions I go into just completely out of inspiration or ideas. But you sit down with somebody and start talking and pretty much 100% of the time something happens. Somebody says something. You're like…well, that'll be cool.
BC: Do you prefer to co-write?
Robbins: Yeah, I do. The give and take I think is really important. I still make a point a couple of times a year to try to write by myself just to flex that muscle a little bit and work on it. Another side of it is there are so many talented writers here—to even have time to all write with each other–you have to co-write pretty much every day if you want to get in the room with the people that you want to get in the room with.
BC: You've gone on to have seven #1 songs. One of them is Jason Aldean's "Lights Come On." You had five other songwriters in the room writing that monster hit. Were you guys just throwing a big party (laugh)?
Robbins: That was a funny session. It was actually an accident. It was a double booking. There was one session that was supposed to be Florida Georgia Line with me and Jordan Schmidt and then there was another session that was supposed to be Florida Georgia Line with The Warren Brothers. We wound up writing three songs that day. That's a lot of people to have in the same room, but it was a blast. We wrote that song on a Friday, and it got recorded Monday. That was definitely the fastest cut I've ever gotten, and then it went to radio like a month later. It was pretty awesome the way it all worked out.

Here's the video of Jake Owen's hit "Beachin'," which was
co-written by Jimmy Robbins.
BC: You also had a hand in writing Thomas Rhett's hit, "It Goes Like This." What's the story behind that song?
Robbins: That was a really important song for me because I wound up becoming really good friends with Thomas. That was his first number one, and it was also my first session with his dad, Rhett and Ben Hayslip. I was very intimidated that day because I had no business writing with those guys. They were way out of my league. Where the actual song came from we couldn't figure out what to write, and Rhett was playing a ukulele that was just sitting on the couch and started playing a little bit of what became that riff. We were like, 'What was that?' And he literally said, "Well, it goes like this." It sort of fell out like from there. We were like well that sounds good. We wrote a song about a song.
BC: What is your biggest strength as a writer?
Robbins: I do the production side as well. Everything that we write, I kind of come at it from a big picture angle because I know that I'm going to be doing the track on it. We get it done fast. If we write a song, then we have it demoed that same day. There really is strength in turning in five pitchable demos in a week as opposed to writing songs and next week writing five and then booking a demo session. It really does help because people may be cutting tomorrow, so they can hear what we wrote today.
BC: What's the story behind Blake Shelton's "Sure Be Cool If You Did"?
Robbins: That was one of the very first sessions I did once I got signed to my publishing deal. Because I was tied to Keith Urban's publishing, they set us up to try to write a song for Keith. Rodney Clawson and Chris Tompkins had so much success, and they write so much together, I was definitely intimidated walking on. Rodney came in with the idea. He had just been watching that movie, Dazed and Confused. In that movie, Matthew McConaughey's character asked somebody if they had cigarettes or something. They said no, and he said, it'd be a lot cooler if you did. That sort of turned into a hook for that one.
That was another fast one. That one got recorded within two or three weeks of us writing it, and then went to radio within two or three weeks after that.
BC: How do you feel like you've grown as a writer?
Robbins: I have learned a lot from writers like Jon Nite and Nicolle (Galyon) about fighting for the lyrics and fighting for the hook to be set up as well as it could be. They're such good lyricists, and they fight for a lot of color in their songs. I feel like that's something I've worked on a lot in the past couple of years from a lyrical standpoint because I was always very melodic, and I wrote lyrics. I was writing by myself when I had to, but I've learned a lot about how to make a lyric carry more weight.

Here's the video of Thomas Rhett's hit "It Goes Like This," which was
co-written by Jimmy Robbins.
BC: What's the latest happening with you?
Robbins: I have a couple of tunes right now. There's a girl name RaeLynn. She, Nicolle Galyon and I actually wrote a song four years ago that sort of stood the test of time with us. It was one that everybody in Nashville knew about it, but it never came out. Nicolle and I produced this song ("Love Triangle") for her, and it's her first single. It just went to iTunes, and it's been a pretty awesome start. It's about divorce from the child's perspective, but It's been a special one for me already because I've got messages from Lori McKenna, Tom Douglas, and all these writers that I look up to telling me how much they appreciate what the song is saying. I hope it's a big hit, but either way it's already been a very important one for me.
I also produced and c0-wrote Trent Harmon's new single, "There's a Girl." He just won American Idol the final season. I co-wrote Michael Ray's current single, which has just gone Top 40.
BC: What advice do you have for up-and-coming songwriters?
Robbins: One of the best things that I feel like you can tell somebody to do, is to just not quit. There are so many no's before your first yes, and then there's so many no's after your first yes. You see people be really quick to throw in the towel, but if you really want to do this, you just have to dig in and keep doing it and write a bunch.
I'm still growing and learning. We're all still getting a little better every day. There's really no shortcut to it other than writing, keep showing up, and being nice. So much of this job is sitting in a room with people, and if you don't enjoy your day together, you're probably not going to do it again even if you write a great song, because so much of it is about camaraderie that goes into each writer.
Bill Conger is a freelance writer for various publications including Bluegrass Unlimited, ParentLife, Homecoming, and Singing News and is currently writing a biography on The Osborne Brothers with Bobby Osborne. He can be reached at [email protected]. He is also on Google+