Top Nashville Songwriter and Artist Jeffrey Steele Talks About Writing His Hit Songs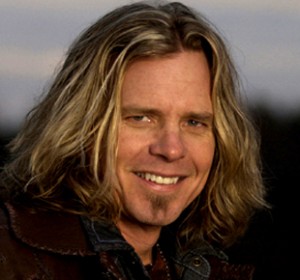 BMI's 2007 Country Songwriter of the Year, Jeffrey Steele, continues to have that Midas touch with everything he comes into contact seemingly turning into gold.
To start off the New Year, the country music hit-maker sat atop the Billboard Hot Country Singles Chart for two straight weeks with 'Here,' a song he co-wrote for the CMA Group of the Year, Rascal Flatts. 'Here' is the fourth number one song that Steele and Steve Robson have written for Rascal Flatts — joining, 'What Hurts The Most', 'My Wish', and 'These Days.' He also traveled down the red carpet at the Golden Globes and Critics Choice Awards for 'I Thought I Lost You,' a song he and Miley Cyrus wrote for the Disney animated feature, Bolt. It was nominated for Best Original Song for Motion Picture at both events.
The high praise and nominations the California native (who was born with the name Jeffrey LeVasseur) has been enjoying is the pinnacle to a tall mountain Steele has been climbing since his start in the music business.'I played at all the local Battle of the Band contests, and that led to a gig here and there and that lead to my first road gig,' Steele recalls.
In 1990, the vocalist/bassist hooked up with three other guys — Hugh Wright (drums) and brothers, Cary (guitar) and Larry Park (guitar) — to form the country band, Boy Howdy in 1990. The group enjoyed small success with the hit singles 'A Cowboy's Born With a Broken Heart,' 'She'd Give Anything,' and 'They Don't Make Them Like That Anymore' – before disbanding in 1995.
These days Steele juggles a multitude of other responsibilities including producing, recording, judging on NBC's Nashville Star, and performing. He's working on projects with Montgomery Gentry, ZZ Top, Keith Anderson, and new acts, Lo Cash Cowboys, Pearl Heart, and Ryan Weaver.
Even though he's not always cranking out tune after tune, Steele is still one of the most prolific songwriters in Nashville. He has penned more than 300 songs that have been recorded in the last seven years including the number one singles, 'The Cowboy in Me' (Tim McGraw), 'Something To Be Proud Of' (Montgomery Gentry) and 'Brand New Girlfriend' (Steve Holy). BMI has recognized him for more than 25 million airplays for 'Chrome,' 'Hell Yeah,' 'Help Somebody,' 'Unbelievable,' and 'My Town.' For the eighth year in a row, he made the Top 5 Songwriters cut on Billboard's end of year list.
'Some months when I'm on the road, I just write notes and thoughts,' says Steele. 'Some months when all I'm doing is writing, I'll write from 10 to 20 songs, but I'm always searching for the next one, the better one. But each day is different. There are no groundhogs here.'
Nor is Steele a lone muse floating along in Music City's creative sea. Last year alone he collaborated with a host of other songwriters like Billy Gibbons of ZZ Top, Phil Vassar, Jewel, John Rich, Ricky Young, Tom Hambridge, Stevie C., Sebastian Bach, Shane Minor, Dean Dillon, Rachel Tibodeaux, David Foster, Mac Davis, John Shanks, Kara DioGuardi, Miley Cyrus, Craig Wiseman, Bob DiPiero, Tony Mullins, Bobby Pinson, Jesse Littleton, Pearl Heart, Melissa Lawson, Ashlee Hewitt, Chuck Jones, Marti Frederiksen, Vicky McGehee, Gretchen Wilson, Hilary Williams, Nick Carter, and Lo Cash Cowboys.
'I just try to find the story in the room that whomever I'm with,' he explains. 'I may write music one day, lyrics the next, and then, both on the following day. It's never the same. Maybe piano or guitar or a drum machine will be my tool or just a melody in my head.'
Regardless of conception, all his compositions are precious babies to him. So, is there any way to pick his favorite songs that he has written?
'Hate this question cause everyone who asks it hates the answer — all the new ones!' Steele answers with a laugh.
It's good that he has a sense of humor, especially in today's declining market in the music industry. CD sales are tanking, which spells declines in mechanical royalties. Having a hit single is essential to earning a strong performance income.
'It's the same as always for me,' Steele asserts. 'I want a great song. If you take care of that the biz comes to you.' Still, he urges up-and-coming writers to be cautious and be armed with knowledge. 'It's wild out there so get some guns. Learn what's going on, [and] take the time to protect yourself. Wisdom is key; work smarter, not harder. But it don't mean s***, if your lyrics suck.'
Steele, who sponsors a songwriting boot camp each year, tells songwriters to not let their fears paralyze them from getting off the sidelines and into the game. 'Remember failing numerous times is the first step of success,' he says. 'You can read all you want, but you must get out there.'
'I would tell you to cut any net from under you and let yourself fall,' Steele advises. 'Live a story so you can write one.'
Bill Conger is a freelance writer for various publications including Bluegrass Unlimited, GACTV.com, Bluegrass Music Profiles and ParentLife. He can be reached at [email protected].He is also on Google+