Acclaimed Singer/Songwriter Janis Ian Talks About Her Great Career, From Her Hit "At Seventeen" To Her New Album, The Light At The End Of The Line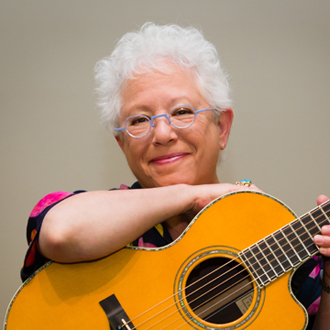 From her 1967 debut hit "Society's Child" when she was just 14, to her excellent new album The Light at the End of the Line, Janis Ian has had a legendary career as a Grammy-winning singer/songwriter. Remarkably, her career has spanned 55 years with over 20 albums released, and she recently received her 10th Grammy nomination for her latest album.
Ian is probably best known for her classic hit "At Seventeen" and her 1975 album, Between the Lines, which reached #1 on the Billboard album chart. "At Seventeen" was an exceptional, uniquely honest song, that captured the essence of what many teenagers feel at that age. Notably, Ian won the Grammy Award for Best Female Pop Vocal Performance for "At Seventeen."
Between the Lines is considered by many to be Ian's best album, but in her career she has written and recorded many acclaimed albums including Stars (in 1974), Aftertones (1976), Miracle Row (1977), Night Rains (1977), Breaking Silence (1992) and God and the FBI (2000).
SPECIAL FEATURE: STREAMING AUDIO

Here's an excerpt of our interview with Janis Ian, who tells how she wrote her new song "I'm Still Standing," from her Grammy-nominated album, The Light at the End of the Line.
Impressively, Ian has created one of her best albums with her 2022 release, The Light at the End of the Line (on her label, Rude Girl Records). Several years in the making, Ian took her time to write the songs and complete the recordings. The album includes such standout songs as the opening cut "I'm Still Standing," "Resist," and the heartfelt ballads "The Light at the End of the Line" and "Wherever Good Dreams Go." Notably. Ian's Grammy nomination for this album (for Best Folk Album) comes a half-century after her first Grammy nomination in 1967.
Ian was born in Farmingdale, New Jersey, and she was a musical prodigy as a young teenager. Writing & recording her debut hit "Society's Child" in 1965, she subsequently released six albums prior to her multi-platinum album, Between the Lines. On her album, Stars (her first for Columbia Records), she displayed major development as an artist, and the album included her song, "Jesse," which was recorded by Roberta Flack and became a hit.

Here's the audio of Janis Ian's new song, "I'm Still Standing."
Over the past year, it's been a mixed blessing for Ian. On the positive side, she released her The Light at the End of the Line album to critical acclaim and a Grammy nomination. However, while she was on tour in 2022, she caught a virus that unfortunately resulted in her vocal cords being scarred. Because of this condition, Ian can no longer sing at the peak of her ability, so she will be unable record new albums or tour.
Nevertheless, Ian remains active in other endeavors, and she's looking forward to compiling a new album of duet songs that she has previous recorded. Over the years, she has sung and collaborated with a wide range of top artists, so this upcoming duet project should lead to another solid album.
Janis Ian Interview
We are pleased to do this new Q&A interview with Janis Ian. She discusses her classic songs "At Seventeen," "Society's Child" and "Jesse," and her new album, The Light at the End of the Line.
DK: "Society's Child" has a powerful lyric statement (about an interracial romance). What inspired you to write this song?
Janis Ian: I was sitting on a bus in East Orange, New Jersey, where I was living with my parents, and I saw it happening around me. I saw black kids and white kids dating, and the parents not really wanting them to date. And so far as I remember, that's what started it off. I'd been writing songs for about two or three years, and as songs do, it took on a life of its own.
DK: After "Society's Child" was a hit, several years passed before you had a hit with "At Seventeen" and released your album, Between the Lines. Can you talk about the albums you released during this period?
Ian: I did four albums for Verve/Forecast/MGM—one every nine months. Then I did an interim album for Capitol Records, before I was with Columbia Records. My album, Stars. was recorded for Festival Records, which was an Australian company. They ended up selling the rights (except for Australia and New Zealand) to Columbia.

Here's the video of Janis Ian's song, "The Light at the
End of the Line."
DK: Stars included your song, "Jesse", which became a hit for Roberta Flack. Can you talk about your Stars album, and writing "Jesse"? And how did Roberta decide to record this song?
Ian: It was pitched to Roberta by Burt Haber and a couple of other people who worked for Frank Loesser. He had Frank Music, which was a publishing company, and he was the only publisher who would take a chance on me. He gave me a room to work in with a piano, and had faith in me. They pitched it to Roberta for a long time before she decided to record it. She did a beautiful job—she convinced people that I was an actual songwriter and not just a one-hit kid wonder.
DK: I've always liked your classic album, Between The Lines, which included your hit, "At Seventeen". What inspired you to write this song, which was so open and honest?
Ian: To write something that honest and open was really difficult. From the first line off, I knew that I was taking on something and I wasn't sure I was ready for it. I had never heard anything that talked that latently about feeling ugly or feeling unwanted. Other songs touched on it, but they usually had a happy ending. And I was determined that "At Seventeen" wouldn't have a happy ending. It wouldn't say…"Then I grew up and I became beautiful and I lost weight and my skin cleared up and everything was fine." I wanted it to stay true to itself, and it took a long time to write it.
There were a lot of times when I wasn't sure that I had the experience as a writer to be able to say what I wanted to say, in the way that was elegant and yet understandable. I wanted everybody to be able to understand it. I wanted to hit the universal, because I felt  "Society's Child" had hit a universal, and I'd been striving toward that ever since. "Jesse" hit a universal. A lot of (my new album) A Light at the End of the Line hits a universal. That's a hard thing to reach if you're working as a songwriter.
DK: There are music fans who know your hits and your Between the Lines album, but they might not be familiar with your other works. For those fans, which albums would you recommend that they check out?

Here's the audio of Janis Ian's hit, "At Seventeen."
Ian: From my point of view, I think my best albums are Stars, Between The Lines, Breaking Silence, and A Light at the End of the Line. That's from my point of view as a songwriter and a singer. If you're going to talk about pushing the envelope in terms of recording and stepping out a bit, Night Rains would probably be the one because it's got "Fly Too High" on it. We used a lot of synthesizers, and there's some amazing musicians on it. There's a duet with Chick Corea on it. And the Revenge and God And The FBI albums have duets with Chet Atkins and Dolly Parton. Those are all different sides.
DK: I like your new album, The Light at the End of the Line, which is your first album of new material in 15 years. What was your songwriting process for the album?
Ian: Most of the songs were written in the last two or three years. "Wherever Good Things Go" was a live performance that's about 10 years old. It was written for a friend of mine whose son had died. But the majority of the songs are relatively new.
One of the great benefits of growing up attached to major labels, is the freedom you find  when you're no longer attached. You don't have to do your shows around the newest album. You can concentrate on what your best work is. And there was a point in my life where I realized that I wasn't tied to a schedule…someone else's schedule. Once I realized that, there was a tremendous amount of freedom because I could wait until I had what I considered to be 11 impeccable songs as a songwriter. I didn't have to worry about studio time or budgets or whether certain people would work with me, or record company deadlines. And I had spent my whole life worrying about those things. So this was only the second or third album where I had absolute freedom.
DK: I like your new song, "I'm Still Stnading." Can you tell the story behind writing that song?
Ian: I started "I'm Still Standing" a long time ago. It took a long time to finish because I couldn't figure out really what I wanted to say about myself. I didn't want to turn it into those kind of "Rah-Rah, Look at me I'm triumphant" songs. I wanted to stay away from that flavor, but also acknowledge that I was in my 60s at the time, and still capable. You know what I mean? I don't know if it happens to men, but as women hit the age where people start calling you "Ma'am" and offer to carry your groceries (laughs). There's a point where it's nice and there's a point where it's just irritating. So it became important to me that I pay homage to the years, but at the same time, also acknowledge that the years aren't what count in the end. What counts is how you deal with them and how you perceive them.

Here's a video of Janis Ian performing four songs live.
DK: I also like your song, "The Light at the End of the Line." Is that about seeing closure, but putting it in a positive way, that there is a light at the end?
Ian: Yes. My tour manager kept joking about what to call my album and tour, because it was clear that it was going to be my last tour. At first, we called it The End of the Line Tour, and I finally said, "That's really depressing" (laughs). Why don't we call it The Light at the End of the Line?" So we did.
That was an interesting song to write, because I wanted to make it clear to fans that I'm really grateful to them. I've had a pretty close relationship with my fans these last 35 years, especially staying after every show and signing and meeting people. And they've been really good to me. They've been very supportive in ways that I wouldn't have expected. They are a part of my life. So I wanted to acknowledge that, and I wanted to make it broader. I wanted to make it a goodbye song, because I think one of the things that is really difficult in American society is the art of saying goodbye. Acknowledging death and parting, and yet doing it in a way that leaves hope.
DK: Currently, I've read that you've retired from touring, and this is your last album (of new songs).  But I also read that you'll be releasing a duets album. Can you talk about this new project?
Ian: The Light at the End of the Line is my last album, because I caught a virus in May that caused scarring on my vocal cords. So I had to cancel my remaining tour in the U.S. and my tours that were planned for overseas, and I won't be able to record any new albums. This is something I'm still getting used to. But my friend Jeff and I are sitting on literally hundreds of archival tapes of everything from shows to rehearsals to work tapes. And when I started thinking about a duets album, I thought…all I would have to do is assemble the songs that I've recorded with other people and put out an album of those. That would be fun, because I've gotten to work with people like Dolly Parton, Willie Nelson, Mel Torme and Chick Corea. So we're talking about that.
Here's the link to Janis Ian's site: https://www.janisian.com/