British Singer/Songwriter Jamie Scott Co-Writes New Hit "Cold Water" (for Major Lazer, Justin Bieber & MØ), Plus Several Hits For One Direction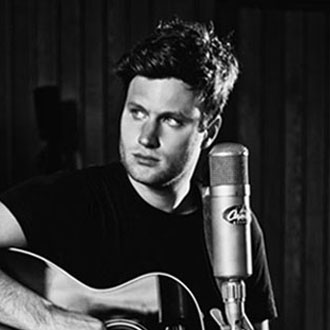 Over the past eight years, London-based singer/songwriter Jamie Scott has become a prominent hit songwriter, steadily co-writing hit songs for other artists. Impressively, he's co-written over 20 songs which have been recorded & released by multi-platinum group, One Direction, including the Top 10 U.S. hits "Story Of My Life" and "Drag Me Down."
On top of this, Scott currently has a new worldwide hit, co-writing the song "Cold Water" for Major Lazer, featuring Justin Bieber & Danish singer, MØ. This single zoomed onto the Billboard Hot 100, debuting at #2, where it remains after five weeks on the chart.
In addition to his career as a hit songwriter, he's also had success as an artist. His most recent album release is My Hurricane (in 2015), and he previously released albums under the group name Jamie & The Town, and as part of the duo Graffiti6, with Tommy D.
It was in 2009 that Scott got his first break as a songwriter—he co-wrote the song "Don't Go" which was cut by hit U.K. boy band JLS for their best-selling debut album. A year later, Scott co-wrote the single "Heartbeat" for Enrique Iglesias featuring Nicole Scherzinger, which was a Top 10 U.K. hit.
Then in 2011, Scott landed his first two cuts with One Direction, placing his songs "More Than This" and "Stole My Heart" on their debut album, Up All Night. He went on to co-write two songs on the group's second album Take Me Home, and a remarkable nine songs for their third album Midnight Memories (co-writing the hits "Story Of My Life," "Diana" and "Midnight Memories") . He subsequently co-wrote another nine songs for One Direction's fourth album Four, and six songs for their fifth album, Made in the A.M (including the hit, "Drag Me Down").
Scott has also had cuts with 5 Seconds of Summer, Little Mix, Colbie Caillat, The Vamps (their 2014 U.K. hit "Wild Heart"), New Kids on the Block, Michael Kiwamuka, Christina Perri, Marsha Ambrosius, Ella Henderson, Oily Murs, Tom Odell, Birdy, Jessie Ware and Alex & Sierra.
We are pleased to do this new Q&A interview with Jamie Scott. He tells how he got started, and he talks about his collaborations with One Direction, his new hit "Cold Water," and the new album he's working on as an artist.
DK: How did you get started with music? Was your original goal to be an artist, or to be a songwriter who would mostly write for other artists?
Jamie Scott: When I first became a songwriter, my most important goal was to write for other artists, and then when I was signed to my first publishing deal by Windswept, I was given the opportunity of signing a record deal for myself as an artist. So it all just happened in a natural way. I feel they both complement each other very well.
DK: I read that your first break was writing the song "Don't Go," which you wrote with (boy band) JLS for their big debut album. How did you hook up with JLS for this song?

Here's the lyric video of the hit "Cold Water" by Major Lazer featuring
Justin Bieber & MØ, which was co-written by Jamie Scott.
Scott: My first cut was "Don't Go" by JLS, and this came about by working with (producer/music exec) Brian Rawlings at Metrophonic.  He was one of the first people to get involved in my career as a songwriter for other artists and helped me get my first cuts. He hooked me up with Enrique Iglesias; I wrote a song called "Heartbeat" with Enrique and Mark Taylor in Miami which was my first single as a writer.
DK: You've had a great relationship, writing many songs for One Direction. How did you get started with the group, and how do you usually collaborate with them on new songs?
Scott: I wrote a song called "More Than This"—SYCO heard the record and loved it for One Direction just as they were on the show. So that was my first song recorded by the band. Going forward, I worked with them on every record and the process became a very different one than it was at the beginning. [This is] mainly due to the boys ridiculously busy schedule, but they were always very involved in the writing process; we spent a lot of time on the road with them writing and recording.
DK: I really like your song "Story Of My Life," which became a big hit for One Direction. How did you co-write this song?
Scott: This is one of my favorite songs that I've ever written; we wrote it in London specifically with 1D (One Direction) in mind. It was co-written with two of my best friends Julian Bunetta and John Ryan. We met while writing for the second 1D record, Take Me Home—we wrote two songs called "C'mon C'mon" and "She's Not Afraid". We went on to write over 20 songs with One Direction together.
DK: As a songwriter, is your strength writing the melody and lyrics, or do you also play many of the instruments and create the tracks?
Scott: I think I have written my best songs when [sitting] at piano or playing with guitar, so in truth I think I'm as good at one as I am the other. I like to be at the start of the writing process and develop ideas, rather than writing to tracks.
DK: You have a new hit, co-writing the smash "Cold Water" for Major Lazer (with Justin Bieber & MØ). How did this song come together?
Scott: I was in New York hanging out with Benny Blanco and Ed Sheeran came past in the evening and we sat down and wrote this song. It came about really quickly and then we just moved on. About a year later Diplo and the guys heard it and the rest is history.

Here's the video of the One Direction hit "Story Of My Life," which
was co-written by Jamie Scott.
DK: As an artist, you've recorded several albums, most recently My Hurricane in 2015. Are you currently writing songs for a new solo album?
Scott: Yes actually I have just started working on the new album that will come out next year. It is the first album I will have recorded for three years so I'm very excited.
DK: I read that you've also launched your own label and music publishing company (Catherine Records & Catherine Songs). What are your goals for these companies?
Scott: Simply to find natural talent whether it be songwriters or artists and give them a real chance to grow and have success.