James Pankow, Co-Founder Of The Band Chicago And Hall Of Fame Member, Talks About Writing Chicago's Hit Songs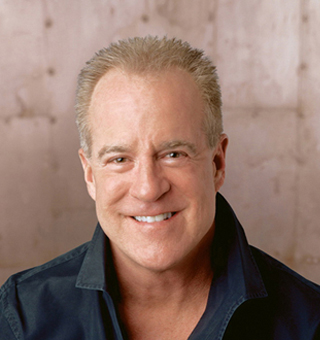 James "Jimmy" Pankow has long been known as one of the founding members of the legendary rock band, Chicago. As the group's trombone player, he has recorded and performed with Chicago for a remarkable 50 years, and the band is still going strong. Notably, Pankow and his bandmates were inducted into the Rock & Roll Hall of Fame in 2016.
What's lesser known, is that Pankow is an acclaimed songwriter and composer, who wrote several of Chicago's classic hit songs. Impressively, he wrote such enduring hits as "Make Me Smile," "Just You 'n' Me," "Colour My World," "Old Days," "(I've Been) Searchin' So Long" and "Alive Again," and he co-wrote (with Peter Cetera) the popular hit, "Feelin' Stronger Every Day." In recognition of his songwriting achievements with Chicago, Pankow, along with Robert Lamm and Cetera, has been inducted into the Songwriters Hall of Fame.
Pankow was born in St. Louis, MO, and when he was 8, he moved with his family to Park Ridge, IL (a suburb of Chicago). He was 10 years old when he first began to play trombone. Then while he was in college at DePaul University, he was recruited to join a band called The Big Thing, which would become the band Chicago Transit Authority, and later shortened its name to Chicago.
SPECIAL FEATURE: STREAMING AUDIO

Here's an excerpt of our interview with James Pankow of Chicago, who tells how he wrote (with Peter Cetera) the group's classic hit song, "Feelin' Stronger Every Day."
It was during college that Pankow learned to play piano. He wanted to be a composer, and he realized that he needed to play a polyphonic instrument (piano) to fully compose music. So he learned to play piano, compose music and eventually became adept at writing pop songs and lyrics.
Although as a songwriter, Pankow is best known for writing the hit songs listed above, he has consistently contributed songs to Chicago during their 50-year span. He wrote or co-wrote songs on each of Chicago's first 18 albums, and he continued to write songs for the band, including a song on Chicago's most recent studio album, Chicago XXXVI: Now (released in 2014).
We are pleased to do this new Q&A interview with James Pankow. He tells how he started to play trombone, and later become a jazz, rock and pop musician. He also tells how he wrote such classic songs as "Make Me Smile," "Colour My World," "Just You 'n' Me," "Feelin' Stronger Every Day" and "(I've Been) Searchin' So Long."
DK: Congratulations on being inducted into the Songwriters Hall of Fame. How does it feel to be honored for your songwriting?
James Pankow: It's a unique and very special honor to me; I'm humbled by the company (of great songwriters) that I am now part of. It's a validation for a life of writing music, for a life's work. And little did I know as a songwriter, when you're sitting at the keyboard and you're having a personal moment…you're writing down emotions or thoughts that you feel need to be expressed. And the next thing you know, it becomes a song that reaches millions of people. It's a pretty powerful result of this very intimate experience that it begins as.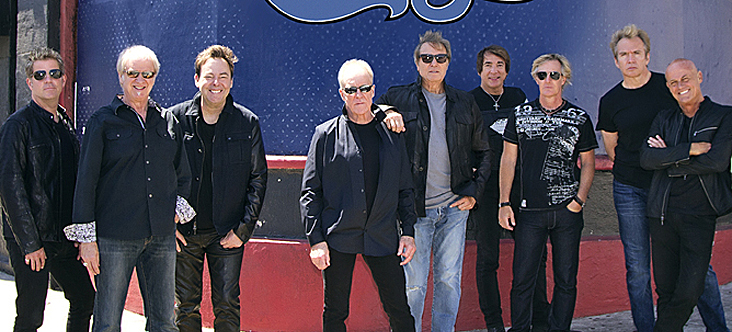 With Chicago, we've been going on tour for 50 years, and we still do over a 100 shows a year. And every night, people will come up to me and say, "Oh Mr. Pankow, we got married to your song," or how much a song meant to them. And when they come to the show, when you look out at the crowd, you can see people looking at each other—they're re-experiencing the moment that this song represents in their life. And I think that is the fruition of every songwriter's dream. [For me], the songs mean everything. It's the celebration of the songs that bring together a band and its fans.
DK: You're a composer and you've played piano for a long time. So how did you decide early on, that trombone would be your main instrument?
Pankow: To be honest with you, I was 10 years old, and the oldest of nine children. I was a restless kid, the kind who was constantly tapping on things…beating on things and humming. It was like I was possessed by this musical drive, and my folks said, "It's driving us nuts—we have to find an outlet for this guy" (laughs). So by the time I was 10, they had to get me an outlet, so they took me to Musical Instrument Sign-Up Night at my school (St. Paul of the Cross grammar school). The church basement was full of all the musical instruments, from drums to guitar to sax…all the wind instruments and string instruments. And I was standing in the drumline, because I wanted to be a drummer. Then I realized that there are 50 kids in this line…I'll be here standing in line forever. Then I thought about playing sax—saxophone is cool. Playing trombone was the last thing on my mind.
However, my parents talked to my band director, and together, they tried to convince me to try the trombone. I said "I wouldn't be caught dead playing that thing." But they said "If you play trombone, you'll have much less competition. You'll probably wind up playing first chair—you'll be the big fish in the small, trombone pond" (laughs). They used their wisdom and their bag of tricks to talk me into taking the trombone home. So I brought it home, and I was challenged by it for the first, several years. My arms weren't quite long enough to get out to the sixth or seventh position on the slide. And then I got braces on my teeth. But thankfully this gift, my (musical) ear, started making it possible to hear things and then duplicate it on the horn. I'd hear things in my head, and I got to the point where I could play it. And that was all great; it finally made the trombone an exciting possibility.

Here's a audio of Chicago's hit, "Feelin' Stronger Every Day."

My dad was my first mentor—we'd listen to big bands after dinner. He'd also take me to a club, if a musician of note was playing in Chicago. And so he was cheerleading me through this. He would bring records home that he thought I would really benefit from. And I got to the point where I could take this record, and woodshed with it and really learn it. Then one day, I told my dad to put this record on the turntable. He put the record on, and I played note for note with the record, including even the solos. These were records by trombonists J.J. Johnson, Urbie Green, and I would do a pretty spot-on duplication of that record. And my dad had the tears coming down his face, because he was an amazing piano player, and he could see that I also had a gift for music that was beginning to take shape.
So the trombone then became fun. Then I met Father George Wiskirchen at Notre Dame High School for Boys, which was a blessing because he was one of the most legendary high school band directors in the country. He taught me a lot and he exposed me to jazz. I started experiencing jazz and hip charts that really resonated with me in terms of modern music. It wasn't marching or concert band any longer—it was swingin' and it was jazz. You know, Count Basie and Quincy Jones came to the school and conducted their charts with our band. It started really becoming meaningful and fun when I was able to immerse myself in modern jazz. But then at the same time, I was also listening to the Beatles and to R&B.
When I got into college, I put my own band together and did crossover covers of the Crusaders, Cannonball Adderley and stuff like that. Then I discovered that I wasn't manifesting all these things I was hearing in my head. What I was hearing in my head was multi-faceted; it included chord changes, melodies, and even lyric melodies. But I couldn't express all that on a monophonic instrument like the trombone. So I realized that I had to learn to play a polyphonic instrument in order to manifest the full approach to songwriting.
DK: So is that when you decided to play piano?
Pankow: Yes. I took piano as a second instrument in college, and I learned all of the harmonic relationships from the keyboard, which would enable me to then compose music in its fullest scope. I could write the chords and I could write the melody. And together, I could create lead lines with the trombone if I wanted to. I could assimilate a section lead or an instrumental lead line. And then I became interested in writing the lyrics. I said, "If I'm gonna write songs, I want to write a story."
Personally, I always started with the music. Because the music is what was motivated by the feeling inside of me. The emotion I needed to express musically… just the feeling that I had. So that feeling would dictate a major or minor key. It would dictate a tempo. And I'd start with this musical germ that was inspired by what I was feeling at the time.

Here's a video of Chicago performing their hits "Colour
My World" and "Make Me Smile."
When it came to the lyrics, I would write words that express that feeling and complement the music. For me, the words are the final stage, the completion of this idea. For me, the emotion drives the music, the music drive the lyrics, and you put it together and you have a complete entity, this song.
DK: I really like your ballad, "Just You 'n' Me." What inspired you to write this song?
Pankow: There's a very emotional story behind this song. At the time, my fiance, who became my first wife…we had a fight. It was nasty. She locked herself in the bathroom…she wasn't going to come out. I said "God-darnit we're going to talk, we have to settle this," and she said, "Go away! I hate you, I never want to see you again."  I came through the door, and the look on her face scared the shit out of me. Because she was so scared, it scared me.
Instead of going further, I just happened to take a step back. Out of a corner of my eye, I saw my piano down the hall. I went right to the piano, and in that moment of trauma, I sat down at the piano and pressed record on my tape recorder. The song "Just You 'n' Me" came out—the chord changes, the lyrics, the melody—it all happened. It was like a moment of clarity that freaked me out. (He starts singing the melody). After I finished the song, I turned the tape machine off. I said to myself, "What just happened?"
Then I picked up the tape recorder and brought it in to the bathroom, where [my fiance] was still sitting on the side of the tub, crying. I brought the tape machine into the bathroom, and hit Play. And it washed everything away (he says very emotionally). It hasn't happened before or since. And maybe the urgency of that moment…I was thinking, "Oh shit, the love of my life is traumatized. This could end our relationship." And God must have walked me to that piano, and that song came out in its entirety, through my fingers and onto that tape. I brought it into the bathroom and it saved our relationship. It was amazing, and we were both crying. And we wound up being married 18 years and had two kids. That song…it represented the beginning of a long relationship together. And it could have gone away had it not been for the song.
DK: Thank you for telling me this very emotional story. I'd also like to ask you about some of your other hit songs. "Make Me Smile" was your first hit. Can you discuss how you wrote this song?
Pankow: "Make Me Smile" is a lot deeper than it appears on the surface. "Make Me Smile" is simply an edited extraction from a long piece on Chicago's second album, called "Ballet for a Girl in Buchannon." Actually, it was supposed to be spelled "Buckhannon" but Columbia Records got it wrong. ["Ballet for a Girl in Buchannon"] was basically an ode to this lady who I was in a relationship with, who was attending Wesleyan University in Buckhannon, West Virginia. So I wrote this classical compilation of song ideas. I was very enamored of the classical composers, who wrote these amazing, extended pieces…symphonies and sonatas. And I thought to myself…Why can't a rock band have the same, classical approach to their songs? So I wrote movements of a ballet. The reason I call it a ballet is because it was pop-centric, which means that the movements in it would have a rock beat, to a degree. So in my imagination, I could picture a ballet being performed around these songs. So I called it a "Ballet for a Girl in Buchannon," and "Make Me Smile" was one of the movements of this ballet.

Here's the audio of Chicago's hit, "Just You 'n' Me."
At the time, we didn't write singles; we just wrote music. Our first three albums were double albums, but they weren't double albums because we were trying to be big shots or anything. They were double albums because the length of the songs required two discs to embody the full spectrum of the music that was happening. We weren't writing 3-minute singles; we were writing pieces of music. The ballet was 13 minutes long. Then one day, I'm in the car in L.A. driving somewhere, and I'm listening to the big Top 40 radio station, KHJ. If you're being played on that station, you're on your way to a hit record. So I'm in the car, and the DJ says, "Now we're gonna play a song by a new band called Chicago, that is headed for number one. And I hear the horn intro for "Make Me Smile." And I'm going, "What? They're going to play the whole ballet?" But it was just "Make Me Smile." It was an edit—they had cut it out of the ballet, and I had no idea that it had been done. I'm going, "Holy Shit! That's my song!"
They chopped it out of the ballet and turned it into a single. How wild was that? And "Colour My World" was the same thing (he starts singing the verse). It's another movement in the ballet.
DK: So your hit "Colour My World" was in the middle of the ballet too?
Pankow: Oh yeah, "Colour My World" was right in the middle. And [the label] extricated that as a single too. You know, "Colour My World" is only a minute and 50 seconds long. It's obvious this song was not written to stand on its own—1:50 isn't long enough for a complete song idea (laughs). But it was released anyway, because apparently it resonated with so many people, that Columbia Records felt it should be released as a single.
I've got another story for you, which was a compliment to me as a songwriter. Frank Sinatra's people called my management people, and talked to my publishing administrator, Bernie Silverman. This was many years ago; not too long after the release of the album. Bernie told me that Sinatra called, and he said, "Can that kid write another verse of 'Colour My World,' because I want to record it." And I said, "Wow, I gotta think about that." Well, I thought about it real hard. As it was, the song had only one verse and then a flute solo [in the instrumental section]. But after thinking about it for a few days, I wound up saying no (laughs). I would have loved to have a song cut by Sinatra, but in the end my conscience would not allow it. I felt so close to that song, that writing another verse almost felt like I was going to desecrate the song by changing it. This is the song the way it was written, the way it was performed and recorded. So I wound up calling Bernie and saying, "I'm so sorry man, but I wouldn't be able to live with the song being changed. It's so unique and special [the way it is].
DK: I also really like your hit "Feelin' Stronger Every Day." How did you write this song with Peter Cetera?

Here's the audio of Chicago's hit, "Old Days."
Pankow: "Feelin' Stronger Every Day" was about breaking up and moving on. (He starts singing the title hook). It was a ballad, but it morphed into a double-time rocker like "Magical Mystery Tour" (by the Beatles). And Peter joined me because I [envisioned] his voice, his tenor voice on the song. He also came up with the majority of the lyric. Because Peter would be singing it, he wanted to help me craft a lyric that was really singable and a lyric approach that he could sing and feel natural with. So he and I shared writing the elements of the song. I was more about the music, going into the double-time thing—kind of a part one and part two. The first part of the song has the slow tempo which asks the question, "Can I make it through this? Will I be alright?" The first part had an apprehensive but hopeful theme…I can get through this. And when the double-time comes in, it was, "Yeah Man, I can do this…Feelin' Stronger Every Day!" So we went into this double-time and put a positive buzz on this song.
DK: "(I've Been) Searchin' So Long" is a terrific ballad, with a majestic arrangement. How did you write this song?
Pankow: A few months ago, Robert (Lamm) told me that "Just You 'n' Me" is his favorite song to play, but his favorite song in terms of the lyric and the importance of the message is "Searchin' So Long." 'Cause it's a song about self-discovery…what's really meaningful in my life. "I've been searchin' so long to find an answer" to the question, Who am I? And it's a story about growing up from a young man into an adult and discovering what life is really about. The song is about my coming of age, and realizing that things aren't necessarily the way I thought they were. It meant a lot to me, getting this compliment from Robert, who is such a great songwriter. He's one of the most incredible wordsmiths I've ever had the pleasure of working with; his lyric sense is amazing.
DK: The beautiful string arrangement in the song really adds a special impact.
Pankow: Yes, the string arrangement was done by Jimmie Haskell; he orchestrated that song. He also did the strings for (Chicago's hit) "If You Leave Me Now." They did the string date after the band finished our recording of the song. When Jimmie put the strings on it, I thought, "Wow." As the composer of the song, it was so cool to hear it with a professional orchestra.
DK: Thank you Jimmy for doing this interview. Is there anything else you'd like to mention for this article?
Pankow: Well, I believe everybody has a gift of some sort. We're all different, but we all have a gift. I was lucky enough to perceive this (musical) ear thing, this ability to hear musical ideas. I was fortunate enough to pay attention to this, to be determined enough to express it.
Songwriting is a constant process. You know, the inspiration process doesn't stop, it keeps going. This gift is for life. And so I encourage creative people to continue to express themselves and maximize the potential of their gifts, because the rewards are unbelievable. I mean, it's therapy, dude. It's therapy. I can sit down at the piano and I can purge, by releasing these feelings through the keyboard, through audio outlets…I release this angst. It's very fulfilling.
And I want to thank the Songwriters Hall of Fame for this ultimate honor, recognizing all of these years of pursuing this gift. This honor, and the kind words from fans over the years who've told me they love the songs, mean so much to me.