Interview with James Leach, SESAC's Vice President of Writer/Publisher Relations, Head of West Coast Office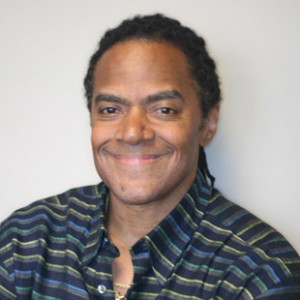 As SESAC's top exec for its West Coast operations, James Leach has played a prominent role in the growth of this performing rights organization (PRO). Since joining SESAC in 2001, Leach has helped launch their Los Angeles office, and he has established a solid reputation as a respected music exec who is an advocate for both songwriters and publishers.
Leach has an extensive background in the music business, working as a music publishing exec and music supervisor. He began his career at Famous Music, where he was responsible for signing hit writer/artist/producer, Akon. Then he worked at Michael Jackson's prestigious ATV Music for seven years, mostly as Director of Creative Affairs.
Following his work with Michael Jackson, Leach entered the music supervision field, seving as Music Consultant & Coordinator for the groundbreaking urban TV series, New York Undercover. In addition, he later worked as Music Supervisor for Fox Television for two years, before joining SESAC.
At SESAC, Leach has signed and worked with many talented writer/producers, such as Nate Hills (aka Danja), Harvey Mason of The Underdogs, and John Wesley (aka Jaylien). He also coordinates several music conferences, showcases and workshops each year. Leach also manages SESAC's Los Angeles office, which includes other top execs Erin Collins (Vice President of Film & TV Music) and J.J. Cheng (Associate Vice President, SESAC Latina)
We are pleased to do this new Q&A interview with James Leach. He discusses his career, the growth of SESAC on the West Coast, and many of the PRO's conferences, award shows, showcases and workshops.
DK: Where are you from, and how did you get started in the music business?
Leach: I'm originally from Montclair, New Jersey, and my family moved to Los Angeles when I was a teenager. I've always been interested in the music and entertainment business. For college, I went to Pepperdine University and majored in broadcast management with a minor in TV production.
DK: What was your first job after college?
Leach: After Pepperdine, I worked in the mailroom at Channel 9 KHJ-TV & Radio, training in their traffic & sales department. I was involved with advertising and ad spots. Then I got a phone call from friend, to open up a recording studio in Laguna Hills (CA). It seemed like a good opportunity, so we built and ran Twilight Recording Studios in Laguna. I learned about recording and engineering, and we did a lot of production there. We had some excellent clients such as Oingo Boingo, Dale Jacobs, other Orange County artists.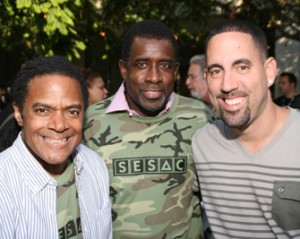 DK: How did you get into music publishing?
Leach: A music attorney I knew, Kent Klavens, invited me to audit a music business class, which led to me finding out about an internship at Famous Music. After a few months at Famous, I was referred to an intern position at Michael Jackson's ATV Music (before it merged and became Sony/ATV). Eventually I got a fulltime position there, and later became Director of Creative Affairs. Overall, I worked at ATV for seven years. I brought in and signed some excellent writer/producers to ATV,  including Keith Crouch, Zack Harmon & Christopher Troy, and Derek Allen.
DK: What was your next position after leaving ATV?
Leach: In 1995 I started my company, Leach Entertainment. I did music placement, pitching songs for records plus film & TV. Then I got an opportunity to work at Famous Music, this time as Director of Creative Affairs Urban Music. I met a then-unknown writer & artist named Akon. He was referred to me by two music attorneys from New Jersey. I was really impressed with Akon's songwriting, and we signed him to Famous. Akon ended up staying at Famous for many years and had great success.
DK: Was it during this period that you also got into music supervision?
Leach: Yes. After I left Famous, Derek Platt (music exec at Universal TV) called and offered me the opportunity to become Consultant/Music Supervisor for the TV series, New York Undercover. This turned out to be a great opportunity, because the show was very popular and we licensed songs from a lot of influential music artists. I worked with James Mtume, who was the head music supervisor and did the scoring.
DK: Did you also do other music supervision projects?
Leach: After New York Undercover ended (two years later), I worked as music supervisor for the the Magic Johnson Hour TV series, which was on Fox-TV. I also worked at Fox for two years working as a music supervisor; I worked with (Fox execs) Jerry Davis and Mamie Coleman.
DK: How did you start working at SESAC?
Leach: A friend, Jon Rosner of Bicycle Music, told me that SESAC was opening an L.A. office and the person to contact was Pat Rogers (then VP of SESAC). I interviewed with Pat and it went well, so I began working at SESAC in March 2001 as Director of Writer/Publisher Relations.
When I started, my main goals were to help brand the SESAC name in Los Angeles and the West Coast, and to find new writers to bring on board. Also, to assist and help the career development of our existing SESAC West Coast writers. At SESAC we wanted to spread the word about the organization, and let people know about the positive new direction of the PRO since the new owners (Stephen Swid, Freddie Gershon & Ira Smith) came in (in 1993).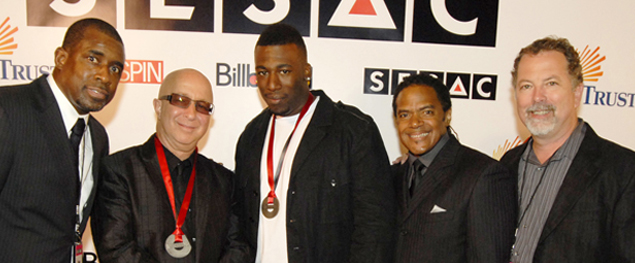 DK: Currently, how many people work in SESAC's L.A. office?
Leach: We have nine people. I cover  pop, R&B and rock; J.J. Cheng is Vice President of SESAC Latina, and Erin Collins is Vice President of Film & TV Music. I report to Trevor Gale (Senior Vice President of Writer/Publisher Relations, based in New York) and Dennis Lord (Executive Vice President of Business Affairs, based in Nashville).
DK: SESAC has really grown in the past decade. What are the main reasons for this success?
Leach: The main reason is that we try to cultivate our relationships with our writers and publishers. We work very closely with them. We avail ourselves to whatever they need–setting up collaborations, pitching songs, creating film& TV opportunities, plus introducing them to music publishers, attorneys  and managers. We want to maximize our relationship with them. Our smaller, boutique size at SESAC allows us to effectively move and change with the times. We have a strong connection with our writers–we're one big happy family.
DK: What are the main events, showcases and workshops that SESAC hosts each year?
Leach: We host our annual Songwriters Bootcamp; it's an important event which allows writers at every level to network with SESAC affiliates and industry pros. The Bootcamp is held every year at the Skirball Cultural Center in Los Angeles. We have many guest speakers for this event including top music publishing and label execs. Last year, our keynote speaker was (hit writer/producer) Bryan-Michael Cox, who is a SESAC member.
We also have a talent showcase called SESAC Sessions which is held at On The Rox above The Roxy club. This showcase is all for all genres of music, and it's held the last Thursday of every month. We invite music execs (publishers, A&R execs, music supervisors) to check out all the new talent at the showcase.
In addition, we host lunchtime shows once-a-month at our office, which is geared to showcasing new talent to film & TV pros. We select one artist to perform, and we invite music supervisors and other execs to listen to our new talent and acts. We call it the SESAC Sack Lunch.
Dale Kawashima is on Google+