Interview with Jack Tempchin, Singer/Songwriter and Hit Songwriter For The Eagles ("Peaceful Easy Feeling," "Already Gone") and Glenn Frey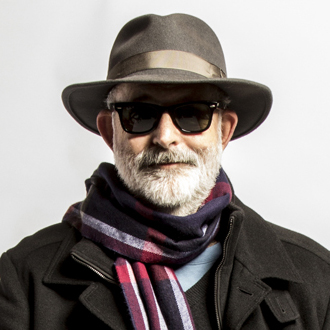 Jack Tempchin is a veteran singer/songwriter who is known for writing many hit songs, particularly for the Eagles and for Glenn Frey's solo albums. He wrote the classic Eagles hit "Peaceful Easy Feeling" and co-wrote (with Robb Strandlund) the Eagles hit, "Already Gone." He also co-wrote several hits for Glenn Frey's solo career, including "You Belong to the City" and "Smuggler's Blues." Notably, he was inducted into the Songwriters Hall of Fame in 2018.
A longtime resident of the San Diego area, Tempchin started his career as a solo singer/songwriter and as a member of the group, the Funky Kings, who were signed to Arista Records. He became a key contributor to the Southern California country/rock music scene of the 1970s and 1980s. Notably, he struck up a longtime collaboration and friendship with Glenn Frey, which led to Tempchin writing five songs for the Eagles and co-writing an impressive 34 cuts for Frey's solo albums.
Tempchin was Frey's main writing partner on Frey's albums No Fun Aloud, The Allnighter, Soul Searchin' and Strange Weather. They wrote Frey's hit singles "You Belong to the City," "Smuggler's Blues," "True Love," "The One You Love" and ""Sexy Girl."
SPECIAL FEATURE: STREAMING AUDIO

Here's an excerpt of our interview with Jack Tempchin, who tells how he wrote the Eagles' classic hit song, "Peaceful Easy Feeling."
In addition, Tempchin wrote the Top 10 pop hit "Swayin' to the Music (Slow Dancing)" for Johnny Rivers, and this song later became a country hit for Johnny Duncan. Tempchin has also written songs that were recorded by George Jones, Emmylou Harris, Randy Meisner, Glen Campbell, Patty Loveless, Tanya Tucker, Desert Rose Band, Sammy Kershaw, Tom Rush, the Paladins, New Riders of the Purple Sage, Olivia Newton-John and Candye Kane.
Over the years, Tempchin has continued to record solo albums and perform live. This August, he will be releasing a special album called Peaceful Easy Feeling: The Songs of Jack Tempchin, on Blue Elan Records. The album will consist of Tempchin's recordings of his most famous hit songs, that he hasn't recorded before as a solo artist. He will also be singing duets on some of his songs, including a duet with Rita Coolidge on "Slow Dancing." Other guests to be featured on the album are blues singer Janiva Magness, Chris Hillman (formerly of the Byrds) and Herb Pedersen.
In recent years, Tempchin has mostly performed solo shows (without a band). He also enjoys performing songs on Facebook Live video. Here's a link to Jack Tempchin's Facebook Page.
We are pleased to do this new Q&A interview with Jack Tempchin. He tells how he got started, how he wrote "Peaceful Easy Feeling" and "Already Gone" for the Eagles, and he discusses his longtime friendship and collaboration with Glenn Frey.
DK: How did you get started as an artist & songwriter?
Jack Tempchin: My early days were in San Diego, which took place in the coffeehouses, where they served apple cider, and people were quiet and listened to the music. At these coffeehouses, you'd get up and play…there was really no showbiz to it, it was really about the music. That's where I got my start. By 1972, all those coffeehouses in San Diego closed for some reason. At that point, I had to make a decision, so I went to L.A.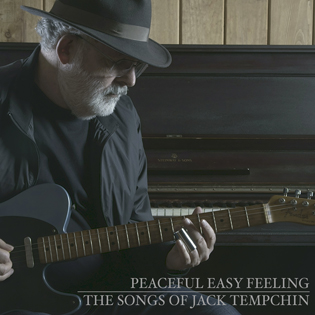 DK: It was in 1972 that your song "Peaceful Easy Feeling" became a hit for the Eagles. How did you write this song and place it with the Eagles?
Tempchin: I was playing here in San Diego, and my buddy made a poster to advertise me. He made this funny poster, where he quoted all kinds of famous people, like Joni Mitchell saying how great I was. Every person on there, except for my mom, was a big lie (laughs). It was funny, but a guy hired me to play in El Centro (near Calexico), and I think it was on the strength of that poster. So I went out to play at this coffeehouse which was in a little mini-mall.
At this coffeehouse I liked the waitress, and she said she was going to help me stay with her, but she left. So I was stuck in this little coffeehouse all night. There was just a hard floor…there was nothing there. And that's when I started writing a song on the back of this poster—I wrote [the lyrics to] "Peaceful Easy Feeling" on it. (Years later) the poster was in the Rock & Roll Hall of Fame for a while, and it was in the Grammy Museum.
It was in that coffeehouse that I stumbled onto the phrase, "Peaceful Easy Feeling." Then I went back to San Diego, and put some other women in the song. I saw a beautiful Mexican girl with turquoise earrings in Old Town at a street fair, so I put her in there. And then I finished the last verse of the song, while waiting for Polish dog at the Der Wienerschnitzel (hot dog stand) on Washington Blvd. (Years later) they had a celebration at Der Wienerschnitzel—the mayor of San Diego declared a Peaceful Easy Feeling Day and they put a plaque on one of the tables there.
Around that time, I had met J.D. Souther and Glenn Frey, who were playing as a duo. I offered my house for them to stay, so they stayed at my house every time they came down to San Diego to play. Then they asked me to come up to L.A.—they said they would introduce me to David Geffen and [other music execs]. So I went up there and I stayed at Jackson Browne's house for a couple days. Glenn came in, and he heard me playing my new song, and he recorded it on a cassette tape. He said, "Jack, I've just put a new band together, and we're going to play for all the record companies. Do you mind if we work up the song?" So he came back the next day, and played me a cassette of the Eagles playing "Peaceful Easy Feeling." Then a week later, Glenn got three giant record execs to come into this tiny rehearsal studio [to hear the Eagles' songs], and they got signed and that was it. Then the Eagles went to England to make the record.
DK: It was during this period that you joined a band called the Funky Kings. Can you tell me about this group, and your artist career?
Tempchin: I went up to L.A. to pursue my [artist] career, and within a week I was in a band called the Funky Kings, with Richard Stekol and Jules Shear. We got together and we played one gig, and a manager came up and said, "You shouldn't be playing in this bar." And then a couple weeks later, we had a record deal. Clive Davis (CEO of Arista Records) signed us. Paul Rothchild was the producer of the Funky Kings record—he'd produced Janis Joplin and The Doors. Then we spent months in the studio making that record with him, and then we went on tour with Hall & Oates.

Here's a video of Jack Tempchin performing his classic song,
"Peaceful Easy Feeling."
After that, the band dissolved before we made a second record, and I made a solo record for Arista. I recorded the album in Muscle Shoals, Alabama with Pete Carr, who was a session guitar player. And then for the next number of years, I went on tour as an opening act. I opened a lot of shows for Kenny Loggins, Christopher Cross, Chicago and other acts. That was great…I wasn't really well known, but my songs ("Peaceful Easy Feeling" and "Already Gone") were known. So I got to play in front of thousands of people for years, and that was very satisfactory.
DK: Your other classic Eagles hit is "Already Gone." Can you tell the story behind that song?
Tempchin: Yeah, I was running the Back Door Coffeehouse, which was part of Aztec Center at San Diego State (University). The club was huge, and I was booking people in. I booked a friend of mine, Robb Strandlund—he and I were going to do this show. But we looked at our refrigerator in the back room, and there was a jug and we started drinking some hard cider. We got feelin' pretty good…we wrote "Already Gone" in about 20 minutes. Then we went onstage and played it, and it has some parts that when you're feelin' really good, you go "Woo-Hoo-Hoo!" Well, apparently Glenn heard it; he must have been there, because he called me a couple of years later. He said, "You know that country song that you wrote? I think I can make a great rock record out of it." And then the next day he called me—he held the phone to the speakers in the studio. The Eagles had worked up "Already Gone."
DK: Glenn Frey seemed to be very perceptive and able to recognize a really good song. He remembered hearing "Already Gone" two years earlier, which was amazing.
Tempchin: Oh absolutely. You know, they called Glenn The Lone Arranger, because he would just hear the song and he would know what kind of record it should be. He would look into the vast vault of his knowledge of every type of American music, from Philly to bluegrass…he knew it all. And he knew all the players and all the records. Then he would just kind of decide, "Here's how I want this record to be," and then he would already know in his head what everybody was going to play. But he wouldn't play it himself; he would get the best guys in the world to come in and work on it with him, which were the Eagles, which is the band he put together. He was the guy with the extreme talent and the extreme vision.
DK: Also in the '70s, you wrote a hit song called "Swayin' To The Music (Slow Dancin')" which became a hit for Johnny Rivers. How did you write this song?

Here's a video of the Eagles' hit "Already Gone," which was co-written
by Jack Tempchin.
Tempchin: There was a [music exec] named Bob Feiden who died of AIDS, who worked for Clive Davis at Arista. He was a great fellow—he helped us all a lot. He worked for the Eagles too, and we were all friends of his. One day we were talking, and I said, "I don't like to write love songs, you know, because they're all mushy and they rhyme the same." And he just looked at me and said, "Well if that's the way you feel, Jack, why don't you try to write a good one? (laughs). So that was like a teacher trick, but I fell for it. And then, when I was at a gig, my friend had a band out at a place called the Iron Horse.
So the band's playing, and they're playing all these uptempo songs and everybody loves it. But when finally they play a slow song, everyone goes out on the dance floor. And I noticed, the people were waiting for the slow song because they want to squish the girl up against them. So I thought, there ought to be a song call Slow Dancing, so I took that and ran with it. And at the same time I was writing it, I had fallen in love with this girl who's now been my wife all this time…and that's what poured into the song. It's just a simple thing, but I worked on it until I couldn't get it any better. And this song helped the Funky Kings get our deal with Arista Records. So [we released our version] with me singing on it, and it got to #22 on the Billboard chart, but it wasn't high enough (to be a big hit).
Then Johnny Rivers heard it on the radio and liked it, and he said, "Well, too bad I can't do that song—it's already a big hit." And then somebody told him, "No, it's not a big hit." So he recorded it, and he took it all over the South to every radio station and worked it. Johnny's version was actually much more commercial and it was great. I have a lot of respect for Johnny Rivers.
DK: Beside your hits with the Eagles, you wrote many songs with Glenn Frey that became his solo hits. Can you tell me about your special collaboration and friendship with Glenn?
Tempchin: Well, it started as a friendship. For the first 10 years that I knew him, I didn't write songs with him. He made two of my songs famous with the Eagles, but we never sat down to write a song together. And he was incredibly busy with the Eagles. So when the Eagles decided to take a vacation, he called me [to write] and I came over. Geez, the first night we wrote a couple songs. So it was partly the fact that we were already great friends, and because Hey, the guy was a genius! (laughs) And I'm getting to write with him. And I'm very good at one little thing that I do, which is somehow [writing the] lyrics and focusing a song. But Glenn taught me all kinds of stuff. And it was just a thrill of a lifetime…for 14 years we'd get together and write album after album.
DK: The biggest hit you wrote with Glenn was his single, "You Belong to the City." How did you and Glenn write this song?

Here's a video of Jack Tempchin's song, "Part Of Me, Part Of You."
Tempchin. Glenn was on an airplane trip, and he was sitting next to (TV & film director) Michael Mann. He was about to produce the television show, Miami Vice. So they got together, and Mann sent Glenn a script of one of the episodes. Then we read the script, and from that we wrote "You Belong to the City." So we were very excited about that. And then also there was an episode called "Smuggler's Blues," and we wrote that song. [The producers] ended up using both songs for the Miami Vice soundtrack.
DK: You have a new album coming out this August, called Peaceful Easy Feeling: The Songs of Jack Tempchin. Can you talk about this album?
Tempchin: It's coming out August 25 on Blue Elan Records. Blue Elan has been fantastic—I've been with them two years and I've made three albums. This album, Peaceful Easy Feeling: The Songs of Jack Tempchin, is [my recordings of] all the songs I wrote with Glenn Frey, plus "Slow Dancing," "Peaceful Easy Feeling" and "Already Gone." For "Slow Dancing," I recorded a duet version with Rita Coolidge, and we've filmed a video with the two of us singing on it. Also on the album is "Soul Searchin'," which I recorded with blues singer Janiva Magness. And then I recorded an acoustic version of "Already Gone" with my friends Chris Hillman and Herb Pedersen. Chris, Herb and I also recorded a song called "It's Your World Now," which is on the last Eagles album they recorded (Long Road Out of Eden). I also did a song called "Privacy" which Glenn and I wrote, but no one's heard before. We're making a video of this song.
This was a great new opportunity—I'd never recorded any of these songs. It was challenging, but I think the album turned out great and I'm glad I did it. Also, by doing duets which I don't normally do, it expanded me musically. So it was really a good thing.