INXS' Andrew Farriss Talks About The Group's Album, Switch, And Their Rock Star TV Show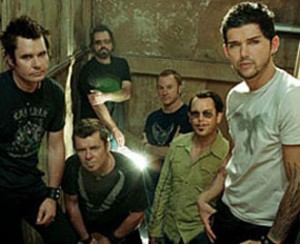 Anyone who went near a television last summer will know that Australian group INXS has found a new, permanent member of their rock 'n' roll team. In the few months since Canadian-born J.D. Fortune was chosen from some 15,000 hopefuls (15 made it to the televised contest), the band has released an album and embarked on a sold out 31-city tour.
Now, as the North American part of their "Switched On" World Tour gets underway, Andrew Farriss, primary songwriter and middle brother of the Farriss trio who comprise half the band, talks about the dynamic their new, younger bandmate brings to the group, as well as the changing climate of music during the two decades since INXS claimed their place in music history.
INXS came together in 1977 and scored 18 Billboard pop chart hits plus additional rock chart hits in the '80s and '90s, with singles like 'What You Need,' 'Devil Inside,' 'Suicide Blonde,' and worldwide No. 1 smash 'Need You Tonight.' The band was made up of the three Farriss brothers, Tim (guitar), Andrew (keyboards/guitar), and Jon (drums). Friends of the brothers, Kirk Pengilly (saxophone), Garry Beers (bass) and Michael Hutchence (vocals) completed the group, whose edgy dance-rock sound and sexy lyrics permeated radio waves and dance clubs around the world.
INXS suffered a painful blow on November 22, 1997, when lead singer Hutchence was found dead in a Sydney hotel room from an apparent suicide.
Determined to keep the music playing, the band worked with singers such as Jon Stevens, Jimmy Barnes and Terence Trent D 'Arby in the front spot, but the team spirit they'd had with Hutchence was just not the same. 'Artistically, it just wasn't going in a direction we wanted to go,' said Farriss, 'so we stopped it so we could re-address what we were doing.'
It was 1998 when the group conceived the idea to do a kind of televised audition for a new singer. 'We weren't quite sure what we were going to do,' said Farriss. 'Kirk (Pengilly) had this idea to do an audition and film it. Then we suddenly realized that this could be made into a television show.' Fast-forward a few years and enter Mark Burnett, creator of mega-hit reality shows Survivor and Apprentice. 'He heard the idea and loved it and ran with it.' Of the 15,000 people who initially tried out, 15 men and women were chosen to participate in the 13-week audition where the ability to carry a tune was only one part of the package required to take the position at the front of the band. Songwriting, stage presence and the ability to work well with the band were also important considerations.
 'Mark Burnett is a real genius for having the foresight to realize that people would flock to a program that sets out to acknowledge songwriting and good music and introducing the strengths and frailties of human beings – that's really what it's all about.'
Farriss admits that they were met with some cynicism when they announced the method by which INXS would choose it newest member. 'A lot of people said, 'what the hell are you doing?,' but hey, no guts, no glory. Ironically enough, when we first came to America, people in Australia said, 'you can't do that, it never works. The record company will give you a little money, pat you on the head and send you home again.' But we said, 'oh well, let's see what happens.' And we had a manager who was smart enough to realize that MTV was a brand new medium, so INXS was ironically introduced to America via television.' That irony was not lost on the band or its producers, who claimed the show attracted between six and 16 million viewers on any given night. It also became the #1-ranked cable television show in Australia.
As soon as it was determined that INXS had found its 'Fortune,' they took him straight to the studio. The entire new album, Switch, was recorded in only five weeks. The first single, 'Pretty Vegas,' was co-written by Fortune and debuted at #37 on Billboard's Hot 100. 'I had written about 30 songs that I thought a male singer would sing and about 30 songs that would empower a female singer. It was the biggest brain-drain I've ever been through. It was insane, actually. It was the most pressurized situation I've ever been in,' Farriss recalls. Hit songwriters Desmond Child and the Matrix also contributed to the album.
INXS is currently completing a 31-city tour. 'The '90's were so much about change and so much dance culture,' said Farriss. 'Now, people seem to have a new interest in live music. That's where it all started from and I think, ultimately, it's coming back around.'
Farriss is happy to reconnect with fans, old and new. 'We've got quite a cross-section of fans. With Rockstar: INXS, we got some younger fans who are into the dance culture, but maybe have never seen a live band onstage. I'm very pleased to be a part of something that acknowledges good songwriting and great performers.'
Speaking of performers, Farriss is astounded by the energy and enthusiasm of 32-year-old Fortune. 'We literally started recording the day after he won the job, so it was quite full-on. He's full of beans. He's leaping around and it's cool. I feel kind of like Scotty Moore with Elvis.' Another irony, since one of Fortune's previous gigs was as an Elvis impersonator. 'We've got a lot of musical experience under our belt and J.D.'s got so much enthusiasm and he's younger (some 20 years younger than his bandmates), so that makes it a really interesting combination.'
Jayne Moore is a freelance music/entertainment journalist. She has launched a new service, writing bios, articles and press releases. Moore can be contacted at [email protected]. You can also visit her website: www.musicgerm.com.