Legendary Rock Artist Ian Hunter Talks About His New Album, Defiance Part 1, Which Features An All-Star Cast Of Musicians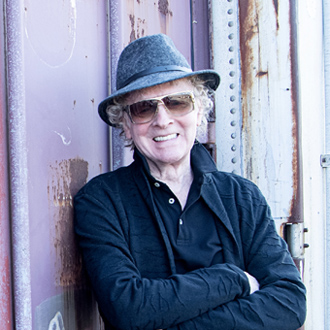 With a career that now spans six decades, Ian Hunter has had a legendary career as a rock & pop singer/songwriter. Perhaps best known for being the leader of British band Mott the Hoople, Hunter has created a large body of work with Mott the Hoople, as a solo artist, and as a songwriter whose songs have been covered and become hits for other artists.
Hunter, who is now 83 years old, has just released his first album in six years, called Defiance Part 1 (on Sun Records). He is currently enjoying such a prolific new period of writing & recording, that's he's planning to release a follow-up album, Defiance Part 2, next year (2024).
For Defiance Part 1, Hunter had the opportunity to collaborate with many top artists and musicians. He reached out to a who's who of rock & roll royalty, and he was pleased that  they were excited about contributing to his album. The list of artists who played on the album includes Ringo Starr, Todd Rundgren, Mike Campbell, Billy Gibbons (of ZZ Top), Slash, Brad Whitford (Aerosmith), Joe Elliott (Def Leppard), Duff McKagan, Jeff Tweedy (Wilco), Waddy Wachtel, and Eric Kretz, Dean Deleo & Robert Deleo (Stone Temple Pilots). Also notably, two outstanding musicians who have passed away—Jeff Beck and Taylor Hawkins (Foo Fighters)—played on the album.
SPECIAL FEATURE: STREAMING AUDIO

Here's an excerpt of our interview with Ian Hunter, who discusses the making of his new album, Defiance Part 1, and how he collaborated with Mike Campbell, Ringo Starr and other top musicians.
Defiance Part 1 contains some of the best songs that Hunter has written in decades. The first single, "Bed of Roses," is an excellent song that warmly pays tribute to musicians who played at the famous Star-Club in Hamburg, Germany. The Star-Club is where the Beatles honed their live shows in the early '60s. Hunter then played there in the mid-'60s, and he fondly recalls his experiences at the club. On "Bed of Roses," Mike Campbell (formerly of Tom Petty's Heartbreakers) plays lead guitar and Ringo Starr plays drums.
The album's other highlights include "I Hate Hate," a positive song that is about overcoming hate, and it shows that Hunter has his pulse on the current politics in America. Two other strong songs are "Don't Tread on Me" (featuring vocals by Todd Rundgren), and the final song "This Is What I'm Here For," a joyful song about rock & roll and Hunter's love for performing and songwriting.

Here's the video of Ian Hunter's new single, "Bed of Roses."
We are pleased to do this new Q&A interview with Hunter. But before we get started, here's a brief rundown of his career history and credits.
Hunter was the lead singer & main songwriter for U.K. band Mott the Hoople, which released seven studio albums between 1969 and 1974, including the classic albums All the Young Dudes (1972), Mott (1973) and The Hoople (1974). Their best-known hits are "All the Young Dudes" (written for them by David Bowie), "All the Way from Memphis," "Roll Away the Stone" and "The Golden Age of Rock 'n' Roll."
After leaving Mott the Hoople, Hunter launched his solo career with the self-titled album, Ian Hunter (1975), that contained "Once Bitten, Twice Shy," that was later covered by the band Great White in 1989 and became a Top 5 pop hit. Another key solo album was You're Never Alone with a Schizophrenic (1979), that included the ballad "Ships," which was covered by Barry Manilow and became a Top 10 pop hit. This album also contained the anthem "Cleveland Rocks," that became the theme song of The Drew Carey Show for nine seasons.
Ian Hunter Interview
Here's our interview with Ian Hunter:
DK: I read that you wrote & recorded the songs for your new album, Defiance Part 1, during Covid. During the shutdown, how did you get started with writing & recording?
Ian Hunter: What it was, I wrote two albums. I met Mike Kobayashi, who manages Def Leppard, and he decided that he wanted to manage me. I also knew Ross Halfin, who's a famous photographer. And these people had access to a lot of the people who eventually played on Part 1 and Part 2. Then I started working in the basement; I wrote 21 songs because of Covid. And Mike said, "You know, there are [top musicians] sitting at home…they're not doing anything. And they'd like to do something." Then I think Slash was the first one, and then Billy Gibbons. It all developed from there. They were sitting at home and I was sitting at home.
DK: What inspired you to write so many songs during this period?

Here's the lyric video of Ian Hunter's new song, "I Hate Hate."
Hunter: It started off with two or three and I thought…this is alright. With songwriting, you're not really in charge of it…it's in charge of you. Nobody knows quite how it works. But then, people start sending [music tracks] back and that inspires you to write more. Especially when you hardly know these people. So when you get something back from Mike Campbell, who I've never worked with…there's a smile all over my face. Then Ringo played, and it inspires you to continue on. And I'm lucky that I have a partner, (producer/musician) Andy York, who I worked with. These songs started out as demos in the basement…that's what they were. And what you're hearing (on the album) is demos in the basement; we never went to a studio. We had decent demos, and they turned into the record. And Andy is really good (at producing and playing). He was a drummer before he was a guitar player with John Mellencamp.
DK: Did all the musicians contribute remotely, or did some people come to your studio to record with you?
Hunter: I've got nothing here (laughs). I've got a couple guitars; I don't bother with it. I used to have a studio but the algorithms—it knocks the songs right out of your head, and you can't write. That's heavy…that's math. So I stopped doing that. I packed all that stuff away.
In my basement, I have a keyboard that I could get drums out of…just basic 4/4. Then I'd play the piano for that. And me and Andy had one pair of earphones between us. So then I sang with the keyboard in my ears and the basic machine drum track. Then Andy had a one-octave keyboard that played better drums than my thing did. He put a directive drumline down so people would have a rough idea of what to expect. And we have a friend, (mixer/producer) James Frazee, at Hobo Studios (in New York City), who made the vocals sound better. He made the drums, piano, guitars and vocals sound good. And then you send [the musicians] the stems, which basically the new world favors. They go into their studio and put their stems on. They might send back six or seven tracks, and you can pick and choose.
DK: I like your single "Bed of Roses," which features Ringo Starr and Mike Campbell. Is this song about the Star-Club in Hamburg, Germany, where the Beatles played?

Here's the audio for Ian Hunter's new song, "This Is
What I'm Here For."
Hunter: Yeah the Beatles were there in 1962, and I was there around 1966. And the club was already legendary. When I was there, Roy Young was still there. He played keyboards at the Star-Club, and the owner loved him and bought Roy a Cadillac. And Tony Sheridan was still around when I was there. He was the original singer of the Silver Beatles. So I met Sheridan and I met Roy Young, and I mention them both in "Bed of Roses." The place was there from 1962 to '69. And then I think it became a bank and then it burned down, so it's no longer there. It was an amazing club. Little Richard and Jerry Lee Lewis also played there.
DK; I also like your song "Don't Tread On Me," which features Todd Rundgren. How did you connect with Todd on this song?
Hunter: I've known Todd for many years. He used to like Mott the Hoople and we wound up together a few times. I did a tour with him once. It's kind of like Beauty and the Beast when he and I sing together (laughs). I sent him this song and it comes back completed. I didn't know he was gonna do what he did. Todd's the brainiest guy I know in showbiz. He just takes the song over and it becomes Todd (laughs). And it's perfect.
DK: I like the last song on your album, "This Is What I'm Here For." It has a nostalgic, Mott the Hoople feel to it. And you're singing, "This is what I'm here for," which is a nice statement to close the album with.
Hunter: Well that's traditional rock 'n' roll. I did it deliberately. And saying, "This is what I'm here for"…that's about right.
DK: You mentioned that you've written 21 new songs.  So when will you be releasing your follow-up album, Defiance Part 2?
Hunter: It's about 60-70% done. Right now, Andy York is out on tour with John Mellencamp. Then around July we'll get back on it. We'll probably release it early next year.

Here's the video of Ian Hunter performing "All The Young Dudes"
at the 2019 Rock & Roll Hall of Fame induction ceremony.
DK: You've released your new album on Sun Records, which is the great rock & roll label from the 1950s. How did you decide to be on the Sun Records label?
Hunter: It's great to be on that label. When I started out, Jerry Lee Lewis got me going. And before Jerry Lee, I loved Howlin' Wolf who was on that label. Sun Records had some incredible acts. If you're somebody like me, you want to put out an album on that label, just to see your name on that famous yellow label (laughs). So it was a no-brainer. And they seemed like really nice people. They're working hard on the album and I'm getting more support than I've had in 20-30 years. I'm very happy with the way things are going.
DK: About five years ago, you reunited with members of Mott the Hoople and you toured in the U.K. and in the U.S. What was it like to be a part of Mott again and do that tour?
Hunter: It was great. We had done a couple tours of the original band back around 2009. But we had left out the great Ariel Bender (lead guitar) and Morgan Fisher (piano). So I felt they lost out on those tours and they were part of the last two years of the original band when it was actually at its most popular. So I wanted to do tours with them as well, so we did. And it was great—Ariel is unbelievable onstage. It just takes the show up 20%. It was a lot of fun and with Morgan, too. Morgan's a brilliant musician and he has a sense of humor.
DK: Later on during that tour, you had to stop touring when you developed a severe case of tinnitus. In the last few years, has your tinnitus condition improved?
Hunter: It comes and goes. I've kept a daily log on it for every year. I've been trying to figure out the cause of it. It would be really bad some days and virtually not there other days. There's no absolutely no logic and no cure so far. Yes I can record—we figured out a way to do that.
DK: Will you be able to perform some live shows again?

Here's the audio for Ian Hunter's new song "Don't Tread
On Me," which features Todd Rundgren.
Hunter: I'm not sure if it'll be possible to do a loud show again with the Rant Band. But I see a lot of people doing a Q&A with an acoustic show. Maybe that's the way to go. There's a few places we're looking at. But I want to get my next album, Defiance Part 2, finished first. These two albums are like a block…they come together.
I would love to play live…I do it downstairs every day. The voice is still there, although it's not as loud as when I was screaming away in the '70s (laughs). But for me, the voice is not the problem, it's the ears. You don't want to make it worse.
I did four shows at the City Winery (in New York) in June 2019, but then the tinnitus turned up in September. So it wasn't the gigs that made it happen.
DK: Ian, you're still creating excellent new music at age 83. Are you still as excited about writing a new song now, as you were decades ago?
Hunter: Yeah, you can't beat it. And it's always an accident [coming up with song ideas]. I mean, very often you wake up with them. Keith Richards always talks about "Brown Sugar"…it was a dream. Being a writer, it's the semi-conscious neck of the woods. All of a sudden your conscious says, "Whoa, what's that?" Then you've gotta get downstairs and get it down quick.
DK: There are some older artists like Billy Joel who have decided to stop writing songs. But it sounds like you're excited to write a new song.
Hunter: Yeah that's what I do. I'm basically a songwriter…that's what I do for a living. I don't do it for money…I've never written for money. Sometimes you don't write for a year or so, and then all of a sudden I get a deluge of writing for three months.
Here's the link to Ian Hunter's site: https://www.ianhunter.com/