Special Interview with Iain Pirie, President of 19 Entertainment (Co-Producer of American Idol)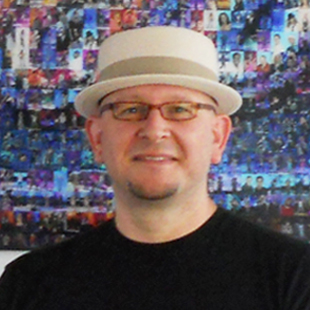 Based in Los Angeles, music exec Iain Pirie has had a very successful career as President of 19 Entertainment, working with many of the best-selling artists of the past decade. He is the head of music at this multi-faceted company, which not only co-produces the hit TV series American Idol, but also manages many top artists, has the record label 19 Recordings, sets up major concert tours, and produces the hit TV show So You Think You Can Dance.
19 Entertainment has been involved with, in a management and/or record label capacity, all of the hit artists who have emerged from the American Idol series. This list of artists includes Kelly Clarkson, Carrie Underwood, Fantasia, Adam Lambert, Jordin Sparks, Daughtry, David Cook, Clay Aiken, Ruben Studdard, Kris Allen, Lee DeWyze, Crystal Bowersox, Taylor Hicks and Kellie Pickler.
Most recently, 19 Entertainment co-manages and/or has contracted for recordings the 2011 American Idol winner and finalists, including Scotty McCreery, Lauren Alaina, Pia Toscano, Haley Reinhart, James Durbin, Casey Abrams and Stefano Langone. Notably, McCreery signed through 19 Recordings to Universal Records and has just released his debut album, Clear As Day, which debuted at #1 on the Billboard album chart. Alaina, Toscano and Reinhart have also signed through 19 to Universal, and Durbin has signed with Wind-up Records. 19 Entertainment is currently in the process of securing label deals for Abrams and Langone.
Iain Pirie is originally from Scotland, and he began working in the music business in London. A pivotal moment in his career occurred when he was offered a management position by 19's CEO & Founder, Simon Fuller (the creator of Pop Idol and American Idol). Pirie accepted this job and then worked very closely with Fuller for many years, becoming Fuller's "right-hand guy" (in Pirie's words), and overseeing the company's artist management, TV production, record label, music publishing company, concerts & touring, marketing and merchandising. In 2003 Pirie was promoted from General Manager to President of Music at 19 Entertainment, and then he moved to Los Angeles.
We are pleased to do this Q&A interview with Iain Pirie. He discusses his impressive career in the music & entertainment industry, and offers many insights into 19 Entertainment and the huge success of American Idol.
DK: How did you get started in the music business?
Pirie: I grew up in Scotland, and then I moved to London to try to work in the music business. My first music job was as a temp, working in the mailroom at Warner Bros. Records. In those days, my job included making tea and the demo copies. Then in 1991 I got a job at RCA Records, where a year later I was promoted to A&R coordinator. Part of my job was overseeing A&R administration for three labels: RCA, Deconstruction (a dance label), and Indolent (an indie rock label). We worked with a whole lot of British bands such as Take That, Morrissey and M People. I worked at RCA for five years.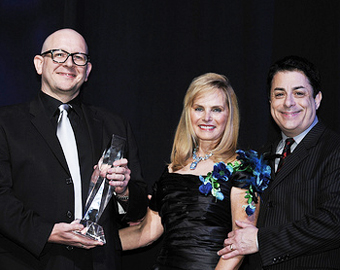 DK: When did you first start working for 19 Entertainment?
Pirie: It was in 1996 that Simon Fuller (founder & CEO) approached me to come work with him at 19. I came in as a junior manager. This was around the time Simon was managing the Spice Girls. I worked a little with the Spice Girls. I also worked with (Irish singer/songwriter) Brian Kennedy and Gary Barlow of (pop group) Take That, whom we managed. I also worked with an artist named Jimmy Ray who had a pretty big hit here in the U.S. called "Are You Jimmy Ray?"
Then eventually Simon wanted to expand the company beyond management, to include a record label and TV interests. He put the pop group S Club 7 together. We signed the group to our new record label, which we had just launched (in 1999). We A&R'd their albums, plus we handled their touring, sponsorships and merchandising. It was then that we also launched a TV series called Miami 7,  which was sold to over a 100 countries. Miami 7 was a music show which was kind of a reinvention of the Monkees' TV show. S Club 7 had numerous #1 hit singles and four successful albums in the U.K. Their single "Never Had A Dream Come True" also became a hit in the U.S.
DK: Was it soon after the success of Miami 7, that 19 Entertainment launched the Pop Idol show?
Pirie: Yes. After having done TV with Miami 7, it whet Simon's appetite to get involved with other TV properties. So he created and launched Pop Idol in the U.K. which started first airing in 2001. Due to the success of Pop Idol, a year later it was sold as a show around the world. By that point I was General Manager of the company. I primarily handled management and records with some involvement in TV.
DK: At the time, did you realize how big the Idol shows would become?
Pirie: No, we definitely didn't know how big it would become. Clearly it was a great idea, but there was no way of knowing it would reach this level. It was successful in the U.K. right away. It did take awhile before Fox committed to launching American Idol in the U.S.; the show began airing in 2002. We were excited and happy that the ratings for American Idol were good from the start, and for the next few years, just kept getting better.
DK: When American Idol first launched, were you still living in London?
Pirie: Yes. I spent the first couple years of the show commuting, going back and forth  between London and Los Angeles. At the time I was General Manager. Then in 2003 Simon asked me if I would move to L.A. and become President of Music at the company. I said yes, and made the move to Los Angeles.
DK: Are you at your busiest during the filming of American Idol, or afterwards, when the winner has been selected?
Pirie: For me, it becomes the busiest when the winner's been selected and the show is over. A big part of my job is to help the talent on the show with their record deals, their songs, management strategies and their touring. We have contract options to pick up artists for management and recording rights. Previously, we licensed most of our recording deals to Sony;  now we have a licensing deal with Universal. Universal has the option to sign our artists from American Idol. Scotty and Lauren are both signed with Universal.  Finalists Pia Toscano and Haley Reinhart are also signed with Universal. James Durbin is signed with Wind-up Records. And we're working on securing label deals for Casey Abrams and Stefano Langone–they will be on other labels. So there are many other artists besides Scotty and Lauren who will have label deals.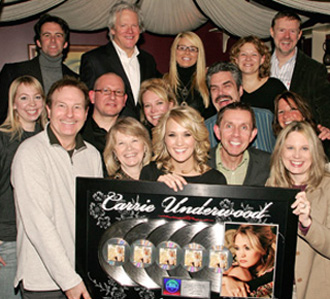 DK: So does 19 Entertainment manage all of these artists?
Pirie: We manage or co-manage most of them. We often set up co-management with other managers that we are friends with. For example, Simon Fuller now has his own new private company XIX Entertainment (he left 19 Entertainment in early 2010) and we co-manage Scotty and Lauren with Simon's company. We're also management partners with Red Lights, Coran Capshaw and work very closely with Mark DiDia.
DK: When your artists are working on their albums, do you look for songs for them?
Pirie: Yes. Sometimes I take the lead in finding songs, and sometimes the label takes the lead. For example, with Daughtry and David Cook, I worked closely with (A&R execs) Ashley Newton and Pete Ganbarg on their projects. I recently worked very closely with Universal Nashville for Scotty's and Lauren's albums. I work closely with Carrie Underwood on her albums, including finding songs and setting up co-writing sessions. I have a good rapport with the vast majority of the "A" list songwriters. and we work together to come up with the best songs for our artists.
DK: Do you send out email song searches to these hit songwriters when your artists need songs?
Pirie: I prefer to meet in-person with songwriters as often as I can. I enjoy the personal connection of working with them. With Carrie, we made a big effort to cross-pollinate the best Los Angeles and Nashville songwriters for her. We would mix it up–there would be an L.A. writer and Nashville writer collaborating on songs with Carrie personally. Carrie has become a very strong writer in her own right.
DK: This past season the two finalists, Scotty and Lauren, were both country artists. Do you think that's because there are now more country fans watching the show?
Pirie: It was interesting that our two finalists were country artists, but I don't think it's a new trend. I suspect it will be something different this coming season.
DK: What is your day-to-day schedule like at 19?
Pirie: My schedule day-to-day is pretty volatile. It's whatever the priority is at the moment. I do a lot of multi-tasking. I look for songs, work with labels, set up concert tours, and deal with administration. It actually gets more difficult during the off-season of American Idol. After the winner has been selected and the show is over,  we set up the American Idol national concert tour, plus we start making the records. In addition, we start the audition process for the following season. So it's pretty much a year-round process. The new season starts airing each January.
DK: Do you oversee much of the audition process?
Pirie: The auditions do take a lot of my time. I go to the seven or eight cities where we host the big open auditions. About 100,000 kids audition each year. After the first round, we have the second and third round callbacks.
DK: Do you see some of the same people auditioning the following year?
Pirie: Yes. Sometimes they come back and they've improved. Many of the young artists listen to the feedback they got the previous year, and they've followed the advice of the judges and really improved. It's really nice to see that happen.
DK: American Idol has had such amazing impact on the music business and on American culture. What are your thoughts on the show's success?
Pirie: I'm proud of the lasting effect that American Idol has had on American culture. People across the country, who are not in the music business, now have a strong opinion of  music and the show, and which artists they like. It's made people talk more about the music, which is great. With American Idol we've stuck with our basic premise, that people love to hear and discover great, talented kids that they can make a connection with. They respond to a nurturing but still honest evaluation by the judges.
Dale Kawashima is on Google+