Holly Brook Talks About Her Hit "Where'd You Go" With Fort Minor, And Her Solo Album, Like Blood Like Honey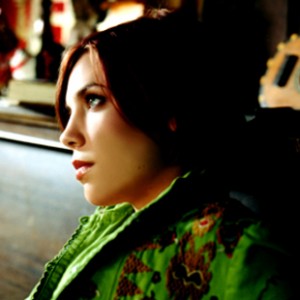 Note: This article was written in 2006, when Holly Brook released her debut album. Brook is now known professionally as Skylar Grey and has released her album Don't Look Down (in 2013) on Interscope Records.
Talented singer/songwriter/pianist Holly Brook will be releasing her debut album, Like Blood Like Honey, on Machine Shop/Warner Bros. Records on June 6th. Her album is an impressive collection of intimate, soulful songs, which should garner excellent reviews and solid radio airplay. However, Brook is already on the pop charts in a big way, due to her featured vocal performance on the Fort Minor rap/vocal hit, 'Where'd You Go.'
Brook was recruited to sing on 'Where'd You Go' by Fort Minor creative force, Mike Shinoda, who is also a member of the multi-platinum, rock/rap group, Linkin Park. Last year, Linkin Park launched their label Machine Shop Recordings, and they were excited to sign Holly Brook to their label. So it was a great synergy, when Shinoda invited Brook to appear on 'Where'd You Go.' Brook's haunting, memorable vocal performance on 'Where'd You Go' has helped make this song a Top 5 Billboard hit, and it could go to number one.
'It's amazing, being part of a hit song with 'Where'd You Go',' said Brook. 'It's kind of surreal. The other day I was on TRL (on MTV). It's great to get out there and get this exposure.' Brook is also featured in the video of 'Where'd You Go.'
Her appearance on 'Where'd You Go' makes her seem like an overnight success, but Brook has quietly worked for years developing her artist career, and preparing for the release of her debut album. It's a journey which began in her small hometown of Mazomanie, Wisconsin (near the city of Madison), and eventually led to her moving to Los Angeles years later.
When she was just six, Brook began performing music professionally with her mother, Candace. And by age 15, she had recorded three albums of folk music with her mother under the name, Generations. Also by this age, Brook had become a skilled pianist, and she formed a band (with her friend, jazz bassist Jeff Eckels) which performed live frequently.
By the time she was in high school, Brook had decided to completely focus on music and her potential artist career. In fact, she was so determined to immediately get her music career going, that she quit high school in 2003 and moved to Los Angeles.
Fortunately, upon her arrival in L.A., she quickly met and struck a creative relationship with Jon Ingoldsby, a highly-regarded producer/writer/engineer who has worked with Madonna, Elton John and Rickie Lee Jones. 'Jon Ingoldsby was the first person I met in L.A. and we instantly clicked,' recalled Brook. 'I played him a demo I had done (from a recording session in Chicago). We have been working constantly together ever since. We developed a strong connection, and he's been supportive of what I wanted to with my music. I like that he likes to stay out of the way ' he doesn't push me into something I don't want to do.'
Brook & Ingoldsby worked together over an extended period of time, and became writing partners. Gradually, they found the musical direction  and arrangements which worked best for Brook. The style which emerged was a warm, acoustic piano-driven sound, which merges the smooth melodies and vocals of a Sarah McLachlan, with the jazz chord changes and lyrical exploration of a Joni Mitchell. 'There was quite a bit of experimentation with the songwriting and sessions,' explained Brook. 'I grew as an artist ' it happened naturally with how the sound and style evolved.'
When Brook & Ingoldsby had recorded a full album's worth of material, it became time to shop for a label deal. Brook's manager Van Dalton began playing her CD to labels, and somewhat surprisingly, it was the members of Linkin Park and their label Machine Shop which showed the most interest. In particular, it was Linkin Park guitarist Brad Delson who took a great interest, and he ended up becoming Brook's A&R exec.
"There were a few labels who showed interest (before Machine Shop), but none of them seemed right because they wanted to change a lot about me and my music, such as making me more pop,' said Brook. 'When we found Linkin Park, I felt it was a good connection, because they're artists themselves, so they understand the artist's side.'
Machine Shop has also turned out to be skillful at marketing and publicizing their new artists. With Brook, the label last year made a short film of her performing live in a recording studio, and discussing her upcoming, debut album. The fact that this film was produced many months in advance of her first album, demonstrates the label's desire to begin publicizing Brook early on.
Of course, the label's best idea of promoting Brook, was to feature her vocal performance on Fort Minor's hit 'Where'd You Go.' 'It was in early fall (of 2005) that Mike Shinoda called me up,' she recalled. 'He said, 'I have this song, and could you put your vocals on it?' I spent a half-hour singing it at a session, and that was it! The next thing I know, is that Mike's got this whole solo project called Fort Minor, and I went on tour with him to sing 'Where'd You Go.' Mike brought this 11-piece band on the road, and we've toured the U.S. and Australia.'
Now that Brook is in the spotlight with 'Where'd You Go,' the timing is perfect to release her own album, Like Blood Like Honey. In addition, Brook has started touring with her own group (with Jon Ingoldsby on guitar and a cello player), performing songs from her new CD. 'We've been doing shows up the West Coast, and we're hoping to get on a good tour as an opening act,' she said. 'In August, I'm excited about opening for k.d. lang for three shows.'
Dale Kawashima is on Google+