Austin Winkler of Hinder Talks About The Band's Hit "Lips Of An Angel," And Writing Their Songs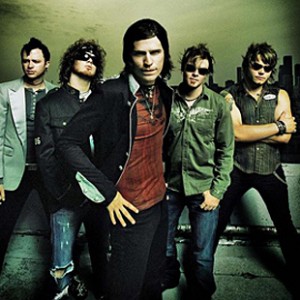 2006 has certainly been a breakthrough year for Hinder, the fun-loving, '80s-rock inspired band from Oklahoma City, OK. Since releasing their debut album Extreme Behavior (on Universal Records) in the fall of 2005, the five-member band has scored a rock radio hit with their song 'Get Stoned.' And of course, they now have one of the biggest pop & rock hits of the year with their power ballad, 'Lips Of An Angel.'
Hinder has come a long way in a relatively short time. The band formed in 2001 and subsequently built a large following in Oklahoma. Then in May 2004, they recorded an impressive, six-song EP with producer Brian Howes in Vancouver, BC. By March 2005 Hinder had offers from three labels, and ultimately signed with Universal Records.
In a new interview, lead singer & co-writer Austin Winkler talked about how the group got started, and how they landed their record deal. He also discussed his songwriting, and how he writes Hinder's material with bandmate Cody Hanson. In addition, Winkler spoke about the band's lengthy tour plans, which will keep them on the road for another full year.
Before joining Hinder, Winkler was singing in a cover band in Oklahoma City. 'I started singing in a cover band and our first show was at a 7-11 store,' Winkler recalled. 'I started writing my own songs, but the cover band didn't want to play them. Then I met Cody (Hanson) at a house party, and we decided to form a new band. Our first practice is something I will always remember. It was the first time I had heard these songs I was writing played by a full band. Hinder was born on that July day of 2001.'
Lead guitarist Joe Garvey also was a founding member, and Mike Rodder (bass) and Mark King (rhythm guitar) joined in 2004. By this time, the quintet developed a strong fan base in Oklahoma City. 'We started five years ago and we played a club called The Blue Note two shows a month, on every other Friday. We built a fan base that way. Eventually, we were able to draw 1000 fans to shows. We made a profit and put all the money back into the band. We would buy commercial spots on local radio stations, that would say 'Come see our band.' We also saved up to pay for part of the budget of our six-song EP with (producer) Brian Howes, which cost $45,000. For the rest of the recording expenses, we were able to convince our parents to pitch in.'
Included on the six-song EP was their rollicking song 'Get Stoned,' which caught the attention of label execs. Besides having its hooky title, the song also has another memorable line, 'the sex is so much better when you're mad at me.' This line turned out to be so catchy that Winkler sings this line several times in the song. 'Cody and I were working on 'Get Stoned," he explained. 'We were sitting there, and that line just kind of came out. That line actually started as a joke, but once we sang it, we said 'fuck it'let's keep it,' he laughed.

Here's the video of Hinder's hit single, "Lips Of An Angel."
Once Hinder had completed their EP, they began shopping for a label deal. A&R execs from three labels liked their EP, and they came to see the band perform live. 'We did a showcase and we had a 1,000 fans there supporting us. If you want to make a good impression to labels at a showcase, having 1,000 fans is definitely a way to do it.' The band subsequently received three label offers, and they decided to sign with Universal Records (with A&R exec Tom Mackay).
With Hinder now signed, the band returned to the studio to re-work some of their existing songs, and to write new songs. One of the new songs turned out to be 'Lips Of An Angel.' 'The lyric of 'Lips Of An Angel' is based on a true story,' said Winkler. 'My ex-girlfriend had called me while my current girlfriend was in the next room. Then when I was writing with Cody, I brought up this idea, and we kind of looked at each other. We realized we had a good song (in the making). Cody then came up with the chord progressions.'
In early 2006, 'Lips Of An Angel' was released as the follow-up single to 'Get Stoned,' and its success propelled the group's Extreme Behavior album to platinum status. 'We knew 'Lips Of An Angel' was a good song, but we didn't know people would relate to it the way they have. When we sing this song live, the audience goes crazy.'
Currently, the band is on the road in the U.S. and Canada, performing mainly as headliners and building a larger following. 'We'll be touring for the next year, and we'll be playing gigs overseas as well,' said Winkler. 'We're also very excited about doing three shows with Aerosmith soon. Aerosmith is one of our favorite bands, along with Guns N' Roses, Bon Jovi and Def Leppard.'
'We've also begun writing songs for our next album,' he added. 'We have a ProTools rig in the back of our bus. And we'll be setting up a new rig in January to do more writng and pre-production for our next album. Our plan is to stay on the road through next summer, and then record our next album in fall 2007.'
Dale Kawashima is on Google+